The rest of the stories
Masters 2022: 7 things you might have missed on Day 1 while watching Tiger's return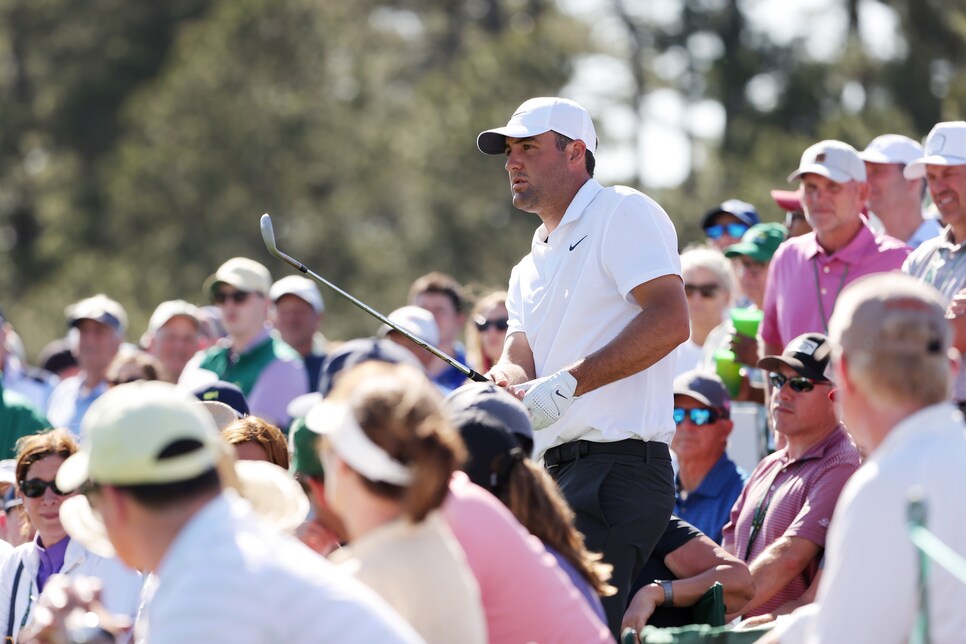 Scottie Scheffler follows his shot from the 18th hole during the first round of the Masters.
Jamie Squire
AUGUSTA, Ga. — Scottie Scheffler, the No. 1 player in the world, played two groups behind Tiger Woods, the No. 1 draw in the world, during Thursday's opening round of the 86th Masters, and he couldn't have cared less that so few patrons seemingly couldn't have cared less about his opening three-under 69.
Woods hadn't played an official competitive round since the 2020 Masters, and the mere fact that he was miraculously back on the golf course after nearly losing his right leg in an automobile accident 14 months ago was, of course, the central focus of the day. Then he went out and shot 71, making his latest comeback story even more amazing.
Meanwhile, Scheffler assembled a solid round marred only by a closing bogey at the tough par-4 18th. Amid gusting winds, the 25-year-old Texan hit 11 of 14 fairways and 13 greens in regulation and made a decent statement in his first round since becoming the world's top-ranked golfer. Not that it mattered where he is ranked. It was just another round of golf, basically.
"They didn't give me any extra shots or anything this week. So not too much [different]," he said.
Of course, there were two major differences from a year ago: there were more fans; and most of them were following the five-time Masters champion. Like just about everyone else, Scheffler was curious how Woods was faring. A few roars informed him of Tiger's status. He enjoyed the atmosphere, even if it was focused elsewhere. Which led to an odd question, which went like this:
"You talked the other day about Tiger being here takes a little bit of the spotlight off. Is that mostly fun? Or are you like, Hey, wait a second, I'm No. 1 in the world. Come over here?"
Scheffler gave an inquisitive look before responding. "No, I definitely don't think I need any more attention than I have at the moment. Having Tiger here with what he does for the game of golf is so special."
In other words, Tiger deserves the spotlight. But, hey, the supporting cast offered some interesting narratives on Day 1. Here are a few things you might have missed on Thursday while tracking Tiger's every step … as well as other goings on: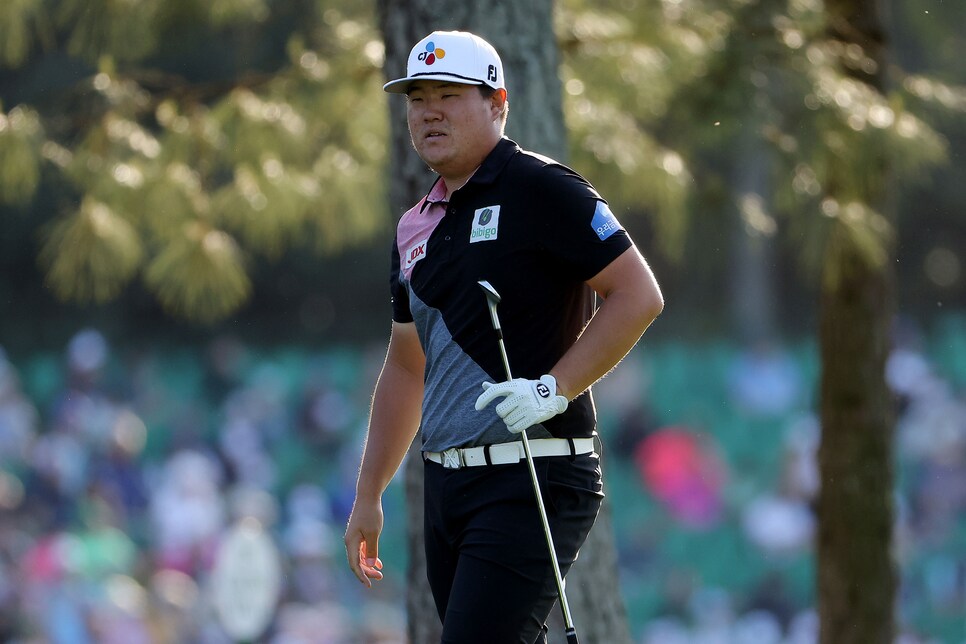 With four birdies in his first seven holes, South Korea's Sungjae Im got his name on the leader board in a hurry, and though he stumbled in the middle of the round, he eagled the 13th and birdied the 15th to post five-under 67 for the Day 1 lead, one ahead of Cam Smith.
Im finished T-2 in his Masters debut in 2020 after opening with a 66, so he's no stranger to playing well at Augusta National. He did miss the cut last year, and he didn't come in with his usual top-10 producing precision. But he was very good on Thursday, mostly on the strength of a hot putter and hitting 12 of 14 fairways.
"The thing today, I drove it well most of the holes and it gave me opportunities to have better second shots most of the holes. I'm glad with how everything went today," Im said.
A two-time PGA Tour winner, Im agreed that his form hasn't been as sharp of late. But he got inspiration, he said, from watching his father Ji Taek hit a shot on the ninth hole in Wednesday's Par-3 Contest. "It was the most beautiful shot I've seen. It was like a professional shot," said Im, who, being a professional, then went out and hit a few good ones of his own.
Defending champ rallies late
Hideki Matsuyama has been battling a neck injury that forced him to skip the Players Championship and WGC-Dell Match Play. Last week he withdrew in the middle of the second round at the Valero Texas Open, citing a neck injury.
Playing directly behind Woods, Joaquin Niemann and Louis Oosthuizen, Matsuyama slipped to two over par when he bogeyed 11 and 12. He bounced back, however, with birdies at the two par-5 holes, 13 and 15, and that kept him in the picture with an even-par 72.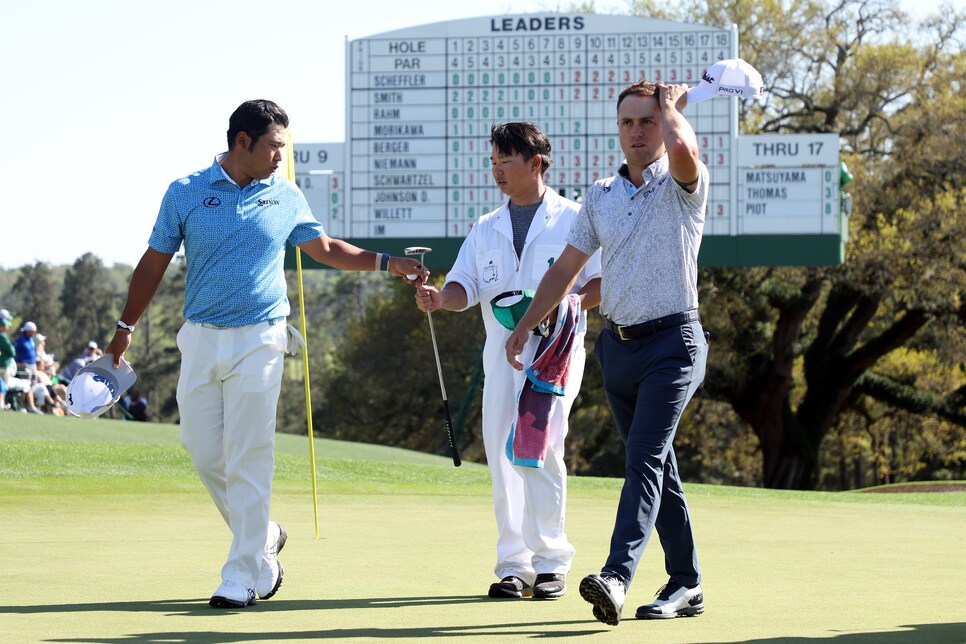 Fourteen months ago, Justin Thomas was visiting Woods in the hospital after his horrific car accident. On Thursday, playing with Matsuyama and U.S. Amateur champion James Piot, Thomas found himself trailing his good friend and mentor by five shots after a frustrating four-over 76.
It might have been one of the more surprising results of the opening day given that Thomas has played rather decently this year and that he joined Woods for a practice round last Tuesday and two more times this week, both times with 1992 Masters champion Fred Couples tagging along. Apparently, whatever Thomas gleaned from that experience has yet to stick. Heck, even Couples, playing his first competitive round of 2022, nipped JT by a stroke.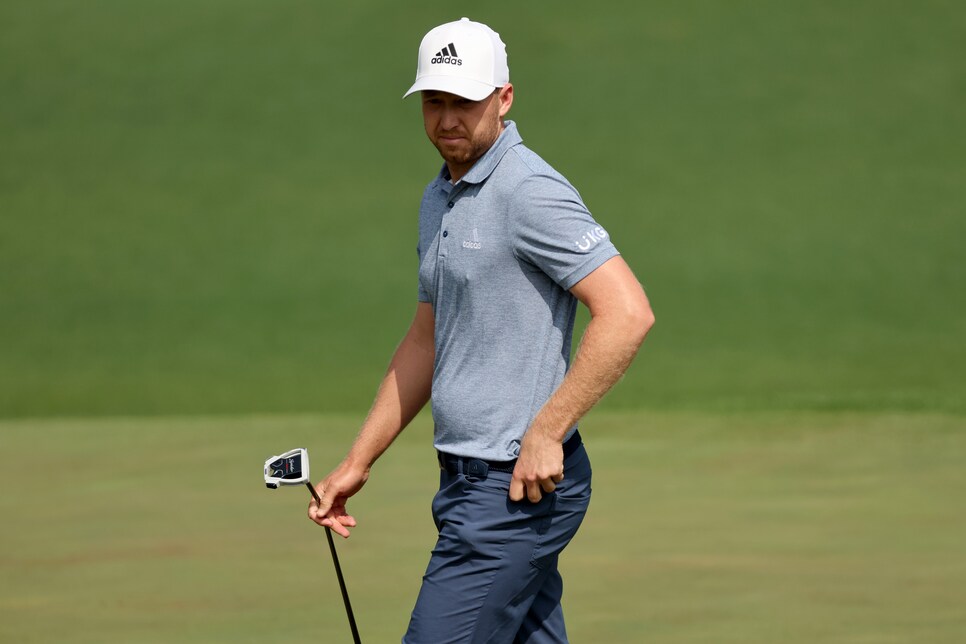 Cam Smith, who double-bogeyed the 18th hole to fall out of sole possession of the lead, wasn't the only player smarting at the finish. Daniel Berger was sailing along at three under par on the strength of three straight birdies starting at the par-3 12th and then almost gave it all back on the home hole.
Berger drove into the right trees, pitched out fine, but then put his third shot over the green, from where he needed three more shots to get down for a double bogey. He carried the right attitude with him, however, in the aftermath. "Disappointed to finish like that," Berger said, "but not going to take away from the round that I played today. I played solid."
It hurts to play hurt. Yeah, obvious. But Bryson DeChambeau was feeling more than just the pain in his injured hand.
The long-hitting former U.S. Open champion was far from sharp in his four-over 76 that included playing the par 5s in one over with three pars and a bogey. (Or is that nine over since he once said Augusta was really par 67?) That's definitely not the script DeChambeau has been trying to follow after he bulked up and started cutting loose with the driver.
The return of a "Brooksy" catcall probably didn't help either after he bogeyed the par-5 15th. He had to have heard it. So much for southern hospitality. And the score probably did feel like nine over while playing alongside Smith, who offset two double bogeys with eight birdies in his 68.
The Bo Jackson might be next
Matthew Wolff has been finding various ways to dispose of misbehaving equipment without snapping a club over his knee. On Thursday, already four over par after three holes, Wolff exerted significant pressure when leaning on an iron after his tee shot at the par-3 fourth hole found the front bunker. The club snapped cleanly, and he carried the broken pieces with him off the tee.
This comes after last month's Players Championship at TPC Sawgrass, where Wolff flipped a wedge into the water after a poor approach into the 18th hole. He missed the cut there, and after signing for an opening nine-over 81 Thursday that included a misplayed bunker shot at the seventh while using a putter, he'll need a miracle rally to be around for the weekend at Augusta National.