Trevino Tips
9 Lee Trevino gems on fixing hooks, hitting spinny chips, and 'getting good'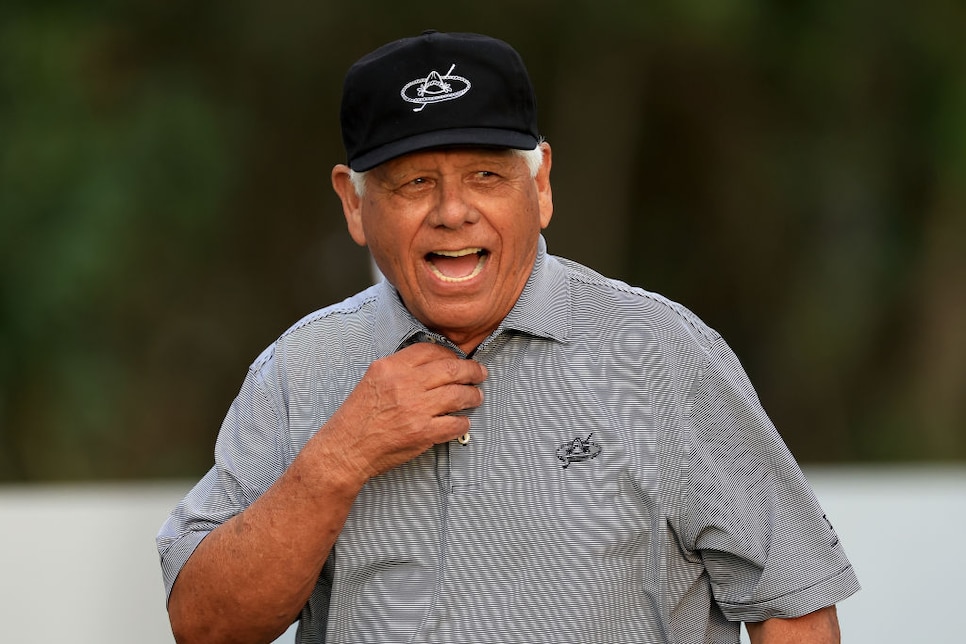 ORLANDO — All eyes on are on Tiger Woods this week at the PNC Championship. But his are on someone else. And it's not Charlie.
"I just wish I could have been out there on the range a little earlier watching Lee hit balls," Tiger said ahead of his pro-am round on Friday. "There's nothing better than that. But I'll get to see him tomorrow."
High praise, and figuring Tiger knows what he's talking about, I made a mental note. The greatest player of all time says there's nothing like it? Message received. I'll be there.
Just after 10 a.m. on Saturday morning, an unintentional 90 minutes before his 10:25 ET tee time—"I thought we were teeing off at 10!"—Trevino arrived on the practice putting green. His reputation as a legendary ball-striker showed.
Trevino pulled an old-school blade putter from his bag and quietly dropped three balls onto the practice green, about eight feet from a hole. He hit each putt as fast as he could, often not waiting for one ball to drop before hitting the next one. He went through the motions a few more times from different direction. Ten minutes later, he the blade was back in the bag, and Lee was off to the range.
For the next hour, Trevino held court on the driving range, cracking jokes, telling stories, and sharing a series of ingenious insights about the game. It was hard to keep up, at times, but he's a roundup of the best bits.
1. He's all in on Stewart Cink's senior career
On his way to the range he passed Stewart Cink, who he watched blast one into the distance.
"How old are you?" he asked.
"There'll be a lot of guys retiring next year. Remember Stewart, there's always second place. Second place pays pretty good."
2. Never hit to the same target twice
As Trevino started hitting balls, he seemed to aim at nothing in particular and send balls into the distance that ended in a wide, empty space in the driving range. It was only after a few shots that I realized what was actually happening: He was aiming at different spots at the driving range that were so small they were hard to notice; he'd never hit the same one twice in a row.
"I pick a new target with every shot," he says.
3. He still practices every day
Lee Trevino is 83 years old. He doesn't play all that much, but practicing? He's nonstop.
"I go every day to the golf course at 10:30, I'm back home at 12," he says. "I don't even go to the clubhouse. I get in the cart, go straight to the range and hit balls. I don't play much anymore, but I practice every day."
4. Weaken your grip as you get older
Your body changes as you get older. Your muscles get tighter and weaker, which makes it hard to rotate during your swing. That wrecks your consistency and can lead to many older golfers hitting hooks.
"When you're young you use your body to square the clubface," Trevino explained. "But as you get older you start having furniture problems. Your chest falls into your drawers, and you can't turn."
To combat this, as you can see in the video above, Trevino says older golfers should take a cue from Bernard Langer and weaken their grip.
"You have to manipulate your hands," he says. "Use a long left thumb down the middle of the grip [weaker left hand grip] and the ball will never go left."
5. Trevino's spinny pitch formula
Wondering how to hit a high spinny pitch shot? Trevino says you simply need to remember two things.
"Open the blade, and you slide it around your body," He says. "You just hold on with your hands, and slide around with your body."
7. Practice most with your wedges and driver
At one point Trevino explained how he got so '"good at golf." He's convinced it's because he learned golf with two clubs.
"All I did was play the pitch and putt, then hit drivers," he says. "That's all I did. You don't need any other, all you need is a wedge and a driver. I was never a great putter, but when I could roll it, nobody could beat me. My ball striking was all the same."
That's his advice for you, too. If you have limited time to practice, hit lots of wedges, and lots of drivers.
8. He loves Nelly's golf swing
Throughout his range session, Trevino only paused his own warmup to watch one other swing on the range, that of Nelly Korda...
9. He always monitors his ball position
One of Trevino's trademarks is the amount he moves before hitting the shot. He uses it to relieve tension, and to get his setup into a comfortable position. That's become harder in recent years, though.
"I'm taking too many steps now," he says. "I get tired."
So, Trevino says he keeps a close eye on his ball position. It tends to drift too far forward, which can lead to the ball missing left, so he makes sure it feels more back in his stance. With his closed stance, this can look weird to outsiders, as Trevino explains with a funny story about a recent conversation he had with a caddie.
"The caddie says I can't caddie for you, I don't know where you're aiming," he says. "I said you're not supposed to caddie for me, you're supposed to carry the bag and tell me the yardage."