LPGA Tour
Jin Young Ko had to work extra hard for her eighth LPGA victory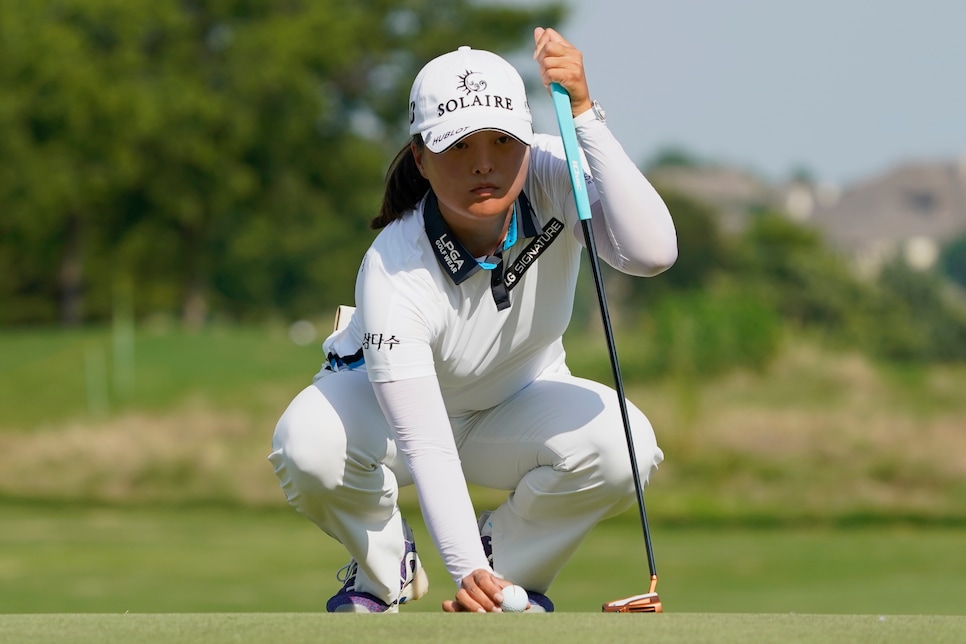 Jin Young Ko lines up a putt on the 12th hole during the final round of the Volunteers of America Classic.
Chuck Burton
While most living in Dallas celebrated the Fourth of July holiday with time away from the office in a three-day weekend, one of the city's newest residents, Jin Young Ko, put in overtime work to win the Volunteers of America Classic. The World No. 2 endured a 16-hour day of 32 holes on Saturday due to weather delays, and then held off a challenge by rookie Matilda Castren on Sunday to earn her eighth LPGA Tour victory.
"I'm still happy I win," said Ko, who closed with a three-under-par 69, the same number that Castren shot, to finish at 16 under at Old American Golf Club. " I was really tired last night. Like, I played 32 holes yesterday, so I couldn't sleep well tonight, so my body condition [was] really tough and really tired right now."

Ko opened Sunday with the seventh 54-hole lead of her career, built off a career-low 63 that matched the tournament record in the first round. Closing this one appeared at first as routine as her repeatable swing, with the 2019 LPGA Player of the Year darting to a four-shot lead with three birdies over the first four holes. It gave Castren a taste of what she handed the field at the LPGA Mediheal Championship three weeks ago, when the Finnish player opened up five-under through five in her final round for her first career victory.

No one caught Ko at any point Sunday, and Castren had the only two opportunities. The rookie missed a 10-footer to match Ko on the 14th. Her final opportunity was from off the fringe on the 18th, but a 20-foot bid to get to tie slid past the right side of the cup.

On the final hole, Ko tapped in her winning par putt, which kissed the pin that held a waving American flag. Ko stared longingly into the Texas summer sky, thinking about her grandmother, who passed away in South Korea in March. Ko couldn't fly back to say farewell due to the two-week quarantine rules of traveling to the country.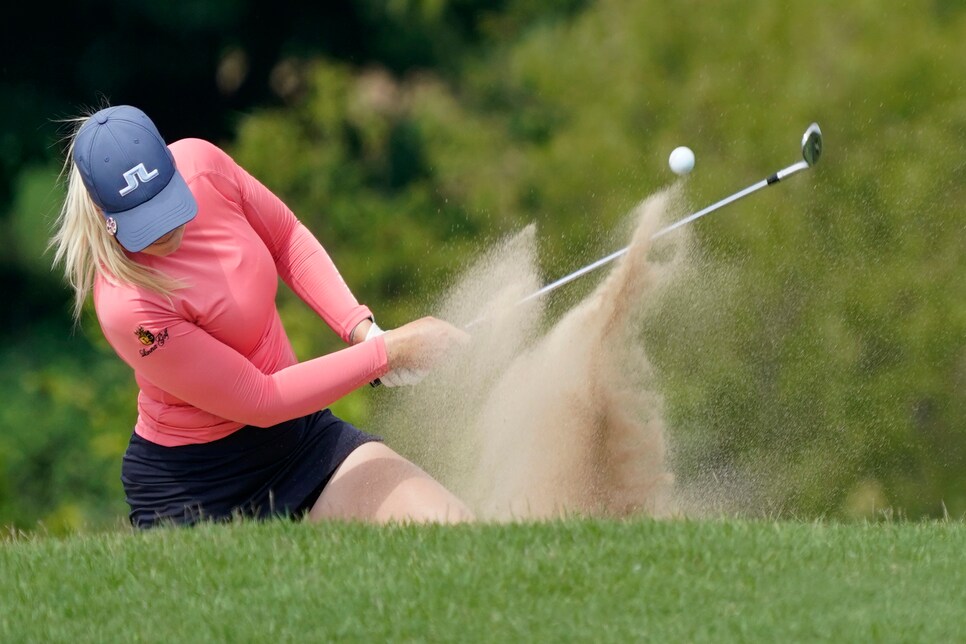 Matilda Castren hits from a bunker during the final round of the Volunteers of America Classic.


Chuck Burton
After winning the 2019 ANA Inspiration, Ko dedicated the victory to her grandfather, who died a year before. They both were formative in her development, with her grandfather giving Ko her name and her grandmother taking care of many things for her family.

"I miss my grandmother and father," Ko said. "Yeah, I miss them."

Ko's grandmother reminded her to stop looking so tired when she watched her on TV, even going so far as asking Ko to stop playing because she thought she Ko was exhausted.
Ko's family surrounded her this week, with her mother and father flying out to watch her. Her caddie, David Brooker, also had his daughter out, and both families stayed at Ko's home, with the Brookers supplying the laughs to keep Ko relaxed off the course.

Her family didn't get to see Ko rise to the top position in the world for a third time, as projections don't have her retaking the spot from Nelly Korda after her victory. The 2019 and 2020 LPGA money-list winner went 10 starts between victories—her longest winless stretch since the span between the 2018 Women's Australian Open and the Founders Cup in March of 2019. Ko said she felt more relaxed this week with Korda taking the crown as top player in the world.

"When I was ranking No. 1, I didn't know," Ko explained. "But after [the] move to ranking 2, I was thinking I had a lot of pressure when I was world ranking No. 1."
After a slight pause, Ko joked, "But I'm still alive, so it's fine."

Castren's second-place performance, after coming into the week ranked 74th in the world, would normally have put her in position to secure a spot on Team Europe for the upcoming Solheim Cup. However, there's a wrinkle for the LPGA rookie: She's not a member of the Ladies European Tour, and that's a must for inclusion on the European squad.
"I'll definitely do Q-school the next time it comes around," Castren said. "Solheim Cup is one of my biggest goals and biggest dreams, so I'll do whatever I can to get in."

Gaby Lopez, who shot 65, and Emma Talley (63) vaulted up the leader board on Sunday to finish third and T-4, respectively. Talley's 63 was her career best, matching the tournament record Ko tied Thursday.
With Ko turning 26 in three days and her father celebrating his birthday on Thursday, Ko and family left Old American to celebrate her fifth consecutive year with an LPGA victory. Her grandmother was no doubt there in spirit at her new Dallas home.