MELBOURNE, Australia – The field was 120 amateur golfers from 37 countries and territories from around Asia, Australia and New Zealand. The venue was the Composite course at Royal Melbourne, an Alister MacKenzie design considered one of the finest courses in the world. The prize was a spot in the 2024 Masters and Open Championship. The only way you could fault the 2023 Asia Pacific Amateur Championship was that it wasn't the final golf tournament of the year. Golf—the professional ranks at least—could have used a palette cleanser like the past week on the Melbourne Sandbelt after a year where money dominated discussions, from the June 6 framework agreement to raging debates over whether Ryder Cup participants should be paid.
There, on the 18th green of the Composite course at Royal Melbourne, which last saw international competition at the 2019 Presidents Cup, golf was being played for more than just money. Jasper Stubbs, an Australian amateur ranked 362nd in the world, had a three-inch putt to secure major debuts at Augusta National and Royal Troon. On the second playoff hole, Stubbs lagged a 60-foot birdie putt to the gimme-est of gimme ranges. His playoff opponent, Arizona State commit Wenyi Ding, from China, then missed a par putt that would have extended the playoff.
With R&A chief Martin Slumbers, and Augusta National chairman, Fred Ridley, watching, Stubbs tapped it in. The moments after that became a blur.
"My heart rate was going nuts," Stubbs, 21, said. "I could feel it in my chest. What was going through my head was, 'Just put a good stroke on it,' because I've seen people miss three-inch putts before. As soon as that putt dropped, my mind went blank and couldn't really tell you what I did for the next 20 seconds after that."
The putt was life changing. The Asia Pacific, created in 2009, is jointly run by the R&A and Augusta National. Past Masters champion Hideki Matsuyama won the Asia Pacific twice and 2022 Open champion Cameron Smith is also an alumni. Stubbs has now earned spots in the 87th Masters and the 152nd Open at Royal Troon.
"The Masters is something every kid has ever dreamed of, it's a tournament every golfer wants to play in their life," he says. "It was always a dream and now it's a reality. I'm excited for April and also for the Open."
Stubbs, who lives exactly a mile from Royal Melbourne, was five over for the tournament after six holes on Sunday. But he peeled off four birdies in his last 12 holes to post a 69 and rally from six back into the playoff. "There's always a chance around this golf course," he said.
With a one-over-par total (285), he was tied after regulation with Chinese duo Ding (70) and Sampson Zheng (75), the overnight leader and a senior at the University of California, Berkeley. C.T. Lin, a University of Washington senior from Taiwan, shot 69 to finish at two over. He tied for fourth alongside Australia's Max Charles. Day 1 leader, New Zealand's Kazuma Kobori, eagled the 71st hole and finished solo sixth.
On the first playoff hole, the 18th at Royal Melbourne's Composite course, Stubbs hit his approach to 25 feet, drained the downhill birdie putt and let out a primal roar. Zheng had missed the green and was assured of being eliminated, but Stubbs still had to wait for Ding. Stubbs' caddie, PGA and LPGA Tour veteran looper Simon Clarke, had seen Ding's putt before. It was from the same location his former boss, Jessica Korda, made to win the 2012 Women's Australian Open at Royal Melbourne.
"He poured a birdie in right on top of me," Stubbs said.
On the second trip down 18, it was Ding who found trouble. His blocked approach had settled bizarrely on the lip of a fried egg impression in a greenside bunker. After a spectacular sand blast, his par putt cruelly lipped out. Victory was Stubbs'.
"It's right up there," Clarke said of the moments he's experienced as a caddie. The 53-year-old has looped Aaron Baddeley and Ryo Ishikawa and authored yardage books on the Japan Tour for more than 20 years. "I'm so proud of Jasper. He didn't flinch for four days, not even in the playoff."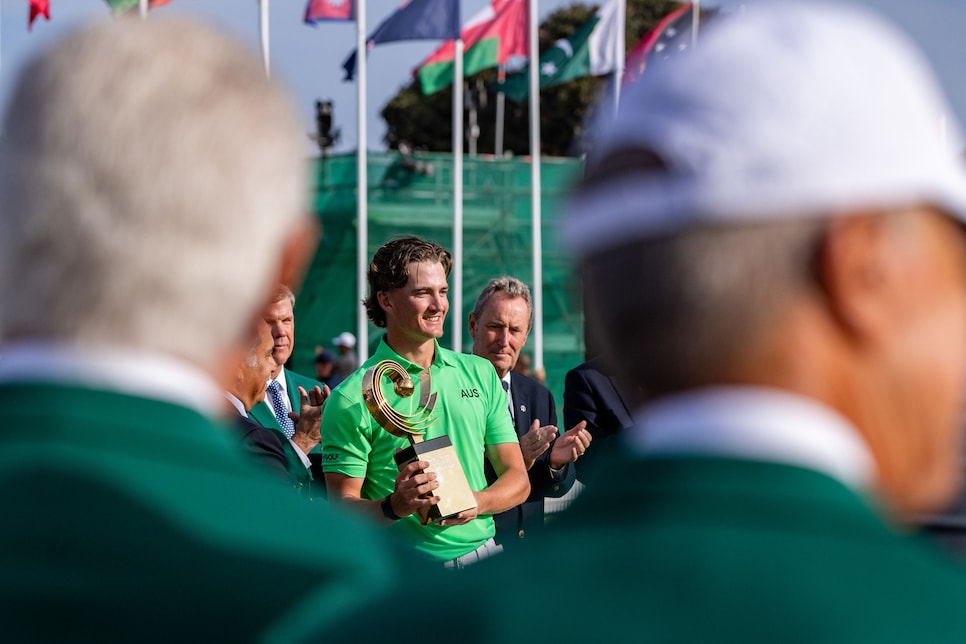 With the victory for Jasper Stubbs at Royal Melbourne come invites to the 2024 Masters and Open Championship.
Hamish Blair
What helped Stubbs' confidence is the number of times he had played Royal Melbourne over the past six years. His parents moved the family from a rural town called Bairnsdale in the East Gippsland region, four hours east of Melbourne, when Stubbs was 15. They wanted Jasper, and his younger sister Piper, to excel at golf using the elite facilities around the Melbourne Sandbelt region. Piper is the women's club champion at Royal Melbourne.
Soon, Stubbs will be off to Augusta National for a scouting trip, which Masters competitors are permitted to do. "I'll see how early I can get over there, but I think I'm going to get over there as soon as I can," he said.