How would you play it?
British Open 2023: Our computer dive shows why Liverpool's fearsome little par-3 17th can be such a beast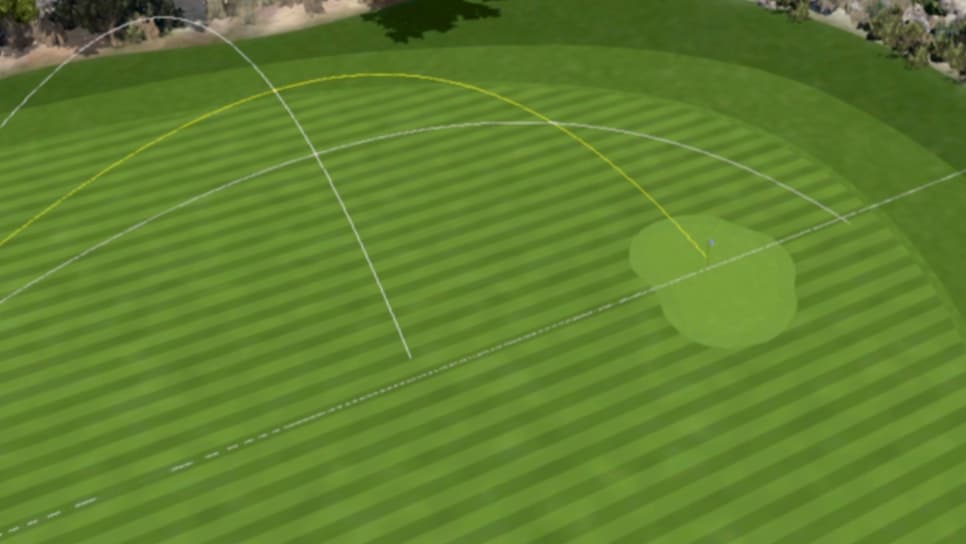 With the green represented by the small, light green patch, the Foresight software shows how different professional pitching wedge shots can be into Liverpool's par-3 17th depending on wind conditions.
Royal Liverpool's new, edge-of-disaster 17th hole has been getting a beating for its difficulty at the start of the Open, and it lived up to the hype early on when Lucas Herbert, tied for the lead at the time, made a nifty triple in the morning wave among other hiccups. While a 130-yard hole seems barely a pitching wedge for elite players, this is the Open, and when the wind blows there's no telling how bad things can get.
Actually, there is. We ran numbers on some simulation software based on how tour players typically hit a pitching wedge and what happens to that shot when the wind blows. (Warning: What follows is not for the faint of heart and certainly not for anyone who's playing at Hoylake this week.)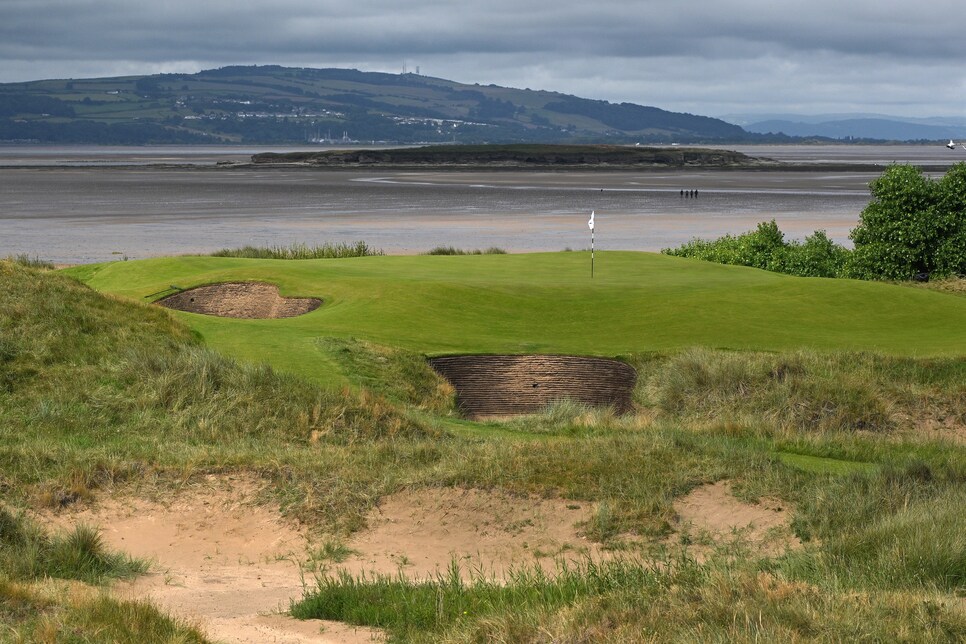 Plenty of danger awaits at the par-3 17th.
Stuart Franklin/R&A
According to ball-flight software provided by Foresight Sports, makers of the GC Quad launch monitor, with no wind, a tour player's pitching wedge would fly about 130 yards and spin back to around 125 for what likely could be a tap-in birdie. But they don't play in a dome, nor is the simulation even like the 17th at the Stadium Course at TPC Sawgrass—the hole that inspired the redesign of Royal Liverpool's most gruesome par 3.
While water is an obvious hazard, the uncertainty of the falloffs and sod-wall bunkers on the hole at Hoylake, known as "Little Eye," means a missed green could result in any kind of score. Or a hernia. Or a nervous breakdown.
The gusts Thursday at Royal Liverpool reached into the 22-mph range. What that does to a pitching wedge is simple; what it does to your round with one hole left to play is carnage. Hit that same shot down-breeze and the pitching wedge flies 153 yards, or 23 yards farther than without the breeze. That club-and-a-half farther carry puts you off the back of the green and seemingly closer to Wales than the hole you're playing. For regular humans, from that point, you just put down an X and walk to 18 tee. On tour, at the Open Championship, you probably get to hit that same shot again.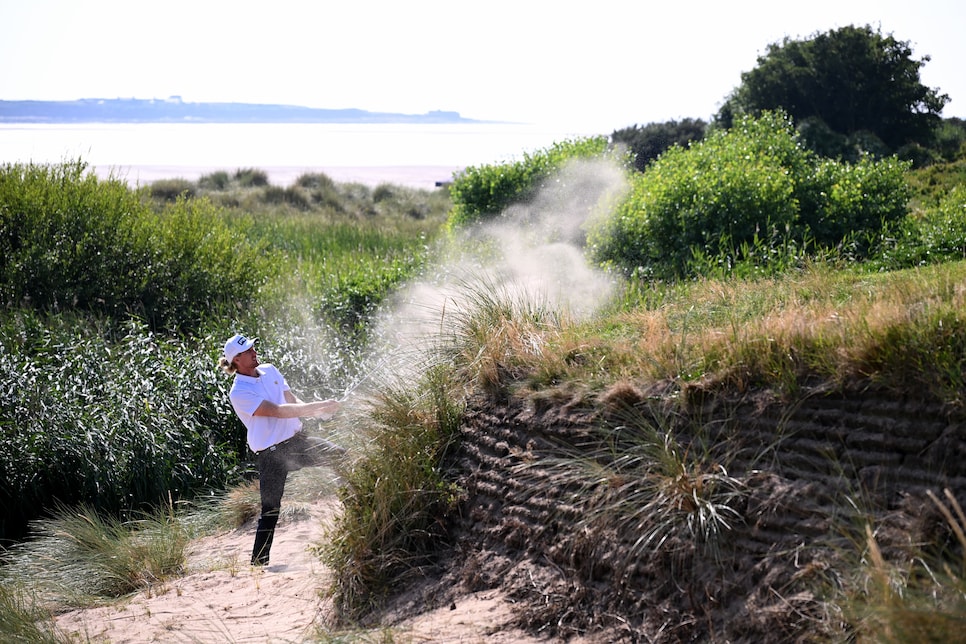 Travis Smyth, who eventually made a double-bogey 5, blasts out of the bunker at 17.
Ross Kinnaird
Of course, on another day in Hoylake's capricious breezes, a shot could be hit into a 22-mph gust. By our calculations with the Foresight software, the pitching wedge now balloons and carries only 90 yards, or 40 yards short of the shot in calm conditions. That leaves you in the gaping waste bunker in front of the green, where you have to somehow clear a wall of sod taller than Christo Lamprecht in heels. Maybe you make triple. But most likely you want to quit golf.
As John Hegarty, Liverpool's head pro, says on the Open Championship website, "You need to have you're A-game on that tee, whether you're hitting a gap wedge or you're hitting an 8-iron. If there's no wind, and you have a front pin, it will appear to be a very simple shot and it is a very simple shot for these guys. But sometimes simple shots come back and bite you."
While the news for the 17th hole at the Open could have been grim on Thursday, it was middle-of-the-pack in terms of difficulty, ranking ninth. It played barely over par at 3.11, and there were 21 birdies to go with 22 bogeys, four doubles and three "others."
Hypothesizing based on some average golfer data supplied by the team at Arccos, the GPS stat-tracking app, the average 15-handicap golfer's proximity to the hole from the 17th's yardage would be 55 feet, or basically not on the green. The average 10-handicap's proximity isn't much better at 48 feet, and only a scratch player, according to Arccos, might end up on the green, most of the time, with average proximity of 34 feet.
So is the 17th just "interesting" as Matt Fitzpatrick termed it before the championship, or "fair, because it's unfair to everybody" as Jon Rahm called it? Let's wait until Sunday, after all of its insane difficulties have been overcome. Or not.
Is it the British Open or the Open Championship? The name of the final men's major of the golf season is a subject of continued discussion. The event's official name, as explained in this op-ed by former R&A chairman Ian Pattinson, is the Open Championship. But since many United States golf fans continue to refer to it as the British Open, and search news around the event accordingly, Golf Digest continues to utilize both names in its coverage.