Focus on the short ones
British Open 2023: The secret to good putting? Look at Brian Harman's stats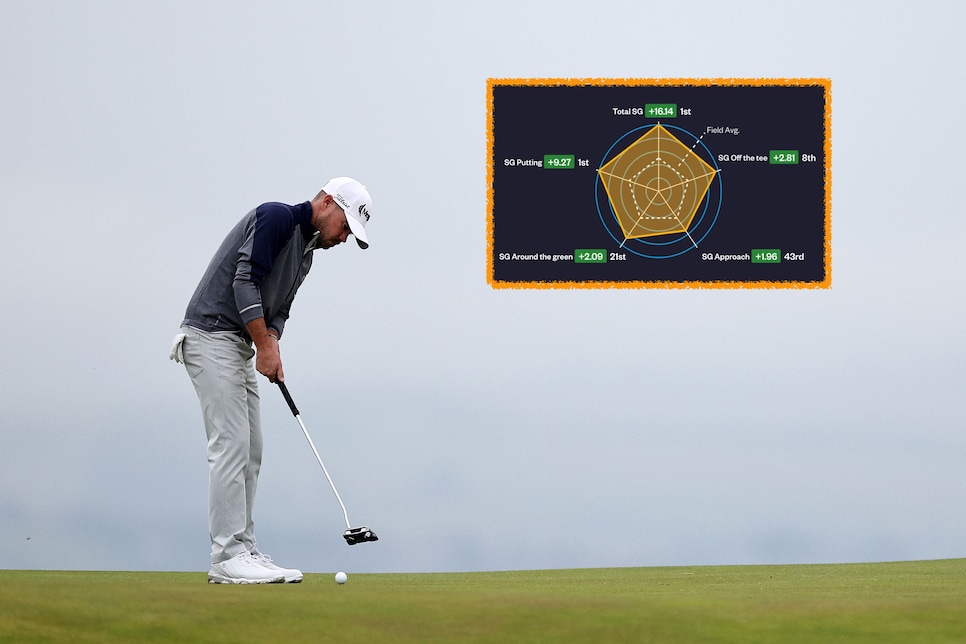 HOYLAKE, England — You don't win majors with a cold putter, but coming into the final round, 54-hole leader Brian Harman's is running blazing hot.
"I've had a really nice week putting. Another good one tomorrow would be nice," he says. "These greens have been fantastic, and I've had a good line for them so far."
That, perhaps, is an understatement.
Harman, who comes into Sunday 12 under and with a five stroke lead over Cameron Young, leads in strokes gained/putting, gaining a whopping 9.27 strokes with his putter over the rest of the field. To put how well he's putting: If Rory McIlroy, who comes into Sunday T-11 at three under, boasted Harman's putting stats, he'd be 13 under.
But what's perhaps most interesting about Brian Harman's red hot putting is what a deeper dive into his stats reveals about what good putting actually looks like. It's probably different than what most golfers think.
Don't worry about medium and long putts
The longest putt Brian Harman has holed this week? 32 feet, which ranks him outside the top 50 in the statistical category. That's almost the same distance as longest putt Scottie Scheffler, who ranks 157th in strokes gained/putting, has holed this week. And it's 10 feet shorter than the longest putt Rory McIlroy has holed this week.
It underlines an important point: Being a good putter doesn't require holing lots of long putts. The tour average only holes about four putts outside of 10 feet per tournament. It's nice when it happens, but it's just not statistically possible to keep it going.
The bedrock of good putting isn't what happens from long range, it's what happens from closer...
"Making tons of short putts" isn't really the most accurate way to describe it. Harman is making all his short putts, literally. He's 44/44 within 10 feet.
Your ability to make putts from short range, specifically in that 6-9 foot range, is one of the most important skills which separates high and low handicaps. Harman usually makes about 75 percent of these putts. The tour average is about 68 percent. According to Arccos, the average scratch golfer from this range makes just 39 percent.
Avoid 3-putts at all costs
And finally, a shoutout to the all-important quality of not three-putting. Harman's had zero of those this week, which means giving his short putting stats. It's a good reminder of the true key to good putting: Not getting aggressive from long range trying to hole a long putt, but rather, running up the margins from short range. That, ultimately, is what Harman is proving this week.
Making your short ones. That's the key to good putting, and lower scores.