News
Why seasons can be made on Sunday and other takeaways from Round 3 at Corales Puntacana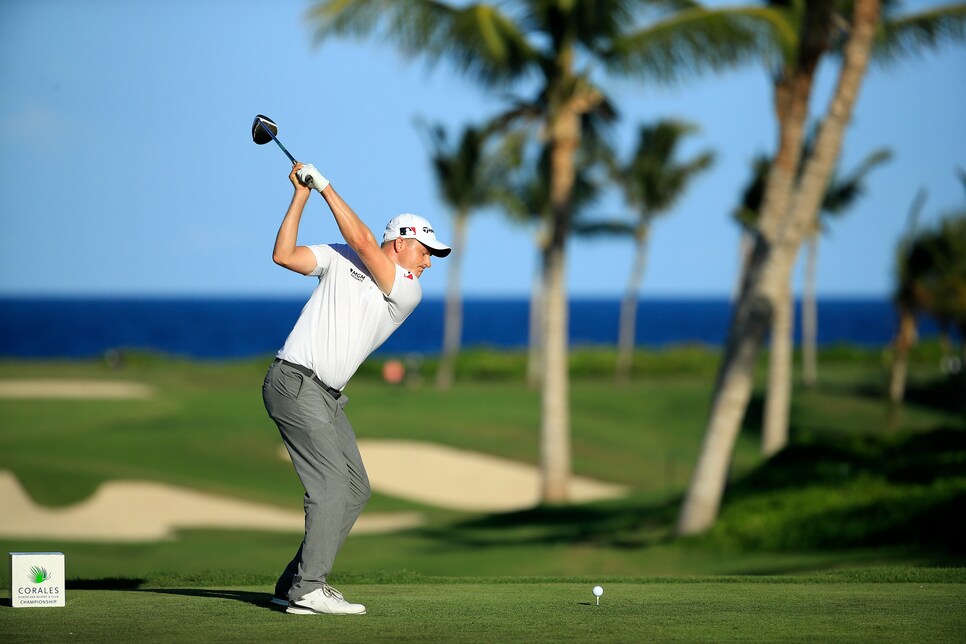 Four takeaways from Saturday's third-round action of the Corales Puntacana Resort & Club Championship.
Adam Long came out of the golf wilderness to win the PGA Tour's Desert Classic in January 2019. A potential victory on Sunday won't be as surprising.
The former Duke Blue Devil followed up a Friday 65 at Puntacana with an eight-under 64 on Saturday. It was tied for the low score of the day, giving Long a two-shot lead heading into the final round.
"It was a fun day," Long said. "Yesterday was nice, too, making a lot of birdies, which is nice. I've had some experience going low in the past out here and just going to have to keep the pedal down and try to make as many as I can tomorrow as well."
He hit 14 greens on Saturday afternoon, but where Long is making moves is with the short stick, ranking fourth in the field in putts per green in regulation.
"It was nice when those days are like that where you're just kind of feeling the putter and you're just making putts," said Long, who had nine one-putts in his last 10 holes. "It was nice. I wasn't thinking about a whole lot of things, I was just trying to make everything."
Long recorded two runner-ups in 2020, finishing 31st in the FedEx Cup to prove his La Quinta triumph was no fluke, and kept the providence rolling to start the new season with a T-13 at Winged Foot last week. He is 18 holes away from adding to the resume, and will be paired with Hudson Swafford in the final group.
"I'm trying to win just like everybody else. We all have reasons to win and I do, too," Long said. "But they're the best players in the world, they're all going to make birdies. At a tournament like this you're going to have to keep the pedal down and keep making birdies, so it would be nice to get off to a good start and see some putts go in early."
Mackenzie Hughes owns one of the best short games on tour. That is a statement based on stats—the Canadian ranked sixth in strokes gained/around-the-green and eighth in strokes gained/putting last season—and Saturday highlights, as Hughes dunked two chips during the third round.
The first dunk came at the par-4 15th, just off the dance floor …
With the second slam coming minutes later at the par-3 17th:
"I didn't have much going today and I was watching Adam play awesome, so it was like getting run over by a semi, but hung in there," Hughes said. "My caddie, Jay, did a good job of reminding me of just hanging tough and waiting for a little run there. Lo and behold, he was right and we caught a little run there at the end and a couple chip-ins and a nice birdie there on 16. So that definitely makes dinner taste a little better tonight and give me a chance for tomorrow."
Hughes finished with three birdies in his final four holes for a five-under 67, leaving him three behind Long.
Anirban Lahiri began the day outside the top 50. His standing on Saturday night has markedly improved.
Lahiri vaulted over 45 spots on the Puntacana board thanks to eight birdies and zero bogeys for an eight-under 64.
"It was great, especially nice to have a clean card," Lahiri said. "I've made a bunch of silly errors over the last two days and I've been playing better than my score would suggest, so I knew that I had to come out and kind of tighten up, focus a little bit more. Hit my irons a lot better today, put some work in yesterday afternoon and I'm glad."
It was not too long ago that Lahiri ranked No. 33 in the world, making back-to-back Presidents Cup teams in 2015 and 2017. Alas, he has struggled with his game since, and due to COVID-19 travel restrictions, only played in eight events in 2020. Lahiri entered the week No. 690 in the OWGR with just one top 10 on tour in the past two years. Though he's six shots back of the lead, that Lahiri has an opportunity to contend in something not lost on the 33-year-old.
"I'm just happy that I have a chance, an outside chance one way or the other, and I played well so I can take a lot of pride in that," Lahiri said.
Lahiri was not the only Saturday mover. Nate Lashley, who won at Puntacana in 2017 when the property served as a Web.com Tour site, jumped 25 spots on the board thanks to a seven-under 65.
"I feel like it's a good second-shot golf course and I think that's a good strength of my game," Lashley said. "When I'm hitting my irons well, I feel like on a course like this I'm going to have a chance to finish well. I like that you hit some fairways and then if you have a chance to hit some irons in close, I like that."
The friendly confines were desperately needed, as Lashley came in ice cold, missing the cut or withdrawing in 10 of his last 12 starts. Five shots is a lot of ground to make up, but Lashley seems ready for the challenge.
"Anyone you win a tournament on a course, you feel comfortable, you feel confident," he said.
The focus, especially during events of lesser prestige, tends to gravitate toward the windfall that awaits the winner. And with Puntacana promoted from alternate status to a stand-alone event this fall—thus awarding an invite to the 2021 Masters—that is especially so this week.
However, the bounty extends outside the winner's circle. Had the tour not extended its membership into this season, many players in this week's field would not have status for the current campaign. Heck, a good chunk of the leader board doesn't have full-time status (Hudson Swafford, Sean O'Hair, Justin Suh, Anirban Lahhiri) anyway. Outside of a win, obviously, the reward for many of these guys is a top-10 finish, granting them the chance to play at next week's Sanderson Farms Championship. Better yet, even those who fall just short of victory, placing in the top four does most of the major legwork to securing a tour card for 2022. At a cognitive level most diehard fans realize this, and some may be wondering, just three weeks in, if so much importance should be put on a fall event.
Conversely, the players who populate the autumn series events only get so many cracks at it, their exemptions and invites into tournaments drying up as the year progresses. In short, don't let the September date and Carribean backdrop fool you: seasons will be made, and hearts will broken, on Sunday afternoon.