The Loop
Eight ways golf influenced the 2012 presidential election
John Heilemann and Mark Halperin made a lot of enemies when they penned their 2010 book Game Change, a revealing -- and sometimes damning -- look at what went on behind the scenes during the 2012 election.
But all the juicy tidbits about internal feuds on both the Obama and McCain sides didn't annoy everyone. Readers flocked to read it, HBO made it into a movie, and the pair received a $5 million advance from Penguin Press for another book about the 2012 contest.
That book, Double Down: Game Change 2012, was released last week. Like Game Change, it relies almost solely on anonymous sources, but unlike the first book, golf plays a far more prominent role throughout the story. Here's a look at some of the best bits:
Forget smoking, go golfing__
__Once Democrats lost control of the house after the 2010 midterms, a number of Obama's key advisors began pushing the President to "get to know" the newly-elected speaker, John Boehner, before debt ceiling negotiations began. Inviting the speaker to Camp David, or to the White House to watch a movie, or to meet with the president for a wine and smoking session were all ideas nixed by Obama in favor of playing golf, despite the president not wanting to at first ("Nah, Boehner's too good," Obama said).
But it was President Obama and Speaker Boehner who eventually topped Vice President Joe Biden and Ohio Gov. John Kasich on the final hole. "Boehner described the narrow victory as a whipping, while Biden moaned about his swing and Kasich informed the VP that shorts were not a good look for him."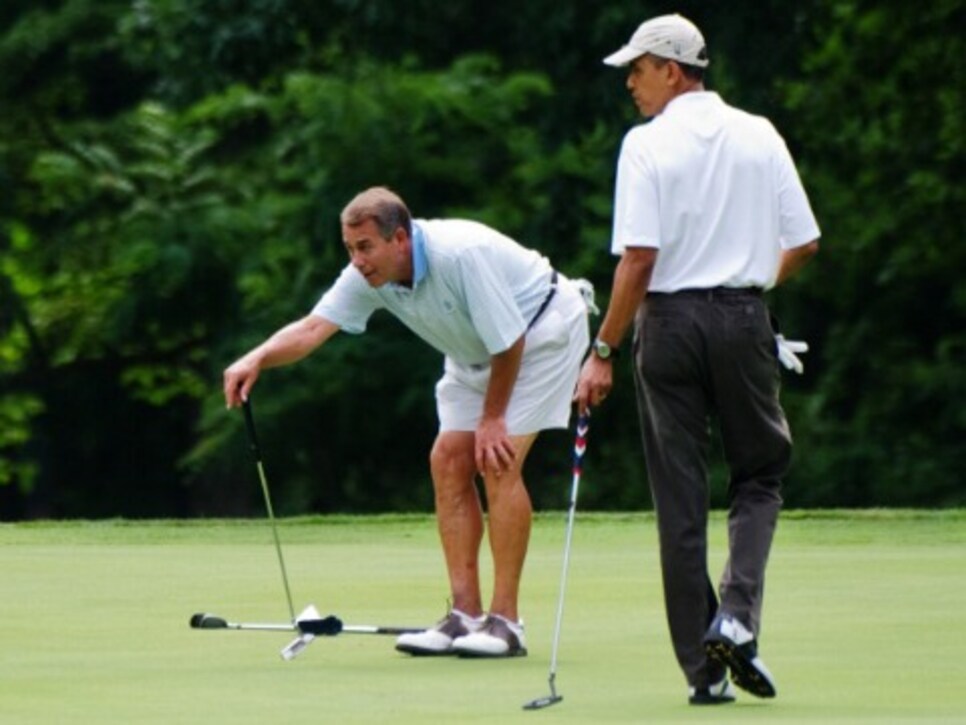 With the Republican Party searching for their counterpart to Barack Obama, George W. Bush was one of many attempting to court popular Indiana Governor Mitch Daniels into running.
But Daniels wouldn't run, mainly because of his wife, a private woman who he had promised years earlier that his political career was winding down. "She wanted a life filled with golf and grandchildren, not state dinners."
Callista Gingrich, golf nut?
Newt Gingrich's third wife, Callista, may not have helped the former speaker's cause during the election, but that didn't stop him from being "gaga for her." Once the two married in 2000, Newt converted to Catholicism for her, joined the Kennedy Center because of her love of opera, and even took up golf once he discovered she played. It was revealed later in the book that the pair were even members of Trump National Golf Club in Virginia.
The Villages; conservative county, golf mecca
In Mitt Romney's last event before the Florida primary, the former Massachusetts Governor stopped at the Villages, which had recently made a $250,000 corporate donation to his campaign's super PAC. As Heilemann and Halperin wrote, "100,000 residents, 63 recreation centers, 540 holes of golf, and a conservative political bent...if any place in Florida was Romney Country, this was it."
The 5,000-person strong crowd would help propel Romney to victory, but it was during this event where his off-key rendering of "America the Beautiful" went viral -- proving a major headache for the campaign going forward.
__Before the Republican National Convention, Mitt Romney went to dinner with actor Clint Eastwood, who he was trying to woo into making a surprise appearance at the convention, and Sun Microsystems CEO Scott McNealy at Tehama Golf Club. Eastwood was a member there, and joined by their wives, Clint brought in a chef and together the "six of them had a ball."
Obama, Clinton and...Jason Dufner?__
__Bill Clinton, notorious throughout his career for showing up late, was actually the one waiting around in a back room for Obama before the president's first reelection fundraiser. Clinton was watching a golf tournament (by our math, it would have been Jason Dufner's first PGA Tour victory, the 2012 Zurich Classic of New Orleans) when Obama entered the room.
"When Obama arrived, the two men hugged, chatted about golf, and wolfed down a fast dinner. It was the first personal time they had spent together since their strained outing on the links seven months earlier. The atmosphere was friendly enough, but the table talk superficial."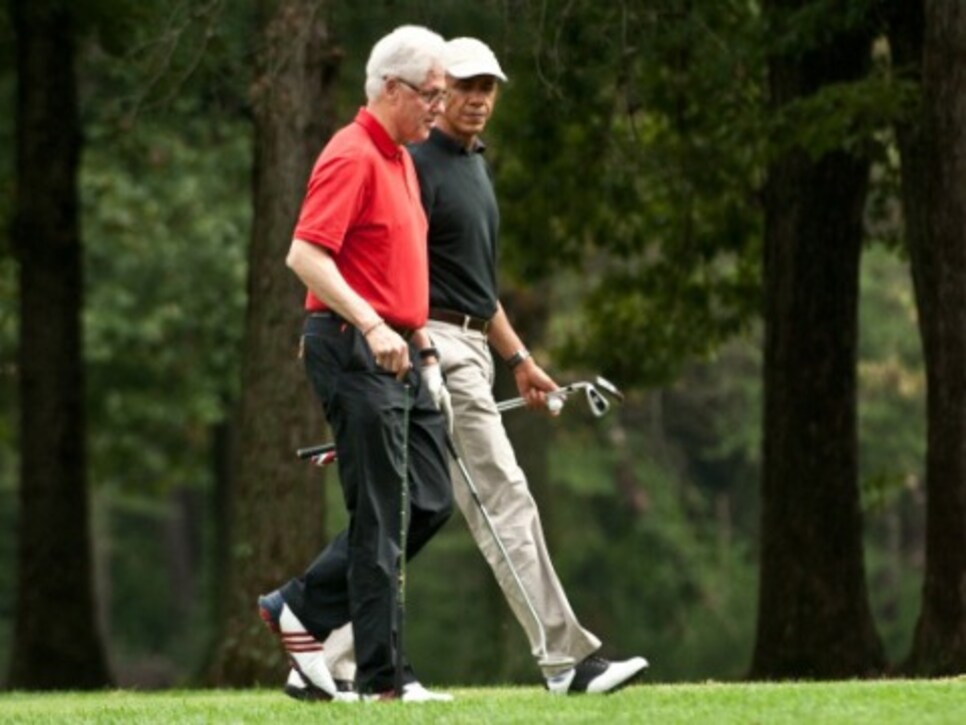 President Obama prepared for his disastrous first debate at the Westin Lake Las Vegas, "a palm-fringed sprawl of unfinished lots, half-built homes, and desiccated golf courses." But, unfortunately for Obama, he was so busy prepping that he didn't get to play any golf. "This is stupid," Obama said of the debate. "I hate this."
The One and the Big Dog, golfing buddies__
__Despite their previously strained relationship, Bill Clinton was the second person Obama called (the first was Romney) after his election victory, and the pair played golf together in the weeks following. "A round of golf with 42 at Andrews [Air Force Base] saw 44 skipping out early on the back nine to maintain a one-stroke lead -- that was how Clinton told it, anyway, with a big smile on his face."