The Loop
8 reasons why the driving range during a practice round is the most interesting, entertaining place in professional golf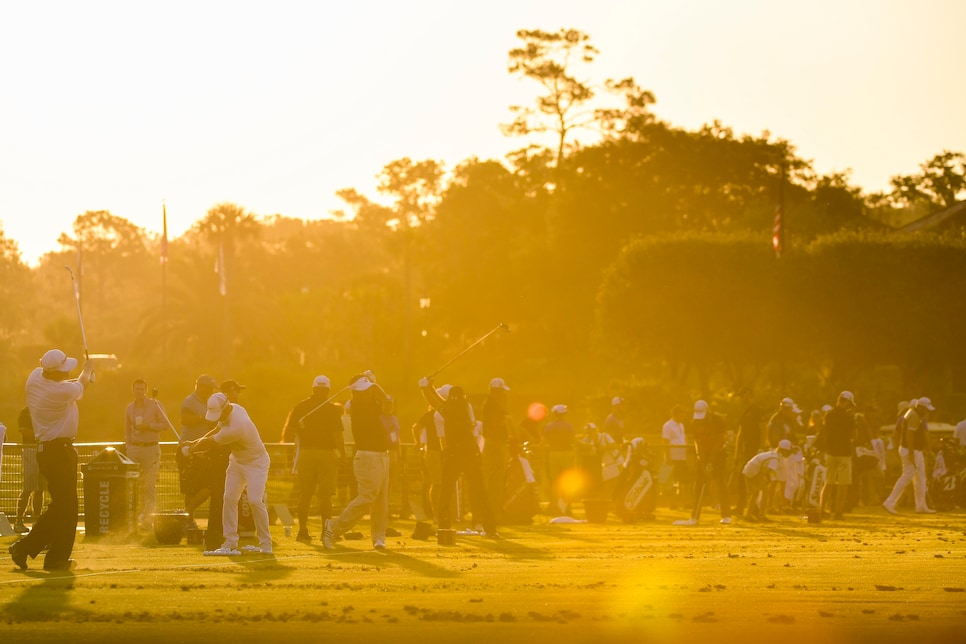 No matter the tournament, golf fans are predisposed to visit certain attractions during practice rounds. Following the big boys like Jason Day, Jordan Spieth and Rory McIlroy. Camping out on a course's signature hole. Hovering around the clubhouse. Doing unspeakable things to your credit card at the merchandise tent.
Viable points of interest in their own right, yet no compare to the true heart and soul of a golf tournament:
To me, the practice area is a magnificent paradox. Everything and nothing is going on, where conversations are had without words exchanged. It's a microcosm of the sport, not only representing every entity associated with the game, but showcasing the division of the haves and have-nots. Scores aren't recorded, yet what happens on the range can decide a tournament.
Nonsense, you say? Here are eight reasons why the driving range is the most interesting, entertaining place in golf:
It's the ultimate fan learning experience
Want to work on your game? Forget hitting balls or visiting your local teacher; setting up shop on a professional range will do you wonders.
You may pick up a tip or two from watching the sport on television, but observational in-person learning is one of the best ways to digest and retain golf lessons. Better yet, because a tour range has endless stations, a fan gets a smorgasbord of instruction. At Oakmont on Monday, I saw Louis Oosthuizen rehearsing tempo, which included his pre-shot routine. Brandt Snedeker was honing long-iron control, with a focus on the backswing. Fairway woods received a fair amount of Patrick Rodgers' attention, while Jason Kokrak was...well, Jason Kokrak looked like he was simply trying to hit the bejesus out of the ball. And he was succeeding.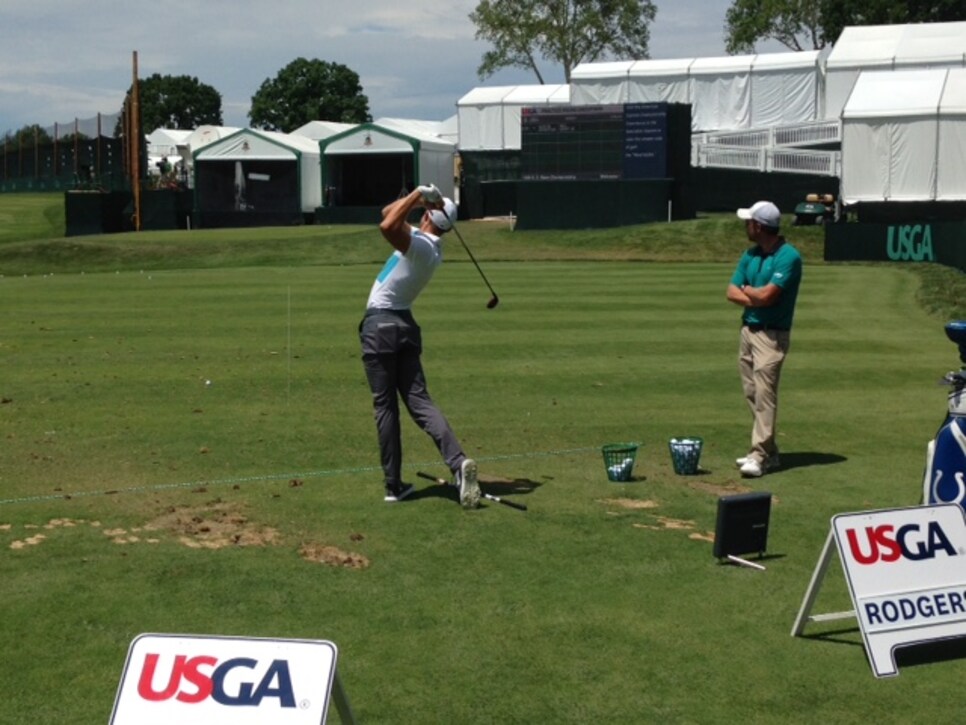 Each player's ambition bestowed a unique takeaway; that all of the world's best have something to absorb makes the range a treasure chest of golf instruction.
It's golf's high-school cafeteria
Although the younger generation has showcased more personality and camaraderie than their older peers, golf remains a buttoned-up, achromatic sport. The one exception is on the range during practice rounds.
Yes, guys converse with each other during tournament play, but it's mostly just pleasantries. Monday through Wednesday, however, players have the guard down, a time where their personalities can shine. Spieth, normally serious when inside the ropes, is quick with a smile and word to his fellow players. Graeme McDowell kept things lively at his end of the range. Judging by the amount of times he stopped to crack a joke or shake a hand, Matt Kuchar would make a hell of a presidential candidate. (Strike that; he's too smart to go into politics.)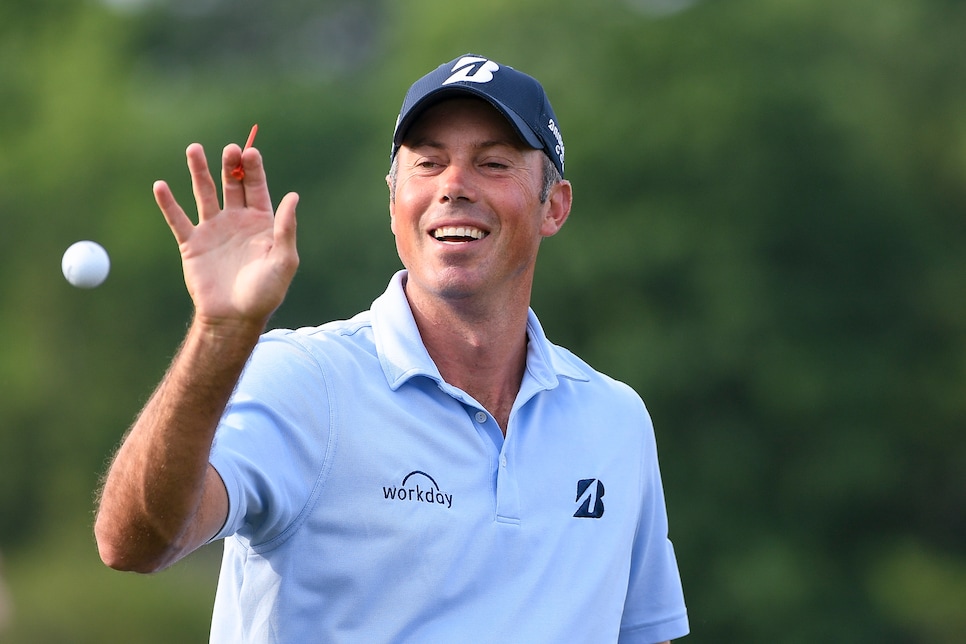 Besides an increase in animated conversations, you also see what cliques exist on tour. And make no mistake, there are social groups. Most stem from players living in the same communities`; a fair amount are built on nationality, age and interests outside of golf. There are also loners, players who only need the companionship of their caddie.
It's a rare peek behind the curtain into players' lives, and often it reflects a side we don't consider.
If you're attending an event with the hope of a close encounter with a PGA Tour player, the course is not your best bet. Camping out on a hole strictly for guys to pass through is risky; proximity is not guaranteed, as their ball could be on the other side of the green or fairway. Even if you plan on walking all nine or 18 holes with them, you're combating other fans for viewing position.
The range is a different beast. Rarely are the driving range stands filled, which is odd: What better opportunity to glimpse a player than at the spot where he won't move for an hour. Plus, you'll get to see him diversify his shot selection; it's like a personal view of every club he has in the bag. Quite the contrast to waiting on a single hole for three hours just to catch Spieth smacking an iron out of the rough.
Think the guys bomb it during tournament play? You should see the ungodly things they do on the range when accuracy isn't a chief concern. Brooks Koepka's drives were of Herculean legend. The aforementioned Kokrak was making workers turn to each other with, "Did you see that?!" glances. Bubba Watson and J.B. Holmes put on two-man show:
It leaves the spectator in awe, and leads to an introspective questioning of one's own manhood.
The hilarity of hanger-ons
Forget rapper entourages. The scene on driving ranges is something to behold. You have caddies, coaches, agents, family, club members, workers, tour and tournament officials, personal assistants, equipment and sponsor reps, groupies (yes, groupies), and the heathen media. Seriously, check out the "team" around Bryson DeChambeau: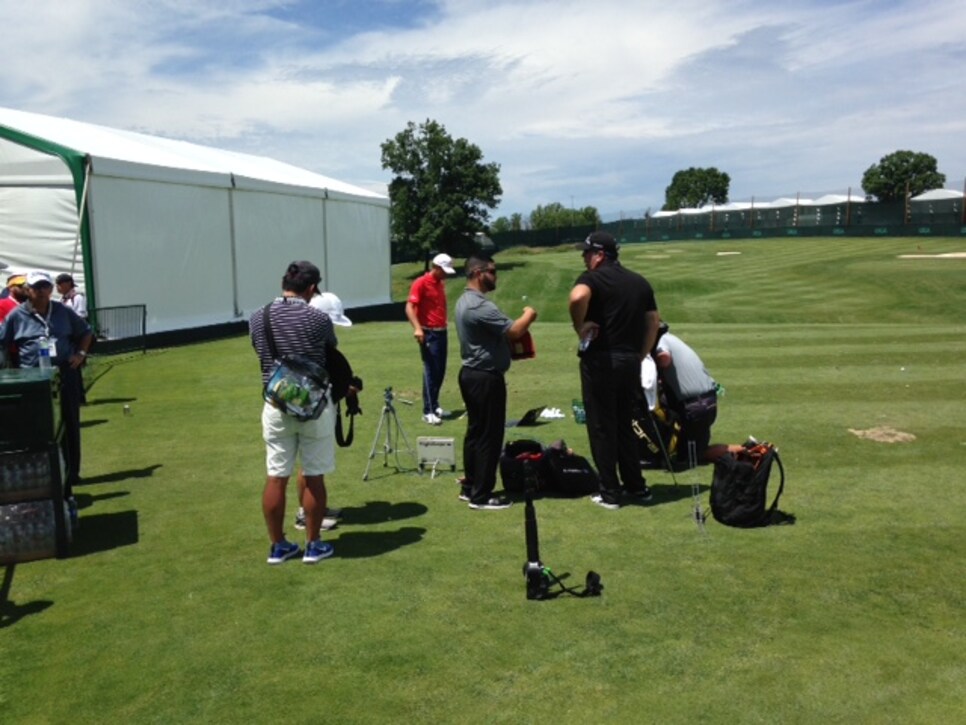 Some NBA teams don't have that many assistant coaches.
These sycophants sneer through their sunglasses towards the crowd, flaunting a "That's right, I'm inside the ropes; I'm special" cadence.
I say this with conviction because I ostentatiously displayed the same attitude on the range Monday. It felt fantastic.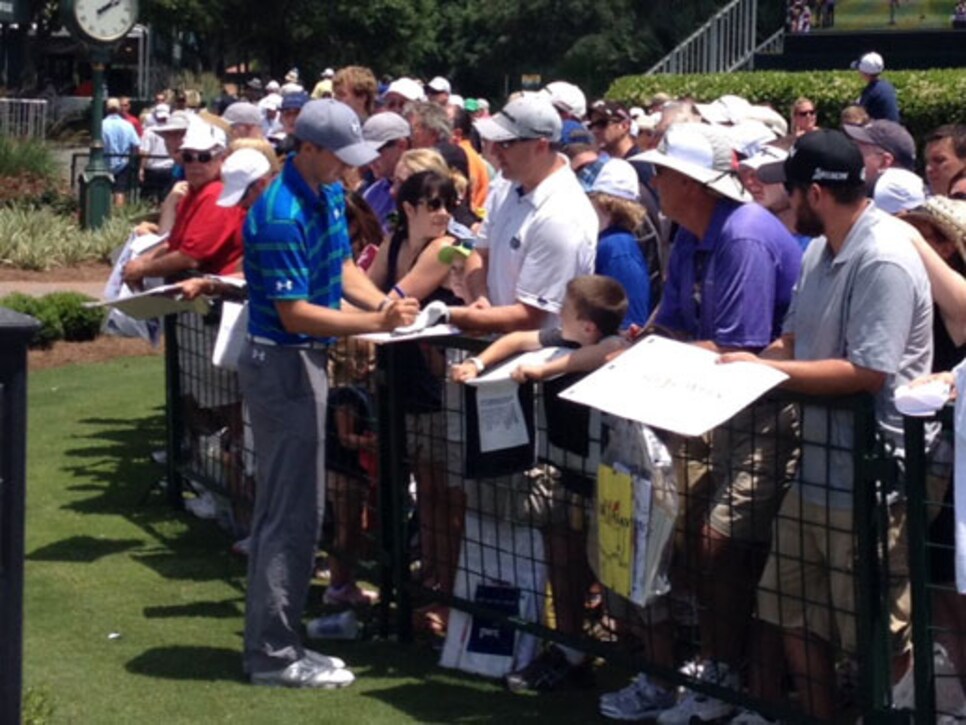 Great place for kids to get autographs
For those 16 and under hoping to get a player's Hancock, the range on practice days is a golden opportunity. And I do emphasize 16 and under: Spieth was notified by security to stop signing on Monday because adults were crushing children against the rails. I wasn't planning on voting this election, but any candidate that outlaws adult autograph seekers will gain my ballot.
You get a great sense of what a player is grappling with
We often view pro golfers as infallible, yet their struggles are very real on the range.On Monday I witnessed a college player unable to control his fairway wood, a veteran battling a hook with his driver and a very, VERY big name firing wedge shots every which way except at his target.
I say that not in schadenfreude. To me, that's one of the more engaging aspects of the range. With millions of dollars involved -- for some, you could argue their careers are on the line -- how do players deal with these problems in a short window of time? That not all will figure it out -- there was one instance where a coach whispered to an agent, "It could be a short week" -- heightens the stakes.
But, in that same vein...
Oh yeah, these guys are GOOD
You can't appreciate how powerful Jason Day's swing is until you see him up close, the pure contact DeChambeau makes with his irons, or how long Bubba is until taken in firsthand. What professional golfers do on your televisions every week is impressive. But what they do on the range is even better.