The Loop
7 things you need to know about the Irish Open and the incredible Royal County Down
Ladies and Gentlemen, set your DVRs.
Sure, three Senior British Opens were played at Royal County Down around the turn of the 21st century. But they were shown in lowly standard definition for a couple of hours on a summer weekend. And yes, the 2007 Walker Cup was briefly televised, showing us a thrilling match (plus those charmingly unflattering photos of Rory and Rickie) but without much coverage.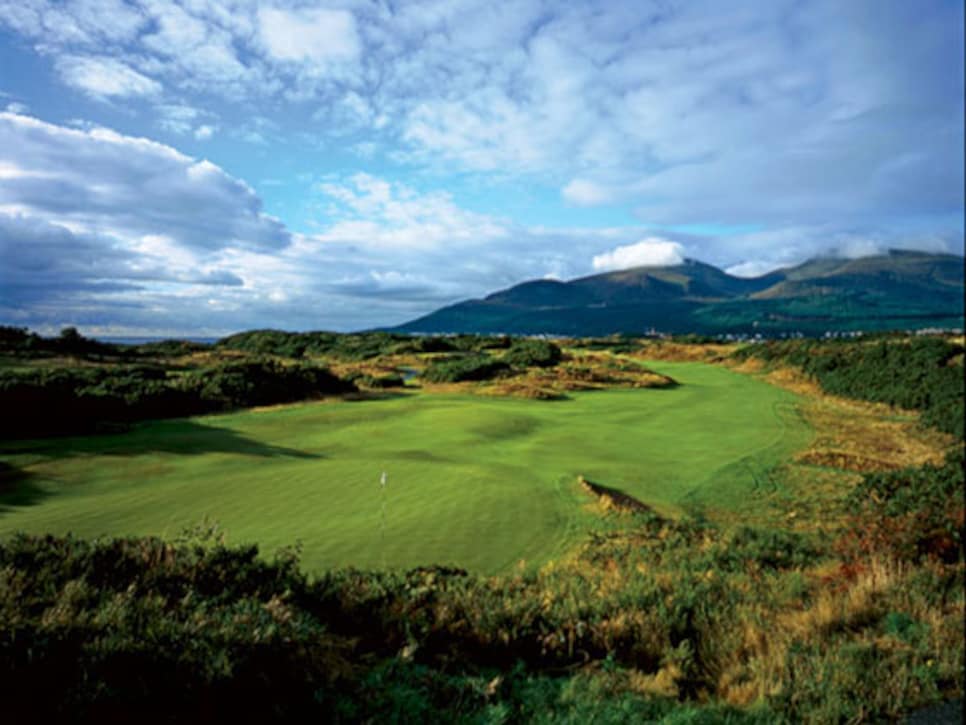 That's when the hard-to-reach, hard-to-play and awe-inspiring course hosts the Dubai Duty Free Irish Open benefiting McIlroy's foundation. The World No. 1 golfer brings his friends to the course Golf Digest rates the best outside of the United States. And for the first time it will be shown in full HD glory.
A few things to keep in mind when extensive Golf Channel coverage starts Thursday morning.
-- The field at this European Tour tournament may be better than the tour's "flagship" event had a week ago. With a great course and Dubai Duty Free making the difficult journey to Northern Ireland worth their while, stars are flocking to Newcastle: Darren Clarke, Luke Donald, Victor Dubuisson, Ernie Els, Rickie Fowler, Sergio Garcia, Padraig Harrington, Miguel Angel Jimenez, Martin Kaymer, Graeme McDowell, Paul McGinley, Lee Westwood and last week's BWM winner Byeong Hun An.
-- The course has almost as many architects as there are players in the field this week. For a change, that's a good thing. Ran Morrissett wrote in his GolfClubAtlas.com review, "As with Oakmont Country Club and Pine Valley Golf Club, County Down stands apart as reminding one of no other course in the world in part because it was designed not by a professional architect but rather by strong willed people with a genuine love and feel for the game."
A Scottish schoolteacher named George Baillie was the first to design nine holes here in 1889 or so. Then Old Tom Morris was paid "a sum not to exceed £4" to turn the Newcastle course into 18 holes. A series of major changes were made by a club captain, George Combe, that resulted in the core of today's world-renowned layout. This was followed by suggestions from legends James Braid, J.H. Taylor, Harry Vardon and Ben Sayers before the great H.S. Colt created the famed fourth and ninth holes in 1925. More recently, Donald Steel strengthened the finishing holes, including the entirely new 16th that gives the finishing stretch a risk-reward short par 4.
-- RCD is "quirky" in the best sense. You know that word: it's the label put on any course that includes blind shots and an unorthodox routing. As Morrissett noted in his review, there is little chance a Royal County Down-style course would be built today as players would want none of the blind shots and general craziness they'll get this week. No hole is more bizarre than the 483-yard ninth, where an inviting dune-top fairway plunges suddenly 60 feet straight down, as the awkward distance of 200 yards off the tee. Anyone who has played there will be hard pressed to knock this H.S. Colt idea. Unless you don't carry it 200 yards (I did not, but I was only 15 and I'm still bitter about it).
-- What's that beautiful red building and what are those amazing mountains? You'll see no shortage of shots from the ninth fairway looking down on the town, where the Slieve Donard looms over the course. The high-end hotel and spa is the host for the week, offering players views of the course or the stunning mountain for which the resort shares its namesake. The Mourne Mountains are the highest in Northern Ireland (nearly 2,800 feet at Slieve Donard's peak) and have been a favorite of hikers who enjoy its network of trails.
-- Royal County Down is not as remote as it seems. A two-hour drive from Dublin and an hour drive from Belfast doesn't sound so bad except that it's all by two-lane roads, making the logistical setup part of the story this week. Fans will be dropped off on the other side of Newcastle and be asked to take a 15-minute walk through the beautiful town. There are worse experiences to be had in golf spectating.
-- Golf Channel is offering no shortage of chances to see Rickie and Rory re-uniting at Royal County Down. Thursday the network is live from 3-8 a.m. ET, with a second live window from 11-1 p.m ET. Friday is one window from 7 a.m. to 1 p.m. ET. The weekend is live too, with Saturday coverage starting at 8:30 a.m. and Sunday commencing at 8 a.m.
-- You can play Royal County Down and take a Game of Thrones tour, too. While it's a private golf club, like most U.K. courses, they will gladly take your money to fund their operations and offer up their beautiful course for a once-in-a-lifetime experience. Check out the details on Royal County Down's website. For fans of the HBO show, the Winterfell Castle & Demesne, home to many of the visuals used in filming, is not too far away.
Finally, for some visuals to get you in the mood for Royal County Down, check out Ben Sargent's two tours of a place we're pretty sure you'll never get tired of looking at.