The Loop
7 things Gil Hanse would have you know about the new Blue Monster
There was modest relief in Gil Hanse's voice when the golf course architect chatted recently about the remodeled Trump National Doral's Blue Course. He had already earned kudos from many within the golf cognoscenti when the overhauled course was previewed last month. He also received lavish praise from his boss, Donald Trump, who rewarded the work of Hanse and partner Jim Wagner by signing them to spruce up the resort's Red and Gold courses as well as attaching them to an unnamed project in Dubai.
It's another audience, however, that Hanse is curious to hear from -- namely the few dozen men who'll be playing the course this week at the WGC-Cadillac Championship. "This," Hanse said, "will be the real test."
As many of the world's top players attempt to pick apart the work of one of the world's top architects, we'll defer to Hanse to clue you in on seven things you should know about the new Blue Monster.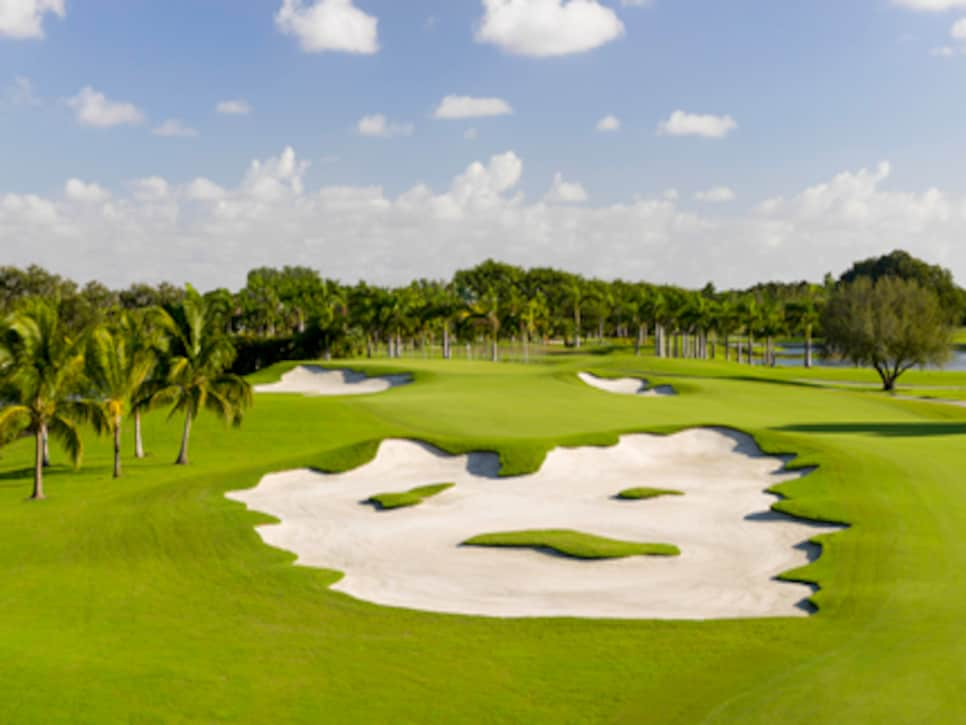 The overhauled Blue Monster (fifth hole shown) hosts this week's WGC-Cadillac Championship.
1.) It's not a restoration, a renovation or a rebuild.
__"We probably went through all three of those phases," Hanse says. "It's really a new golf course."
Originally, Hanse planned on returning the course that Dick Wilson built in 1962 back closer to his original design. But as the project began, and Hanse and Trump came to appreciate the size of the property -- a massive 300-plus acres for one 18-hole course -- it became apparent  there were additional opportunities to transform the course.
"A lot of the holes are in the same places as before, but every green has been rebuilt, every bunker has been moved and shifted," Hanse says. "Twelve of the holes have had significant alterations in either direction or water being brought into play."
[Related: Donald Trump's Doral renovation plan revealed
](http://www.geoffshackelford.com/homepage/2013/3/6/the-trump-blue-monster-renovation-plan-revealed.html)
__2.) What Dick Wilson first designed wasn't what was actually built.
__"I have no idea why," Hanse says. "[But] what his plans showed were much more interesting and more exciting."
Rather than have fairway bunkers positioned down the left and right sides of holes, as they ultimately evolved into, Wilson wanted them positioned more diagonally to force players to shape shots into landing areas. In turn, being in the right spot off the tee would set up a better angles to approach the greens. Hanse reapplied this idea, but modernized the strategy by positioning the bunkers farther down the fairways to take into account the added length of modern tour pros.
Hanse noticed as well that Wilson's original greens were "more eccentric in their shape." In many cases he attempted to restore them while also adding more contour.
"We might have some pros shaking their heads about a putt," Hanse says. "Obviously guys like Tiger and Phil have played there for 15 or 20 years, they have a knowledge bank about what the greens are going to do. But these are brand new greens, so they're going to have figure out how to putt them."
__3.) To folks watching at home, it's not going to look all that different.
__"I don't think people are going to turn on the TV and go, 'Wow, that's not Doral,' " Hanse says. "It's fresh and new but a lot of the changes that have been made, sort of elevating fairways and spectator improvements, you're not going to see them on TV."
The most noticeable differences will be Nos. 15, a par 3 that now has a carry over water to a peninsula green, and 16, still a reachable par 4 but with more risk as water can be found down the left side of the hole.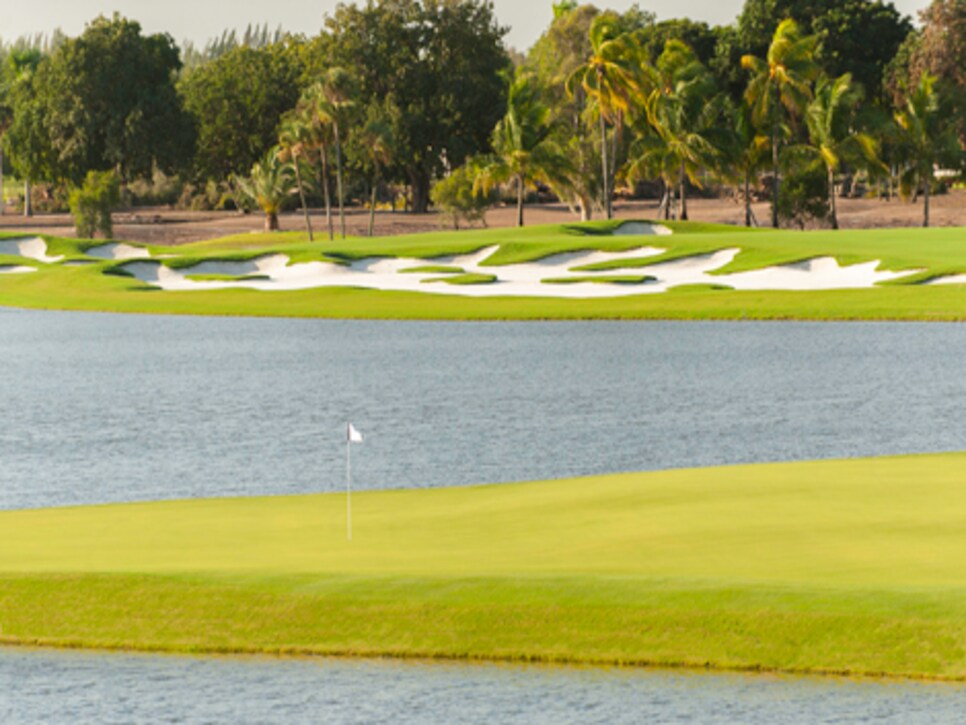 Viewers may notice significant changes to the 15th (foreground) and 16th holes (background).
__4.) If the tour pros gripe, they can blame themselves.
__In 2012, when it was announced Hanse was going to do the work, he offered an open invitation to players, through the PGA Tour, to make comments and look at what was put on paper conceptually. Only two contacted him: Phil Mickelson and Geoff Ogilvy.
Similarly after much of the work had been done but not yet finalized, Hanse offered the opportunity for players to come out and see. Again only two took him up on the offer: Mickelson and Justin Rose.
"We really didn't get a ton of input," Hanse says, "and I don't know whether that's just because they're not that interested or busy or just focused on the game."
__5. Improving the course for tour pros made it better for average golfers, too.
__"By moving the fairway bunkers down range on holes so they're in play for the pros, that creates more space for the resort player," Hanse says. "So it gets things in the proper location for both classes of golfers."
Additionally the new, bigger greens give tour officials more spots to tuck pins. But bigger greens by and large benefit resort players. "Yeah, they may three-putt more," Hanse says, "but at least they're on the green."
__6. No, the Donald didn't make Hanse build a waterfall.
__"He really didn't micro-manage any of it," Hanse says. "It wasn't like, 'Oh, move that bunker,' or 'This green needs more contrast.' There was none of that stuff."
But what about a waterfall?
__7. If you think working for Trump could be tough, try building the Olympic Course.
__Hanse will be in Miami this week, but return to Rio shortly to finish shaping the holes on the course that will host golf's return to the Olympics in 2016.
](http://www.geoffshackelford.com/homepage/2013/3/6/the-trump-blue-monster-renovation-plan-revealed.html)
"It's slow," Hanse says of the Olympic project. "It continues to have its challenges. It should have been a lot simpler to build but there just have been a lot of outside factors that were never articulated to any of the golf people involved, the technical consultants as well as us."
Hanse hopes the irrigation system will be put in shortly so that course superintendent Neil Cleverly can start putting in grass by the end of April.
"What ultimately still has to happen, one of the unanswered questions, is we have a fantastic golf course superintendent on board and it's going to be critical he gets the resources," Hanse says. "If we go through similar delays or withholding of resources that we have gone through in construction, if that happens in the grown-in, then that will be problematic. There will be a golf course there but the condition it's in and the maturity level it's at will be probably not be up to the expectations of anybody involved. I think that's really an important part."
*__Photos courtesy of Trump Doral Resort