News
7 famous recent rules controversies -- and how the new "Lexi Thompson" rule would have affected them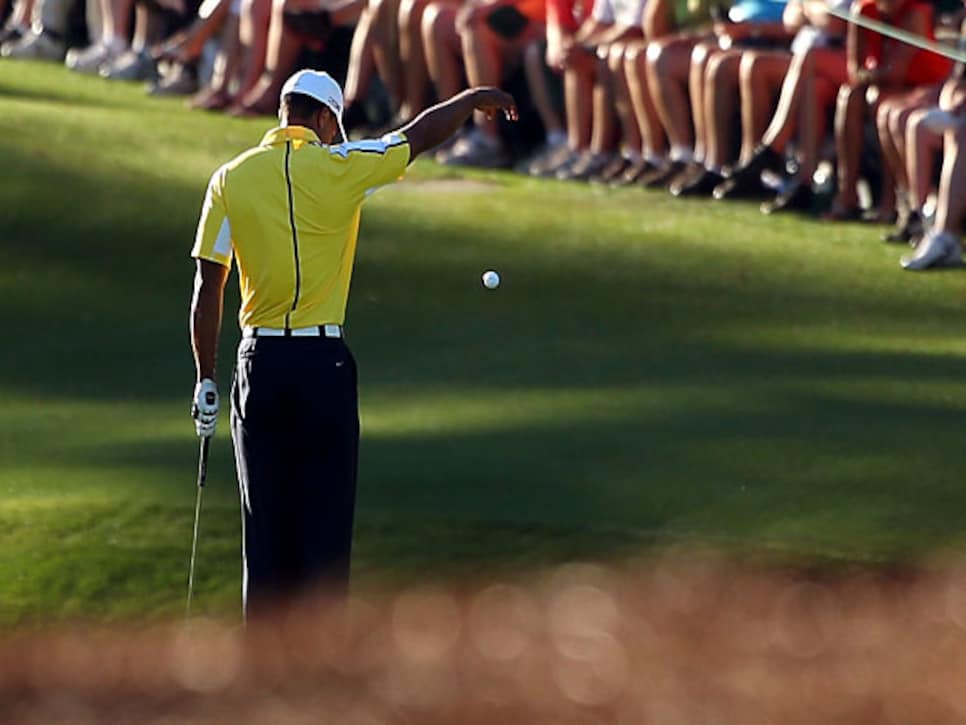 The USGA and R&A announced a new rule on Tuesday that will limit the use of video review. New decision 34-3/10 is effective immediately -- although there are plenty of players who probably wish it could be implemented retroactively. Here's a look back at seven famous recent rules controversies -- and how the new rule would have affected them.
1. Lexi Thompson, 2017 ANA Inspiration
What happened then: We start with the obvious one. Although the USGA says it's been working on this rule for awhile, there's no doubt what happened to Thompson earlier this month expedited the process. The LPGA star was hit with a four-stroke penalty during her final round for improperly marking her golf ball on the 17th green the previous day. She wound up losing a playoff to So Yeon Ryu.
If it happened now: Oddly enough, the USGA didn't provide a definitive answer to this. The rule still allows for call-ins and video reviews, and in this case, Thompson clearly put her ball back in the wrong spot. But the new rule says if players use "reasonable judgement," when determining the location of replacing their ball or taking a drop, then they're in the clear. Thompson claims there was no intent in her mistake so it seems like she'd be given a pass, but this is murky. The new rule also doesn't solve the problem that she was essentially penalized twice for the same violation because she signed an incorrect scorecard.
2. Anna Nordqvist, 2016 U.S. Women's Open
What happened then: Just a couple weeks after Dustin Johnson's rules fiasco at the men's Open (we're not including that because that situation was addressed by a different new rule), Nordqvist was given a two-shot penalty during a playoff with Brittany Lang for inadvertently touching sand on her backswing in a fairway bunker on the second playoff hole. The infraction could only be seen on video, and both players were informed of the penalty on the next and final hole.
If it happened now: Using the new clause, "when video reveals evidence that could not reasonably be seen with the 'naked eye,'" this wouldn't have been a penalty. In fact, this seems to be the very example the USGA used in its Tuesday press release: An example includes a player who unknowingly touches a few grains of sand in taking a backswing with a club in a bunker when making a stroke. Thus, it would have been ruled that Nordqvist gained no advantage from her mistake, and it may have kept USGA president Diana Murphy from making that name gaffe at the trophy ceremony.
3. Tiger Woods, 2013 Masters
What happened then: Tied for the lead late on Friday, Woods' third shot on the par-5 15th caromed off the flagstick and wound up in the water. He took a drop and got up and down for bogey. Or so everyone thought. Pro golfer David Eger, who was watching on TV, informed rules officials that Woods dropped in a different spot so it could be corrected before he left the course, but originally, no penalty was deemed necessary. Following his round, though, Woods incriminated himself during a TV interview in which he said he dropped a couple yards farther back on purpose. After much discussion and debate, two shots were added to Woods' score and he was lucky to not get disqualified for signing an incorrect scorecard (at the time, that called for a DQ instead of a two-shot penalty). The triple bogey proved costly as he lost by four shots.
If it happened now: There wouldn't be any controversy over Woods being allowed to continue playing in the tournament, but the penalty still would stand. Woods blatantly saying he dropped two yards back instead of at the same spot would keep him from using the "reasonable judgment" claim. Had he not done that interview, though, it's possible there would have been no penalty -- and he might have even picked up that elusive 15th major.
4. Tiger Woods, 2013 Players
What happened then: Holding a two-shot lead in the final round, Woods yanked a 3-wood into a pond. Although aerial views appeared to show Woods' ball almost immediately crossed the hazard line, Woods, after conferring with playing partner Casey Wittenberg, took a drop much farther up. He wound up making double bogey and held on for a close win. "That Tiger drop was really, really borderline," NBC's Johnny Miller famously said. "I can't live with myself without saying that."
If it happened now: We'd get the same result, with probably the same amount of questioning. If the video evidence wasn't consulted then, it certainly wouldn't be used today. As the PGA Tour said then in a statement, "Without definitive evidence, the point where Woods' ball last crossed the lateral water hazard is determined through best judgement by Woods and his fellow competitor."
5. Tiger Woods, 2013 BMW Championship
What happened then: As you can see, 2013 was not a good year for Tiger Woods when it comes to rules controversies, something Brandel Chamblee wasn't shy about expressing in his infamous season-in-review column. This time, video was used against Woods for something that happened in the woods on the first hole of the second round. A camera picked up Woods' ball slightly moving as he removed a nearby twig, and Woods was assessed a two-stroke penalty. Woods disputed the penalty after.
If it happened now: Woods would have avoided a penalty under the "naked eye" clause since he felt the ball didn't move, but merely oscillated. He probably wouldn't have avoided Chamblee -- and others -- challenging his integrity. Again, it was a rough year for these types of incidents.
6. Dustin Johnson, 2010 PGA Championship
What happened then: After missing a putt for what he believed to be the win, Johnson tapped in for par and appeared headed to a playoff with Martin Kaymer and Bubba Watson. But as he walked off Whistling Straits' 18th green, Johnson was informed he would be slapped with a two-shot penalty for grounding his club in a fairway bunker and that his tournament was over.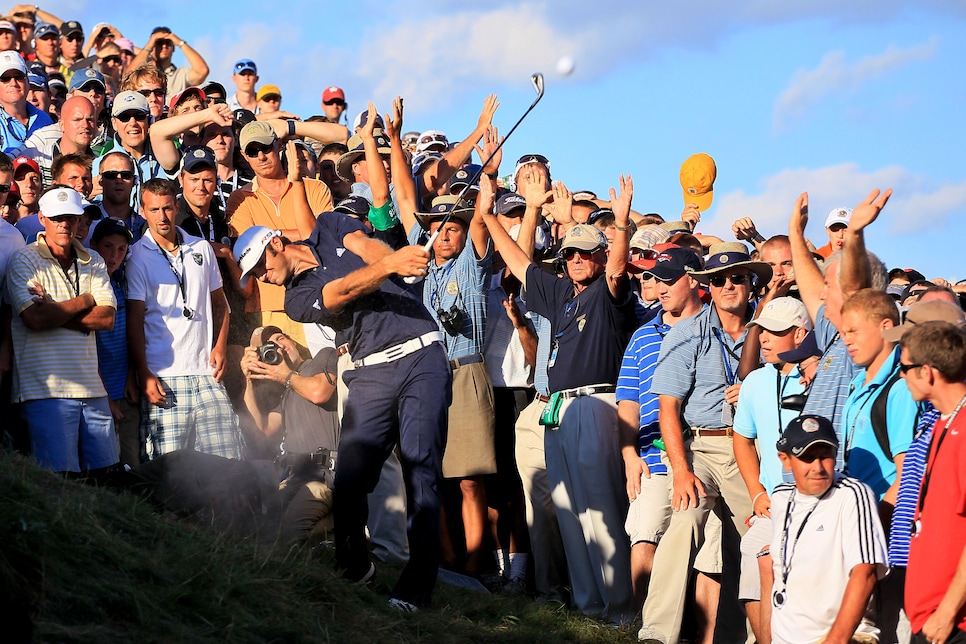 If it happened now: Johnson's "I didn't realize it was a bunker" plead still wouldn't hold up. Unlike Nordqvist's situation at the 2016 U.S. Women's Open, Johnson clearly grounded his club before hitting his second shot because he didn't think he was doing anything wrong. And although Whistling Straits has countless bunkers -- many of which had been trampled down by fans -- not knowing a rule or local rule can't save you.
7. Brian Davis, 2010 RBC Heritage
What happened then: Davis, looking for his first PGA Tour win, found himself in a playoff with Jim Furyk at Hilton Head. But on the first sudden-death hole, Harbour Town's 18, Davis found a marshy area with his approach shot. After chopping out, Davis immediately called a rules official over because he thought he had nicked a reed in his backswing. After reviewing video, the infraction was confirmed and Davis conceded to Furyk, providing one of the more unusual endings to a golf tournament.
If it happened now: Had Davis not called the violation on himself, like with Nordqvist's situation, the video evidence wouldn't have been enough to give him a penalty. But the veteran thought he saw "movement out of the corner of my eye" and "I could not have lived with myself had I not [called the penalty]," Davis said at the time. "That will come back to him spades, tenfold," PGA Tour tournament director Slugger White said. If it has, it hasn't on the golf course. Davis is still in search of that first victory.