The Loop
6 reasons why Sunday won't be Medinah all over again
GLENEAGLES, Scotland -- We know what you're thinking. Tom Watson has a ready-to-serve speech he can deliver to his United States team during dinner Saturday to get his 12 players in the right frame of mind. It goes something like: If the Europeans could come back at Medinah, why can't we do it at Gleneagles?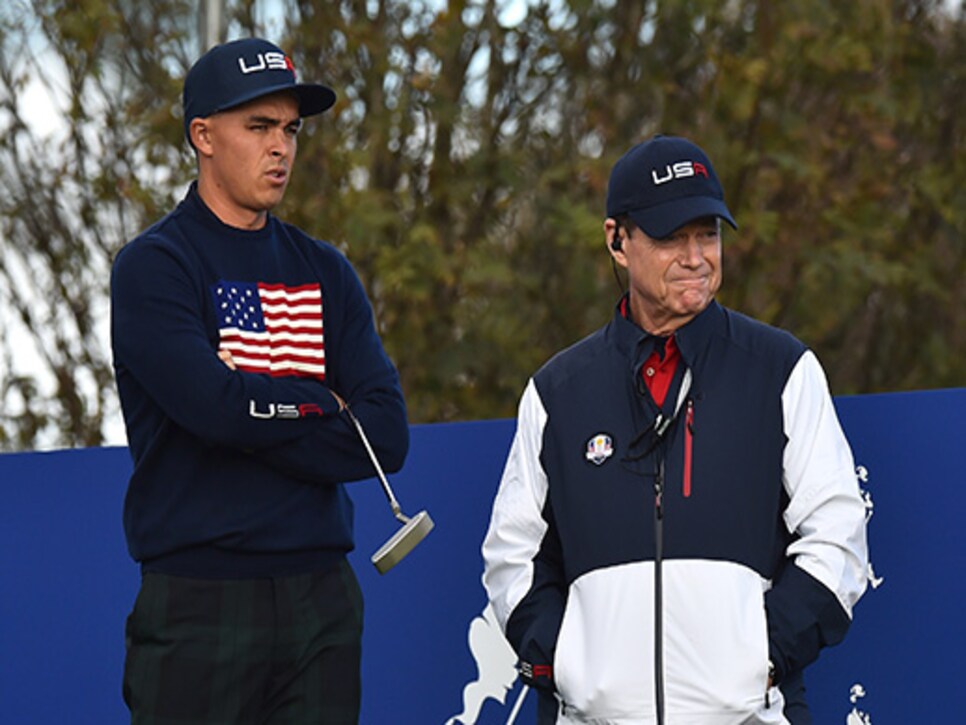 Sure, technically speaking the U.S. faces the same 10-6 deficit on foreign soil that Team Europe faced two years ago, only to rally back in Sunday singles and complete the biggest road comeback in Ryder Cup history. But this 10-6 score has a far different look from the one at Medinah, or the 10-6 hole that Ben Crenshaw had a feeling his American boys could dig themselves out of in 1999 at Medinah. The only real similarity is the literal number on the scoreboard.
Don't believe us? Well here's why this Sunday won't be a repeat of Medinah.
__1. The U.S. carries no momentum over from Saturday afternoon.
__Two years ago in Chicago, the tandems of Ian Poulter/Rory McIlroy and Luke Donald/Sergio Garcia each secured full points on the 18th hole to keep Europe's deficit from being even greater. Captain Jose Maria Olazabal's entire team later mentioned how stealing away those points Saturday gave them hope for some Sunday heroics.
By contrast, the Americans left the course Saturday stewing over the fact they had a half-point taken away from them when Martin Kaymer and Justin Rose won the 18th at Gleneagles against Patrick Reed and Jordan Spieth to halve their match and leave the U.S. winless the foursomes session.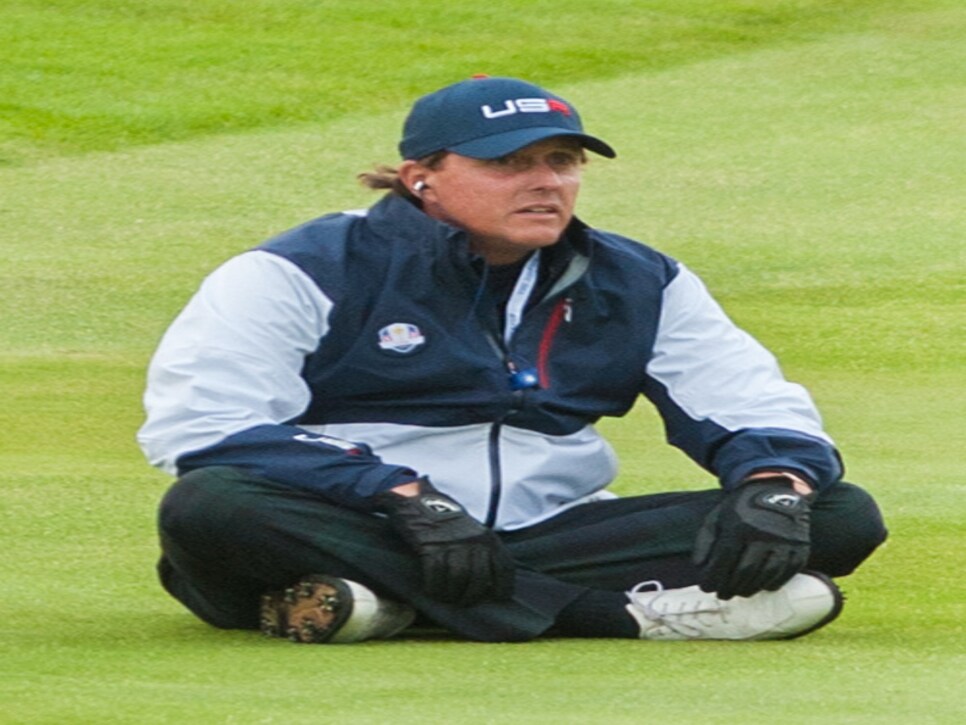 __In Watson's defense, who can he really count on to win a point for the Americans on Sunday? Any way you cut it, the guys he is leaning on to lead the charge -- or at least was at the start of the week -- have yet to show the form that it will take to do it.
His most experienced player, Phil Mickelson, is 1-1 at Gleneagles and sat (literally at times, see photo) on Saturday without hitting a single shot. His best player on the World Ranking, Jim Furyk, is 1-2. Save for Reed and Spieth, who are each 2-0-1, no other American has a winning record and six have yet to win a match.
__3. The U.S. has won Sunday singles only twice in the last six Ryder Cups.
__It's a format that the Americans had long dominated, but actually that was a long time ago. Here is how the Sunday singles have ended since 2002.
2012: Europe, 8 1/2-3 1/2
2006: Europe, 8 1/2-3 1/2
2004: Europe, 7 1/2-4 1/2
2002: Europe, 7 1/2-4 1/2
__4. Once twice has the U.S. ever comeback on the final day on the road at the Ryder Cup.
__The first happened 1949, when the U.S. was down 3-1 then went 6-2 in Day 2 singles. The other was 1993, when Watson was the American captain (good omen). But the deficit was only just a single point (bad omen).
__5. The last time Europeans had a 10-6 lead at home, they stepped on the Americans' necks come Sunday.
__It was 2006 at the K Club, and the Europeans came out and won eight of the 12 singles matches to equal their most lopsided victory of all-time, 18 1/2-9 1/2.
Twice, however in the last 14 years the U.S. had been down by three or more points (1997, by four; 2010, by three) on the road and mounted a charge only to ultimately lose 14 1/2-13 1/2.
__6. The pro-European crowd won't let their players allow a comeback to happen.
__Clearly a subjective assumption, but here me out: say the Americans start off hot on Sunday, Spieth, Reed and Rickie Fowler knocking off Graeme McDowell, Henrik Stenson and Rory McIlroy in the first three matches. Something tells me the home-side galleries will get behind the remaining players on the course, their energy and spirit sending out good vibes. The boost they can provide is an intangible that Paul McGinley's players have at their disposal, even if they're not likely going to need it.