The Loop
57 years later, Jack Fleck is finally getting his due
SAN FRANCISCO -- Good for Jack Fleck, that's what I say.
At 90, he is winning again.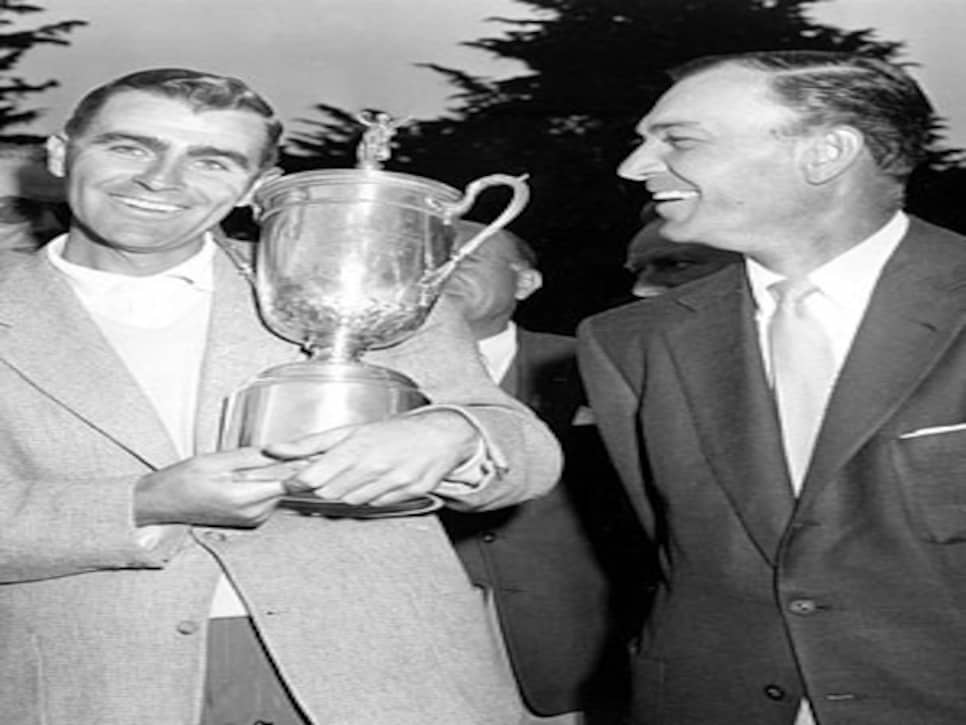 Not on the course, as he did on the demanding holes of the Olympic Club in 1955, when he was David to Ben Hogan's Goliath, beating the icon in one of golf's largest surprises at the U.S. Open. He isn't swinging the clubs now, but he doesn't have to. This is a triumph of perception, of people realizing what Fleck achieved those many Junes ago in a way that didn't happen then.
When he denied Hogan a record fifth U.S. Open title, Fleck, in some ways, was denied himself.
What Fleck accomplished at the 1955 U.S. Open was unexpected, but it wasn't a fluke. Fleck wasn't gifted the national title by a vaunted champion who felt sorry for him -- Fleck tied Hogan at the end of regulation when he knew what he had to do then beat him, 69-72, in an 18-hole playoff. On that weekend, the better golfer was Jack Fleck. As he said Tuesday at Olympic, "I out-Hoganed Hogan."
The quality of Fleck's golf becomes abundantly clear in the two new books out on the subject, The Upset by Al Barkow and The Longest Shot by Neil Sagabiel. Fleck had worked hard to transform himself from an impatient golfer who pouted when things went sour to a calm player capable of succeeding against the man he long idolized on the sport's biggest stage.
"There was no time at all," Fleck said, "That I felt scared or under pressure or what-not coming down to the wire. I would not have been able to accomplish on that last round and particularly the last nine holes."
He had grown up hard in Iowa, the way Hogan did in Texas. "I started figuring out what golf was at 5 years of age," Fleck said of his early caddie days. "I made income in pennies and nickels and dimes. And it went to my mother. I was very fortunate I found [golf]. We could go to the country club and carry a golf bag and make 45 cents. That was big money."
Fleck made a 49-hour drive from Iowa to California for the tournament that would make his name, but his golf journey was a lot longer than that. He struggled to break 90 in his initial forays on the circuit. But he learned on the job, got better, and during that magical week in 1955 on a course he absolutely loved, he was the best.
Some golfers have trophy cases filled with their successes. Others, like Fleck, win the big one and little else (two other tour wins, in his case). Golfers tend to become forgotten champions when their turn at the top is brief. Even the luster of legends dulls with time, and it was great to see Byron Nelson, Sam Snead and Gene Sarazen get renewed attention when they were old men and new generations discovered the skills they possessed and the impact they had on golf decades earlier.
In a similar way, the gift of years has given Fleck something he didn't have when the wound of nicking a golf god was fresh.
It might be a little late, but Fleck is getting his due.