The Loop
5 things to talk about with your buddies on the course this weekend
From sports to TV to politics (OK, so mostly the first two), we offer five hot topics that are sure to liven up your round of golf:
1. The Belmont Stakes: Is it finally time to end the Triple Crown drought? California Chrome comes to the Belmont with a chance to become the first horse to pull off the feat since Affirmed in 1978. Since then, 12 horses have had a chance but failed to win the third leg. Remember, the track is ONE AND A HALF MILES, people! But none of those horses wore the special nasal strip that California Chrome will be allowed to put on. Maybe that's what I need to stay fresh on the back nine. . .
2. "Heat"-gate: Unfortunately, talk about the NBA Finals has switched from two historic teams to one memorable meltdown. Somehow, the air conditioning in San Antonio's AT&T Center went out before the start of Game 1, causing tougher-than-usual conditions for the fans and players. Most notably, LeBron James began severely cramping and was only able to play one possession (he scored) in the final 7:31 of the game as the Spurs outscored the Heat by 17 points to take a 1-0 series lead. LeBron is such a physical freak of nature (6-foot-9, 270 pounds, blazing speed, silly vertical, etc.) that it's hard sometimes to remember he's human. "They're trying to smoke us out," he was caught saying in a huddle. Could Gregg Popovich and the gang possibly be that devious? Discuss.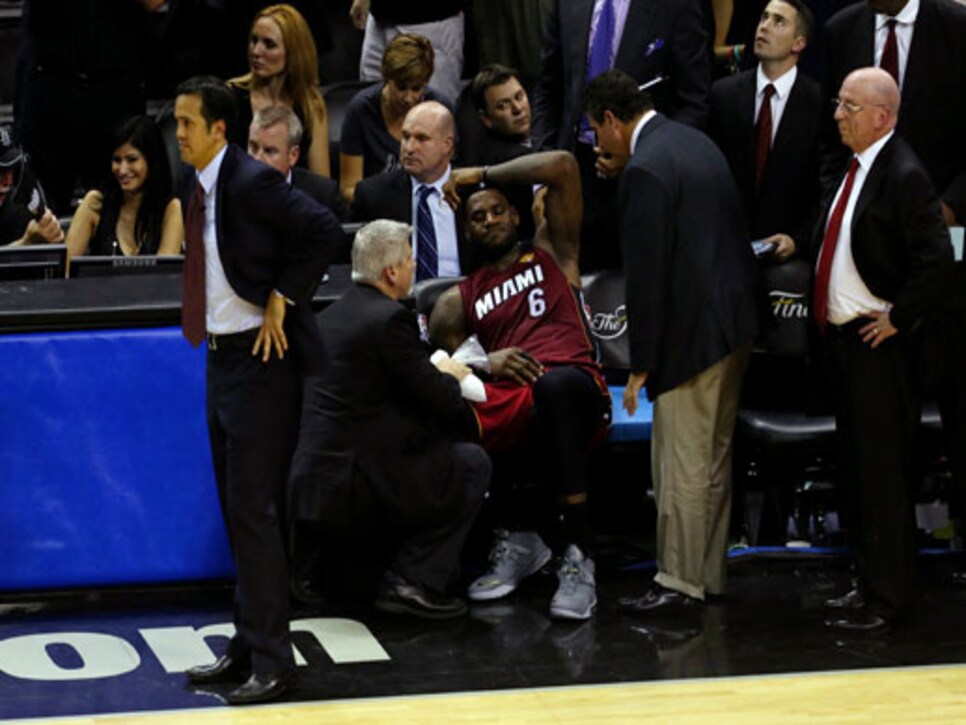 3. Stanley Cup Finals: Imagine if the AC went out in either of these two teams' arenas? The favored Los Angeles Kings survived a scare in Game 1 from my gutsy New York Rangers, winning in overtime. Hockey! Exciting stuff. Even I watched it. Well, the overtime, that is.
4. Payne Stewart: Can you believe it has been 15 years since Stewart pulled off his epic win at Pinehurst? You should do yourself a favor and re-watch that magical final round in which the man in knickers took down a legendary threesome of Phil Mickelson, Tiger Woods, and Vijay Singh. Or, you can just read my recap of that Sunday's NBC broadcast. It's like reading Cliffs Notes, only much more fun.
5. U.S. Open: Speaking of that tournament, we're less than a week away from the start of the year's second major championship and there are so many questions to ponder. Can Phil Mickelson complete the career Grand Slam? Can Phil Mickelson beat this whole insider trading thing? Which Rory McIlroy will show up? Is Rory McIlroy under a spell cast by ex-fiance Caroline Wozniacki? How will Pinehurst No. 2 play? And will the AC in the NC media center work? Please, yes, to that last one.