The Loop
5 things to talk about with your buddies on the course this weekend
From sports to TV to politics (OK, so mostly the first two), we offer five hot topics that are sure to liven up your round of golf:
1. The Masters: There wasn't the usual Sunday back-nine drama at Augusta National, but there was still plenty to talk about. Bubba Watson's perfect 366-yard slice drive on No. 13? Ridiculous. A 20-year-old making a run at the green jacket? Amazing. A bunch of 50-year-olds playing their way into contention? More amazing. Speaking of which, Miguel Angel Jimenez will join Fred Couples and Bernhard Langer again this week when he makes his Champions Tour debut. Watching old guys play golf has never seemed so cool.
2. The NBA Playoffs: The NBA's postseason begins this weekend with 16 teams believing they have a chance to win a title. Silly teams. In the East, it's a two-man show between the Heat and the Pacers, while the West is a little more open with four teams (Spurs, Thunder, Clippers, and Rockets) having a legit chance. Eh, make that three teams. Sorry, Rockets. Of course, if you don't get around to talking about the playoffs this week, it's OK. They go on for an eternity.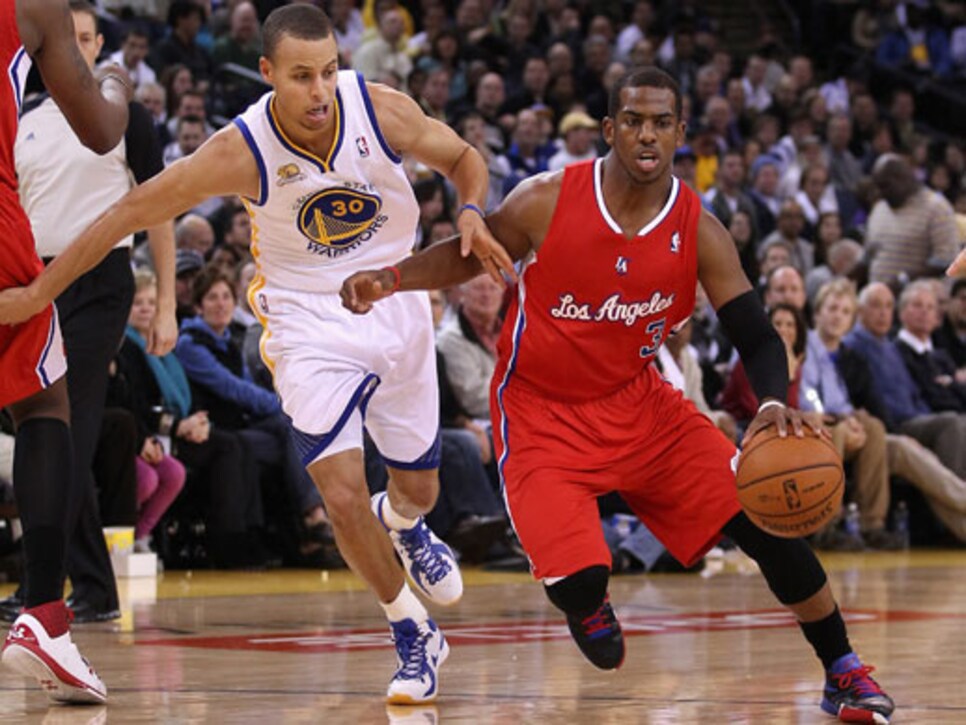 Chris Paul vs. Stephen Curry in the first round? Yes, please.
3. The NHL Playoffs: Pro hockey's postseason is just getting underway as well! (Disclaimer: I am only mentioning this because my boss is a HUGE hockey fan -- one of 17 in this country.) Unlike in the NBA, any of the 16 teams have a chance to "ride a hot goalie to a Stanley Cup," says [insert expert hockey analyst's name]. We're going with the New York Rangers to win it all (Another disclaimer: My boss is a HUGE Rangers fan) because we've actually heard of heard good things about their goalie, Henrik Lundqvist.
4. "Transcendence": Apparently, this is the big movie opening in theaters this weekend. It's a sci-fi thriller involving experiments with human emotions. Wait, didn't this already come out? Ohh, that was "Inception." I guess the big twist here is that this movie stars Johnny Depp instead of Leonardo DiCaprio. I know, I shouldn't judge a movie by its title, especially when it's slim pickings out there. Hollywood must be in a post-Masters lull as well.
__ 5. "Mrs. Doubtfire 2":__ Speaking of movies in the news, it seems as though a sequel of this 1993 film starring Robin Williams is in the works -- leading to so many questions. Why now? Would anyone actually miss that girl who said she doesn't want to be in it? Is Colin Montgomerie OK?! Poor guy. Just when he thought those Mrs. Doubtfire comparisons were finally dying down . . .