The Loop
5 things to talk about on the course: The end(?) of Deflategate, the start of NCAA football, and the same old Miley Cyrus
From sports to TV to politics (OK, so mostly the first two), we offer five hot topics that are sure to liven up your round of golf:
1. Deflategate: Hopefully, this is the last time we have to talk about this. After nine months of rumors/investigations/appeals, a judge overturned Roger Goodell's decision to suspend Tom Brady for four games. That's great news for Patriot fans and fantasy owners, but don't get carried away, New England faithful. Stop asking everyone for an apology. This does not mean your precious Tom -- or the team -- didn't do anything wrong (in fact, they already accepted a harsh penalty of two lost draft picks and $1 million). It simply means the judge (rightfully) ruled that the NFL commissioner acted like a dictator and bungled this whole process. Again, hopefully, this is it. Although the story has sparked some pretty incredible covers from the New York papers. . .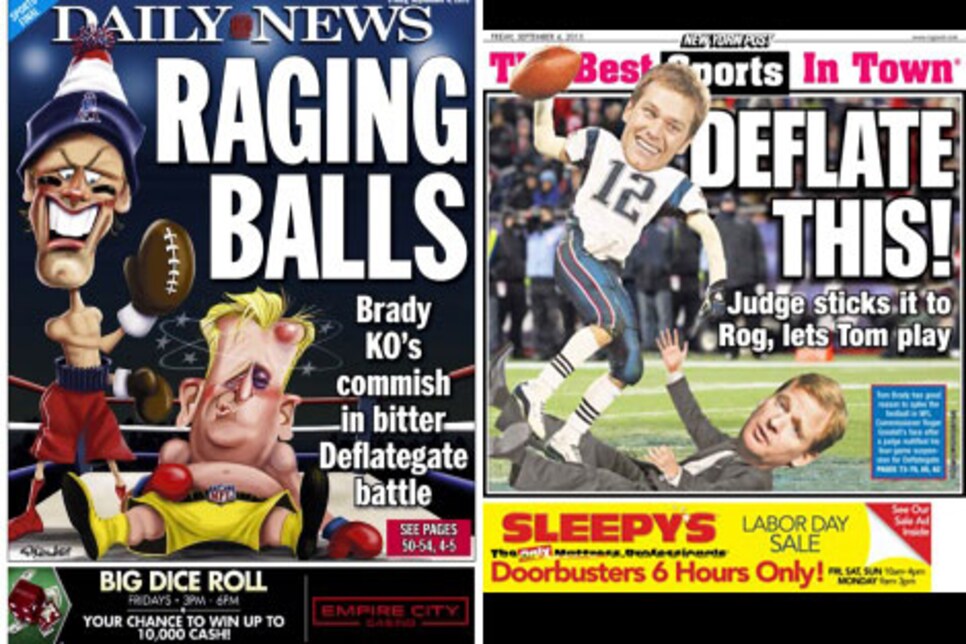 2. NCAA Football: The season started Thursday night, and I wasn't going to get excited about it until I saw my alma mater, Wake Forest, thumped Elon, 41-3. WAKE THE NATION! And we don't even have Jim Harbaugh as our coach! OK, so it was only Elon, but I'll take it. The win also gives me the opportunity to mention redshirt freshman Cortez Lewis, who scored his first touchdown. He also happens to be the world's best handshaker. Check out this amazing/entertaining video. You will not be disappointed. And you'll probably have that groovy music running through your head the rest of the day.
3. U.S. Open: The Serena Williams Grand Slam Coronation, we mean, the tennis season's final major is underway at Flushing Meadows, N.Y. And Serena was actually a little shaky in her second-round match, needing a tiebreaker to win the first set. Not so lucky was No. 4 seed and former golf WAG Caroline Wozniacki. She was "upset" in the second round by a player who hadn't won a match the entire year. I put "upset" in quotation marks because Wozniacki has failed to make it out of the second round in three of the four majors this year and eight of her previous 14 slams. In any matter, we all know how this tournament is going to end on the women's side.
4. Miley Cyrus: I didn't watch a minute of the MTV Video Music Awards last Sunday night, but I couldn't avoid being bombarded with tweets about the controversial pop star. Apparently, this time, Miley had the audacity to show a lot of skin, make jokes about smoking pot and sing racy lyrics. Wait, isn't that what she always does? What am I missing here?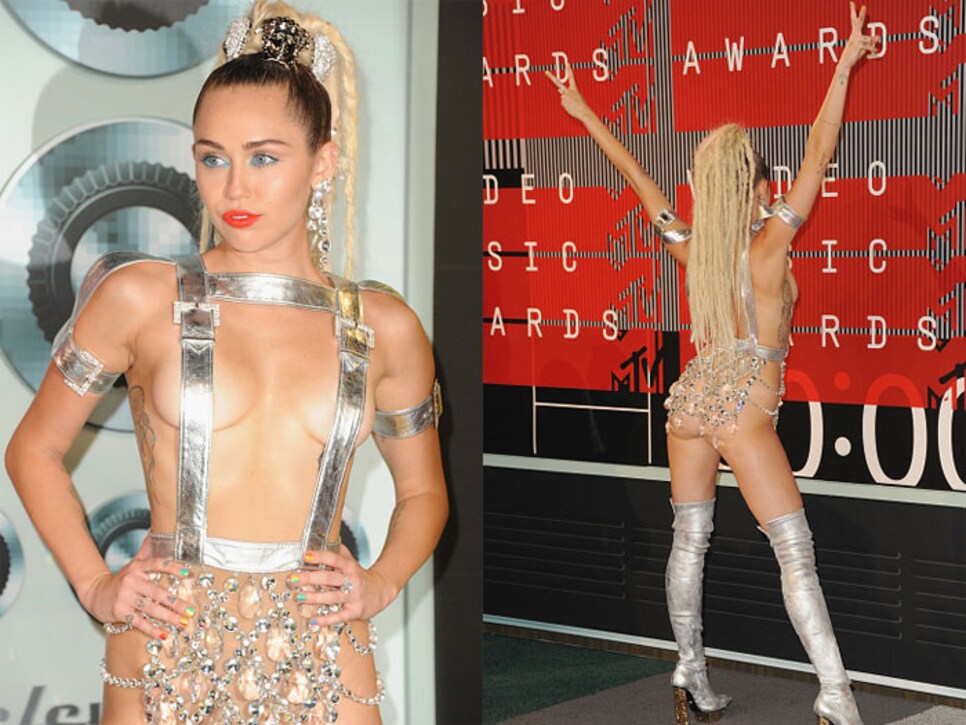 Turns out, she also released a new album and it's free. No, really. Sounds like a nice young lady to me. . .
5. Donald Trump: You have to hand it to the guy, he knows how to stay in the news. Only this week, a couple of negative topics involving golf and the presidential candidate emerged. First, there were cheating allegations from multiple playing partners through the years. And now the billionaire is trying to get out of paying $400,000 in property taxes (a 90 percent reduction) on his Briarcliff, N.Y., golf course by claiming that the course, the 150 ACRES of land in Westchester and the 75,000-square-foot clubhouse are only worth $1.4 million. Funny, because he's bragged about that particular course having a $7 million WATERFALL. If he can pull this one off, anything -- even a move to the White House -- seems possible.