The Loop
5 things to talk about with your buddies on the course this weekend
From sports to TV to politics (OK, so mostly the first two), we offer five hot topics that are sure to liven up your round of golf:
1. The Kentucky Derby: Look, I understand if you're not a big horse racing guy, but it's a sport that you only need to devote about six minutes to THE ENTIRE YEAR. The first two minutes comes this weekend with the first leg of the Triple Crown at Churchill Downs (Plus, it's the perfect excuse to drink mint juleps and wear funky outfits). The two horses you should be paying attention to? The favorite (5/2), California Chrome and Dance With Fate (20/1). California Chrome is the feel-good story, having been bought for a measly $8,000. And Dance With Fate's jockey, Corey Nakatani, is an avid golfer and a low handicapper. Unfortunately, he's also a sandbagger. So. . . root for California Chrome.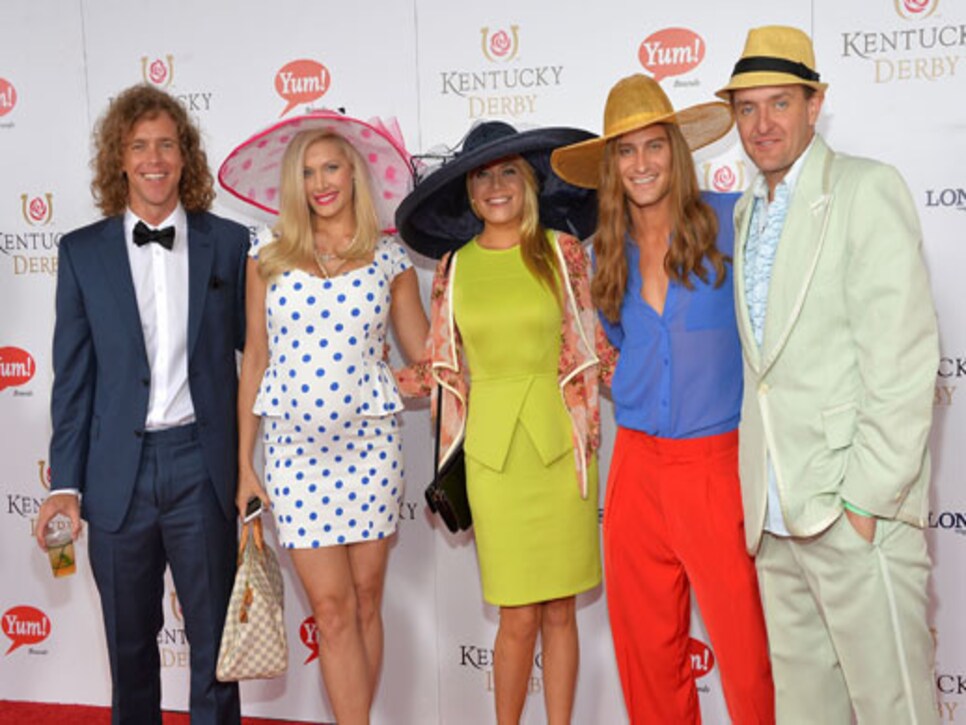 Is that dude on the left holding a mint julep? Mmm. Mint julep.
2. Donald Sterling: Just days after a recording of the Los Angeles Clippers owner making racist remarks in a conversation with his girlfriend surfaced, new NBA commissioner Adam Silver announced a lifetime ban and a hefty fine for Sterling. David Stern's replacement isn't messing around! Regardless of whether you think the NBA overlooked Sterling or other instances of discrimination through the years, it's tough to argue with his removal. Now everyone from Oprah to Floyd Mayweather Jr. is reportedly interested in buying the team. Oh, to have an extra $500 million lying around. . .
3. NBA Game 7s: For the first time in league history, there will be THREE Game 7s in one day. Wow, this Adam Silver guy really has a lot of power. Sprinkle the Kentucky Derby, the NHL Playoffs, and MLB games into the mix and Saturday might be the busiest sports day of the year. The best part? The first of the three games, Indiana Pacers vs. Atlanta Hawks, starts at 5:30 (about an hour before the Derby), so there's plenty of time to get 18 (36?) holes of golf in first.
4. Rock-paper-scissors: Apparently, there's a science for everything, even a silly game like RPS (Side note: No one has anyone ever called it RPS, but we will since that seems like a science-y thing to do. Another side note: Is there anything worse than losing to paper?). The Washington Post had a story on the game theory behind the popular kids method for determining who has to retrieve the baseball from the grumpy, old neighbor's yard. Through a study, they've figured out a strategy that will lead to a higher success rate. And remember, adults can use RPS to settle things, too. So read the story before it's time to take out the trash again.
5. April weather: Is it finally over? Can the winter coats be put away for good? The first full month of spring was a mere extension of a rough winter for most of the country. In fact, up to this point, we probably should have named this weekly feature "5 things to talk about with your buddies on the couch in the comfort of your own home this weekend." But May is here now! Hooray! We'll probably all be complaining about oppressive heat and humidity in a few weeks, but for the time being, let's celebrate by playing more golf than usual. And if you need a "game of chance" to get out of doing something else instead, you now know what to do.