The Loop
5 things Rory McIlroy can do to avoid blowing up on Friday
HOYLAKE, England -- It may be an exaggeration, but only a moderate one. When Rory McIlroy steps to the tee Friday at Royal Liverpool, it might be the most anticipated second round in recent British Open history.
Can the supremely talented Northern Irishman get rid of his case of the Freaky Fridays?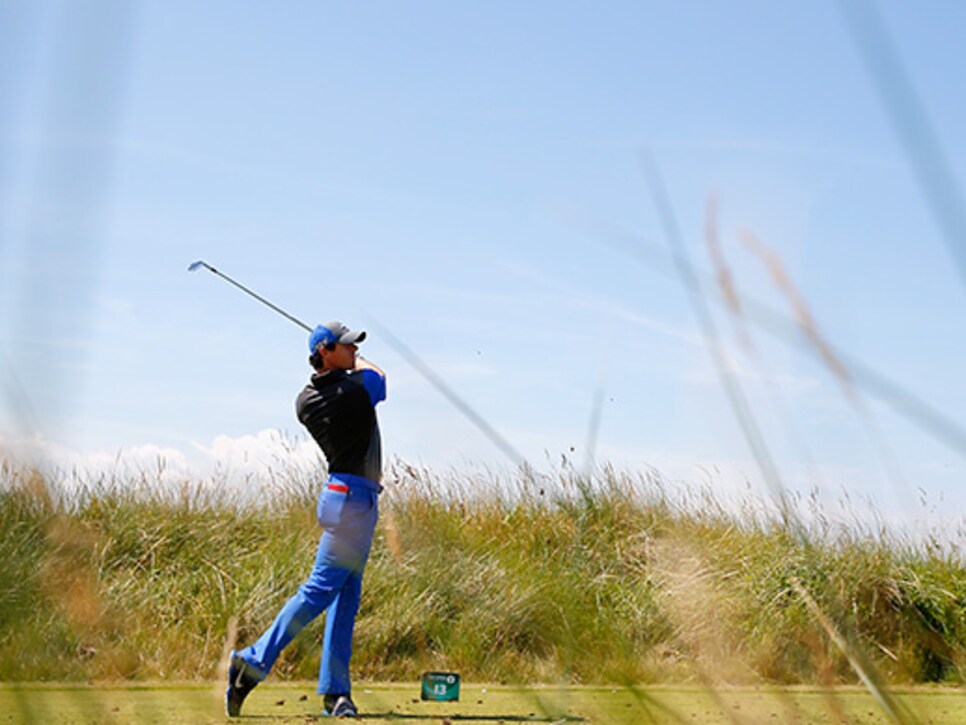 Yet the previous four times McIlroy got off to fast starts in the world's oldest major, he crashed landed in Round 2. Here are the sad stats.
We'll do the math for you: The average scoring difference from first to second round is 9.5 strokes higher, a number bogged down by the 17-stroke swing at the Old Course four years ago that admittedly was a weather-aided stumble.
A similar pattern has happened during the 2014 PGA Tour season, where Rory's second-round stroke average is nearly five strokes higher than his first.
So what then can Rory do to avoid a similar fate? Putting on our sports psychologist hat, we offer a few suggestions.
__1. Stop thinking about the second-round thing.
__Easier said than done, we know, considering it's all anyone in the media wanted to talk about with McIlroy not just after his Thursday round, but in the run up to the Open after Rory shot a 64-78 in the first two rounds of last week's Scottish Open. To McIlroy's credit, he's admitted part of the issue is that this has gotten to his head. In many instances, acknowledging you have a problem is the first step toward solving it. However, harping on the fact you've got one doesn't seem all that wise. It's the dwelling that leaves a mark.
__2. Don't set your alarm and sleep in.
__McIlroy benefited from the early tee time Thursday, when soft winds and sunny skies left scoring conditions at their peak. However, it means that he doesn't begin his Friday round until 2:27 p.m. That's an awful lot of time to keep the negative thoughts from creeping in. Get some rest.
__3. Take it one shot at a time.
__Pardon the golf psychobabble, but there is a logic to the tried-and-true golf cliché. Part of McIlroy's issues have been that when his second rounds start to go on the skids, he tries to make up for all his bogeys on a single hole. Should McIlroy get off to a rough start again Friday, it will be critical that he not think about his overall 18-hole score but rather the number he is posting on each hole.
__Among the keys to McIlroy's low first-round scores is his ability to keep pushing to make more birdies rather than protecting what's already a good round. It's the same mindset he needs to take into Friday.
__5. Don't sweat the bad weather.
__The forecast for the afternoon isn't looking great, which could become an issue, obviously. Taking it in stride will be important, something that Rory hasn't always done in the past.
In this respect, we like what we heard from McIlroy in his post-round interview. "I am glad that I went up to Aberdeen last week and played under some different conditions," McIlroy noted. "I feel like I'm well prepared this week for whatever conditions. I've practiced the shots that I might need for a bad day like tomorrow might be."
Is that confidence in Rory's voice? Suffice it to say, that will also go a long way to letting McIlroy walk off the course Friday with a smile on his face.