The Loop
5 things Martin Kaymer has going in his favor Sunday at Pinehurst
PINEHURST, N.C. -- Three days are in the books at the 2014 U.S. Open and one man has clearly distinguished himself thus far. There's still plenty of golf, but all signs are pointing to a Martin Kaymer win. These five things won't hurt.
1. History is on his side
Since World War II, only four players have blown 54-hole leads of five shots or more at a major championship. Most recently, Jean Van de Velde pulled it off at the 1999 British Open. The worst collapse was Greg Norman blowing a six-shot lead at the 1996 Masters. It can definitely happen, but don't count on it. Sportsbook Bovada listed him as an overwhelming 1/3 favorite (that means they give him a 75-percent chance of winning) and even set up a special second-place bet.
2. His track record with 54-hole leads is very good
Increasing the German's chances of claiming a second major is the fact he has converted five of six 54-hole leads on either the PGA or European Tour in his career. The last of which came last month at the Players, where he also went wire-to-wire to pick up his first PGA Tour win since his victory at the 2010 PGA Championship.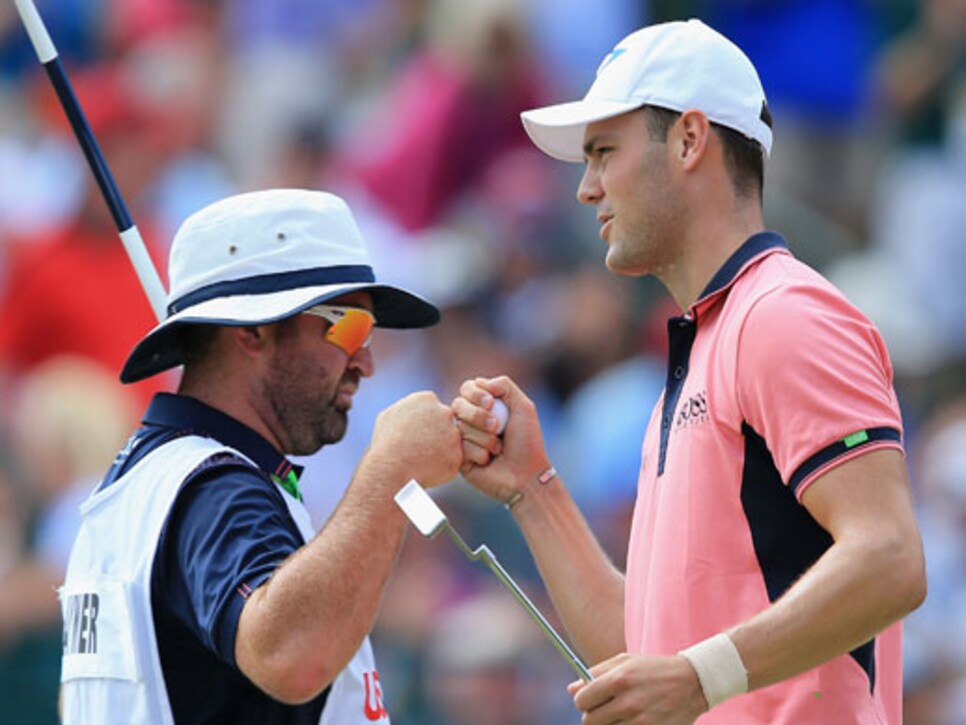 3. All parts of his game are firing
How good has Kaymer been this week? He ranks in the top 10 in four main statistical categories being kept this week at Pinehurst: Fairways hit, greens hit, total putts and driving distance. Even when he's made mistakes -- the back-to-back pulled tee shots on Nos. 4 and 5 Saturday -- he's turned them into positives. Kaymer saved bogey and then made an incredible eagle to regain his huge lead.
4. Sunday's course conditions
Did it rain Saturday night? No. Should Pinehurst play just as firm and fast as it did on Saturday? Yes. That's bad news for the guys chasing Kaymer. It's going to be tough for anyone to shoot a low score to catch him. Speaking of his pursuers, Justin Rose is the only player other than Kaymer in the top 15 with a major title on his resume. And he begins the day nine shots back.
5. Sunday's pin positions
There were plenty of players pointing out/complaining about the pin positions in the third round. The USGA hasn't done them any favors for the final round, either. Here's a look:
That's 10 holes with a pin placement six paces or less from edges of the greens -- edges that we all know aren't exactly receptive. In other words, don't expect a lot of great birdie looks. And that's fine by Kaymer.