The Loop
5 things to talk about with your buddies on the course this weekend
From sports to TV to politics (OK, so mostly the first two), we offer five hot topics that are sure to liven up your round of golf:
1. Rory McIlroy: The guy wins the European Tour's biggest tournament, then opens with a 63 at the Memorial. Was he really being weighed down by being in a committed relationship? Is that the key to playing better golf? Of course not. If it were that easy, you'd be seeing a lot more newly-single guys playing golf this weekend. This has been coming for a while (11 top 10s in his last 14 starts worldwide) and as we've seen before, when Rory gets hot, he's arguably as good as anyone. Ever. That reported three-minute breakup phone call on the other hand? That's cold.
2. Maya Angelou: The great American poet, who died on Wednesday, also taught for 32 years at my alma mater, Wake Forest University, making her an even greater American. No, I could never get into her class, but it was nice bragging to Ivy Leaguers that MAYA ANGELOU was a professor at MY school. She will be missed, but her words will forever be useful -- even on the course: "You may not control all the events that happen to you, but you can decide not to be reduced by them." Sergio Garcia should have that quote stitched on his golf bag.
3. Johnny Manziel: It took all of a week for Johnny Football to make his first "news" as an NFL rookie. The 22nd pick of the draft -- but No. 1 in popularity/fascination/obsession -- posted pictures of him partying in Las Vegas. What made it a bigger story was he was hanging out with notorious party boy Rob Gronkowski of the New England Patriots. Let's all calm down, people. He's a 21-year-old who just signed a $4 million bonus. Besides, the NFL season is still three months away and he'll be playing for the Cleveland Browns. They aren't going to be good no matter how hard their new QB prepares. Let's just hope Johnny doesn't turn into Long John. . .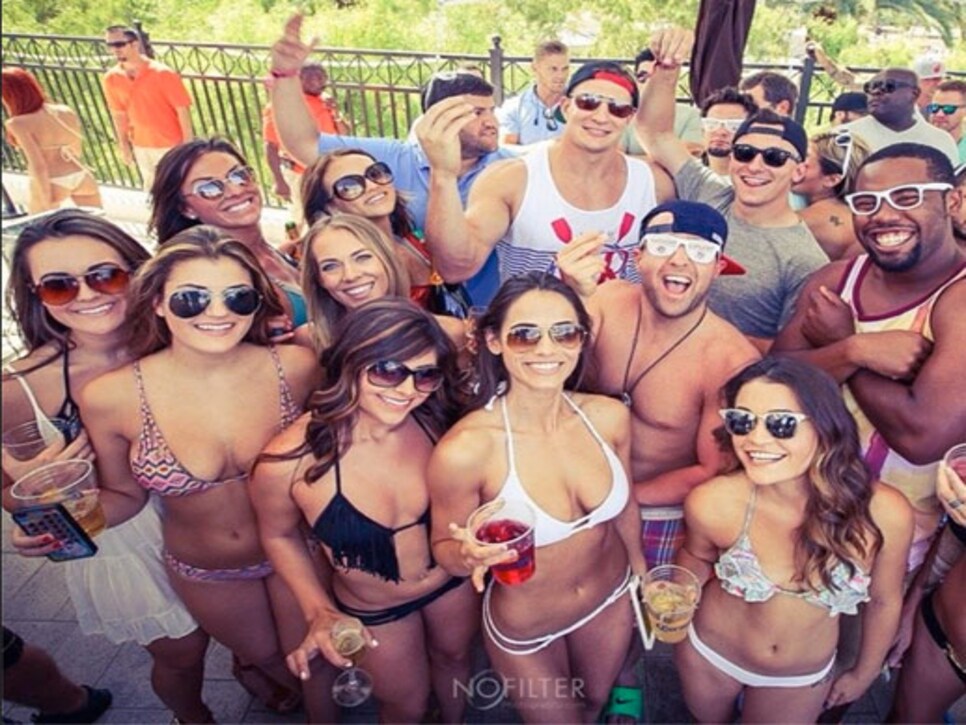 4. John Daly: In an interview with Yahoo! earlier this week, Daly confirmed he had lost $55 MILLION gambling in his life. Um, come again? I might dispute that exact total (at his peak, Daly made less than $4 million per year in endorsements), but whatever the number, he's blown through a lot of money. Even more shocking? At his gambling peak, he said he could spend two straight days playing slots. Jeez, if you're going to lose that much money, at least lose it doing something fun.
5. 50 Cent: Did you see him throw out the first pitch at the Mets game on Tuesday? Even if you have, it's worth another look:
Even "Hero Cat" has a better arm. The rapper's attempt was so bad The Washington Post did a study of 30 notable pitches to determine if it was the worst first pitch of all time. It was. Well, except for (Call Me) maybe Carly Rae Jepsen. So the next time you do something embarrassing in front of your entourage, just think of big, bad 50 Cent being compared to Carly Rae Jepsen and laughed at by his buddies. That's rough.