The Loop
5 things to talk about on the course: The Final Four, The Masters, and "The Price Is Right"
From sports to TV to politics (OK, so mostly the first two), we offer five hot topics that are sure to liven up your round of golf:
1. The Final Four: Well, I'm officially out of the money after that crushing loss by Notre Dame ended my chance at a big auction-pool payout. And now, the tournament is probably going to provide a disappointing ending. I figured I'd be into full "anybody but Kentucky" mode, but unfortunately I'm still in "anybody but Kentucky or Duke" mode. Unfortunately, the two will probably meet in the title game and I'll have to root for John Calipari's team of nine McDonald's All-Americans to beat Coach K's scrappier group of nine McDonald's All-Americans. Dear Tom Izzo and Bo Ryan, PLEASE beat these tyrants.
2. The Masters: Even if there's still ice that hasn't melted where you live, the arrival of this event should uplift your spirits and remind you that spring is finally here. Hello, friends! Azaleas! Rory! Green jacket! Career Grand Slam! Amen Corner! Azaleas! Enjoy it, folks. Oh, and if you're planning on having people over, check out our guide to hosting an awesome Masters viewing party.
3. Tiger Woods: It's amazing how much we care about this guy playing in an event he has absolutely no chance of winning. From Notah Begay's weekly status updates to the whereabouts of his plane to a supposed "worst-ball 66" at his home course to accounts of his short game by unnamed club members, there's always something to talk about with Woods. Hopefully, next week we're not talking about another quick exit.
4. "The Price Is Right": Last week, it was an 84-year-old woman making a putt to win a car. This week, it was Bob Barker returning to host Wednesday's show, causing this fan to get really excited: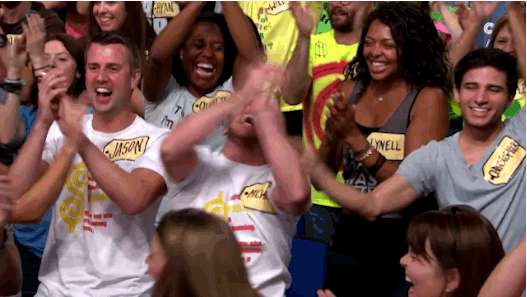 It's OK, Manuela! This was a favorite show to watch when school was on break growing up with an 11 a.m. start time that's perfect for sleeping in. And that theme song. Oh, that sweet, sweet theme song. It's good to see this show still brings it.
5. MLB Opening Day: Technically, Opening Day now follows Opening Night (Cubs vs. Cardinals on Sunday), but it doesn't lessen the excitement. Unless you're a Yankees fan like me and have another season of watching a team of old, overpaid players struggle to have a .500 record. Even worse is having to hear all my Mets-fan friends chirping about how their ballclub is poised to be a dynasty. So there's the potential of a Duke national title, Tiger being tapped out and the Mets being great? I might have to start DVRing "The Price is Right."