The Loop
5 tee shots at TPC Sawgrass that are just as scary as No. 17
At last year's Players, TPC Sawgrass' par-3 17th hole stole the spotlight yet again. This time, Sergio Garcia was the victim, dunking not one, but two balls into the water in front of the famed island green to end his chance of winning.
That No. 17 played an integral role in a dramatic round shouldn't surprise, but here's something that might: Even factoring in Garcia's disastrous quadruple-bogey 7, No. 17 played as the easiest of TPC Sawgrass' four par 3s for the week.
A statistical oddity, you say? Not exactly. Despite its history of causing meltdowns, the 137-yard hole has played rather tame the past five years. In three of those years, 17 played the easiest of the course's par 3s. In the other two, it was the second easiest. Overall, the course's shortest hole has ranked 12th, 11th, 7th, 11th, and 9th since 2009.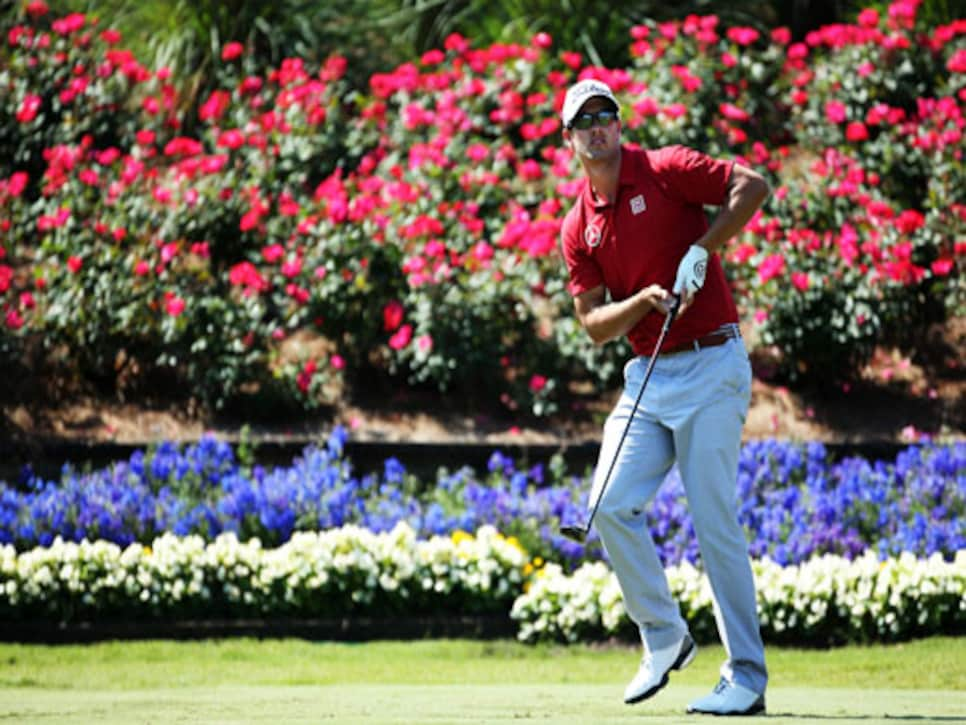 In other words, there's plenty of other danger lurking on the Pete Dye track -- especially off the tee. "It's just a course full of land mines, it really is," said Johnny Miller during a pre-tournament conference call featuring NBC/Golf Channel's Players broadcast crew.
In addition to No. 17, here's a look at five other tee shots that will also give players fits:
No. 18: Made it through No. 17? Congrats, but your work is far from over. The 440-yard par 4 typically plays as the course's most difficult hole. "There are so many key tee shots out here, but I think the hardest tee shot probably to hit where you would have the best angle into a green is the 18th," Brandel Chamblee said. "I'm not sure anybody in their right mind would take on the risk of putting it down the left side of the 18th to gain the angle. I think anybody that ends up there probably was there by accident."
No. 14: In the past five years, this 438-yard par 4 has played just as tough as TPC Sawgrass' much more famous 18th. The two holes have each been ranked No. 1 three times in the past five years, sharing the top spot in 2011 with a 4.313 average. "[Fourteen] has that spine that runs down the middle of that fairway, and if you get anything going to the left of it, it will kick into that bunker.  Anything cutting over to the right will kick over on that mound. So that is a very difficult tee shot," Chamblee said. Of course, Tiger Woods found that out last year when he hooked a ball into the water, took a controversial drop and made a double bogey that almost cost him the title.
No. 8: At least, there's no water on this one. But still, anytime you have to hit a long-iron or more on a par 3, walking away with a par becomes the goal. This 237-yard hole has ranked No. 3 in difficulty behind Nos. 18 and 14 the past three years. "I think the last three par 3s are really dangerous," Miller said. "Eight is a long hole with all kinds of trouble."
No. 5: A similar look to No. 4 off the tee, only No. 5 requires a longer poke at 471 yards. Miss right and you're wet. Miss a little less right, and you're in a deep fairway bunker. Miss left, and you're not much better off. "I think five really stands out, because the easy bail out is left and ends up getting caught in really thick rough on that hill usually," Nick Faldo said.
No. 13: TPC Sawgrass' other par 3 on the back nine has ranked in the top-5 in scoring average in each of the past three years. It doesn't have as much water as 17, but it's also 44 yards longer. "The bottom line is that those par 3s can really get you if you make a mistake," Miller said.