The Loop
5 initial reactions to Friday morning's Ryder Cup pairings
GLENEAGLES, Scotland -- The announcement of the Friday morning four-ball pairings for Day 1 at the Ryder Cup have golf fans even more revved up for this biennial match to finally begin. But before it does, here are five quick takeaways to how the two captains' lineups shook out.
It didn't take long for everyone to realize what the marquee match of the first session is. Phil Mickelson and Keegan Bradley vs. Rory McIlroy and Sergio Garcia? Grab your popcorn. Well, if you're back watching in the U.S., it might be a bit early for popcorn, but you get the point. Obviously, both Tom Watson and Paul McGinley want their respective teams to get off to strong starts, but both have put particular emphasis in the morning's anchor match. A loss by either dynamic duo could put a huge damper on their team's psyche heading into the afternoon.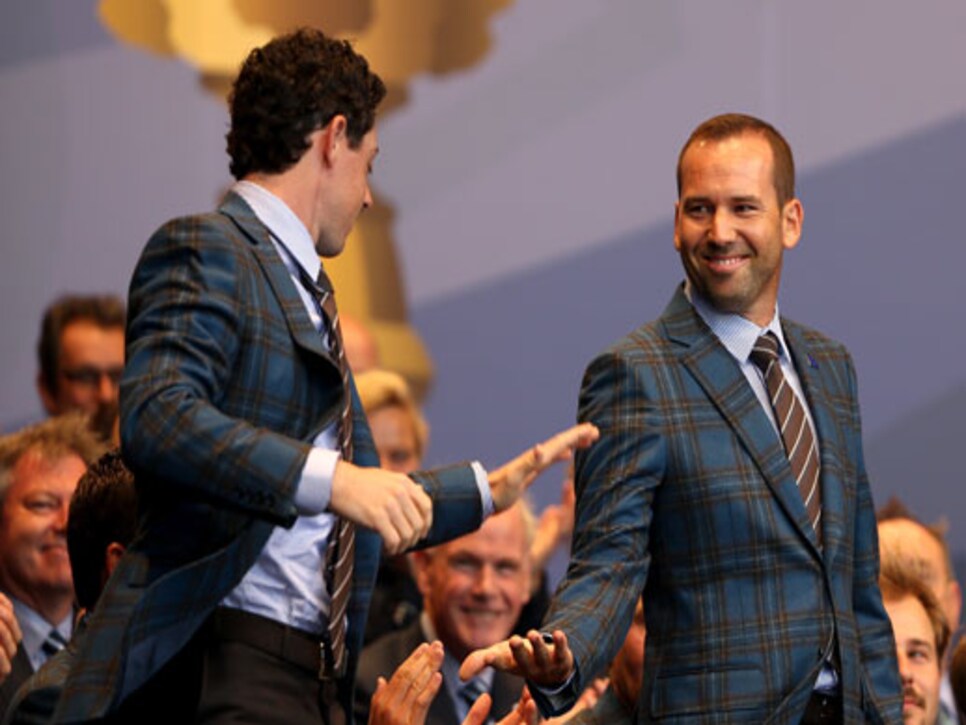 2. An all-rookie pairing?
Captains always make decisions on how to handle their rookies, but Watson is taking the day's biggest gamble by playing two of his three first-timer together. Jordan Spieth and Patrick Reed will play in Friday's third match. They'll face a more traditional pairing of a rookie, Stephen Gallacher, with a veteran, Ian Poulter. "I'm going to throw you guys into the ocean without a life preserver," Watson told his rookie duo. "You've got to go out there and get it done."
3. Watson is leaning on another U.S. power duo
Webb Simpson was the last player to make the U.S. squad, but Watson will send his final captain's pick out in the first match alongside Bubba Watson. That would come as a surprise if you didn't remember what those two did in 2012 when -- more quietly -- they were nearly as dominant as the Phil/Keegan combo. At Medinah, Simpson/Watson played two four-ball matches and won both by lopsided 5-and-4 margins. Captain Watson is hoping they remain a dominant force in this format to set the tone for the day if not the week.
4. Jim Furyk is on the bench?
Some might say this should be expected considering Furyk's struggles to close out matches at the last Ryder Cup, but with Furyk being the fourth-ranked player in the world, Watson is benching arguably his best player. Furyk also comes in playing as well as any American with top-five finishes in five of his last eight events, including a T-2 at the Tour Championship.
5. Matt Kuchar is on the bench??
While Furyk is the highest-ranked American golfer, many would argue Kuchar is the team's best player. But he'll be sitting out the morning four-ball session as well, despite his 2-0-2 record in the format. Watson said Kuchar and Furyk will play in the afternoon foursomes, but having two top-10 players sit out any session at the same time is surprising ... and potentially risky.