The Loop
5 oddities surrounding the Ryder Cup's opening matches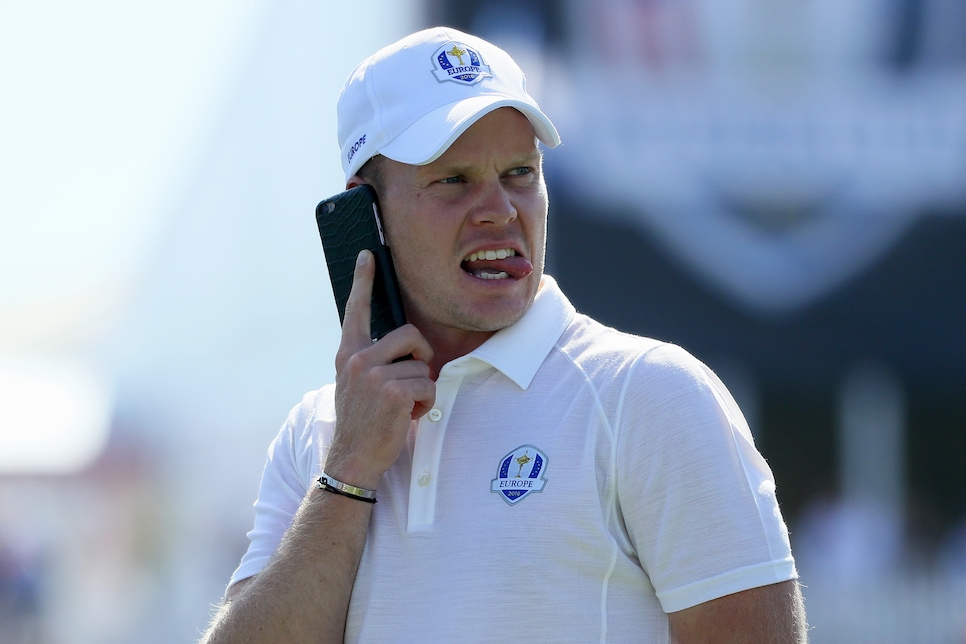 CHASKA, Minn. -- The first four matches of the 41st Ryder Cup are set and a few things jump out. There were some expected pairings (Patrick Reed and Jordan Spieth. Duh.) as well as some unexpected decisions by both captains. We're focusing on the latter with a look at five oddities surrounding Friday morning's foursomes.
1. Olympic foes to join forces: Remember when Justin Rose held off Henrik Stenson at the Olympics a couple months ago? Well, now they'll be working together to get Team Europe off to a strong start in the first match. Actually, that Rose and Stenson are playing together is not odd. The duo cruised to victory in the opening match at Gleneagles in 2014, setting the tone for Europe's latest win. But this is the first time in golf history that the reigning gold and silver medalists are paired together. OK, so this is also the first time the Ryder Cup has been contested since golf was a part of the Olympics. Again, it's really not that odd. We just wanted to point it out. Moving on. . .
2. Phil Mickelson is playing in foursomes: Much has been made about Mickelson's poor Ryder Cup record, but he's played his worst (4-6-4) in this format (Think about his tee shot that put teammate Tiger Woods up against a fence in 2004). That shouldn't come as a surprise considering his reputation as an erratic driver throughout his career. A reputation that only appears shakier after switching to a longer-shafted driver before last week's Tour Championship, where he hit just one of 14 fairways on Day 1. Then again, it probably would have even more odd had Mickelson, the most accomplished -- and outspoken -- player on the team, hadn't been a part of the opening session. "Phil always has a plan; that's where he likes," captain Davis Love III said. "Everybody kind of weighed in where they felt they would be most comfortable and where they would like to be." Somewhere, Tom Watson sighed.
3. Europe is leaning on captain's picks: Darren Clarke must feel really good about his captain's picks. He only got to make three (Lee Westwood, Martin Kaymer and Thomas Pieters) and all of them are playing Friday morning. That means four players who made Team Europe on points are sitting out in favor of Clarke's choices. In comparison, Love made four captain's picks, but only put two (Rickie Fowler and Matt Kuchar) out in the morning.
4. Zach Johnson over Ryan Moore?: It's been two months since ZJ -- the last of eight players to make the U.S. team on points -- finished in the top 30 of a golf tournament. Meanwhile, Moore has spent those two months living on leader boards, including his win at the John Deere and his playoff runner-up to Rory McIlroy at the Tour Championship last week. Love used his late captain's pick on the red-hot Moore, but opted against playing the hottest American golfer on Day 1. It's the kind of move that will be lauded if it pans out -- and ripped apart if it doesn't.
5. Andy Sullivan over Danny Willett?: There's only one golfer in the world who currently has the green jacket hanging in his own house -- and he won't be teeing it up Friday morning. Danny Willett, the reigning Masters champ, is by far the highest-ranked player (Currently No. 10 in the OWGR) not playing in the opening session. Meanwhile, Sullivan, is the lowest-ranked player on either team, and a rookie to boot. What say you, Darren? "Both Rory and Sully have expressed their interest and desire to play with each other this week. And with the form that Rory is currently in, and Sully playing very nicely, it would be foolish of me not to give them the opportunity." Fair enough. It just means we have to wait a bit longer to see how the Hazeltine crowd treats Willett for his brother's rant.