The Loop
5 different scenarios for how the PGA Championship plays out (One of them is even a Sunday finish!)
SPRINGFIELD, N.J. -- On Friday, everyone from PGA of America CEO Pete Bevacqua to Jim Nantz gushed about how lucky the tournament had gotten with the weather. Heavy rains had forced a brief delay in the morning, but the second round was still able to be completed and "it actually turned out to be a BEAUTIFUL DAY!"
This is why you don't talk about good weather. Ever.
On Saturday, Mother Nature provided payback as thunderstorms swept through New Jersey and pelted an already-saturated Baltusrol. Play was suspended at 2:14 p.m. and it never resumed, although plenty of fans took the opportunity to frolic inside the ropes. It also raised the question of why every major championship isn't just held in San Diego. . . but anyway, the schedule for the rest of the 98th PGA Championship is now in question.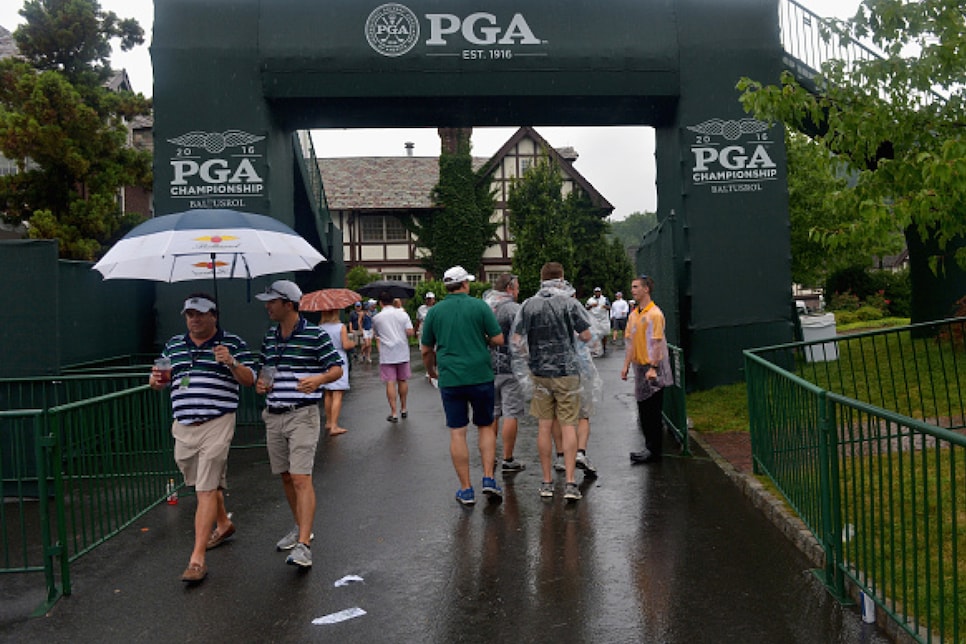 The PGA of America announced Saturday night that the third round will resume on Sunday at 7 a.m. with the hope of concluding the tournament on time. "Our primary aim is to finish on Sunday," said Kerry Haigh, the chief championship officer of the PGA of America. How is that possible? By not re-pairing and starting the final round at 8:40 a.m. This would have the pair of Jimmy Walker and Robert Streb hopefully (emphasis on the word "hopefully") teeing off in the final twosome at 3:25 p.m. With that being said, here are five scenarios for how this thing plays out.
1. The tournament actually ends on Sunday
This is possible, but only if everything breaks right. As of now, the weather forecast has improved, but as you can see, there's still a significant chance of thunderstorms throughout the day: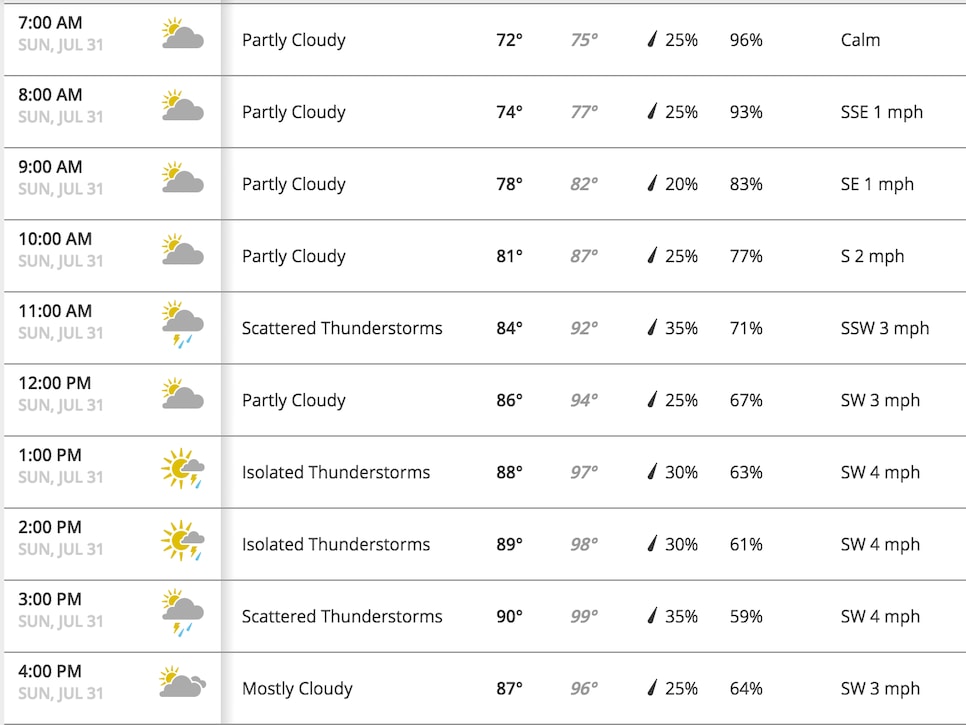 Good luck, guys! If that does happen, we will likely see a scramble to finish before dark like we did at Valhalla two years ago.
2. The tournament gets shortened to 54 holes
OK, this is NOT happening. Never has at a modern major. Never will. Moving on. . .
3. We get a repeat of what happened here in 2005
You know how you've heard so much this week about Phil Mickelson winning the PGA Championship at Baltusrol in 2005? Well, that was a Monday finish thanks to Sunday storms that kept six players, including Mickelson, from completing their rounds. Those six returned Monday morning (You might remember Tiger Woods didn't return despite the outside chance of getting into a playoff), and Mickelson made this up-and-down for birdie on No. 18:
This wouldn't be ideal, but a similar thrilling finish by a big name would help. Speaking of not-ideal scenarios. . .
4. The entire final round isn't played until Monday
If play doesn't start at 7 a.m. on Sunday (very possible considering some of the holes were under water with the sun setting Saturday) there's a chance the PGA of America decides to scrap their plan and just moves the entire final round to Monday. On the bright side, this would allow them to re-pair after the third round and we'd have a more conventional finish with the leaders all teeing off later. On the down side, if there are any more delays. . .
The nightmare scenario, of course, is that the tournament doesn't finish until Tuesday or worse. Fortunately, history says this probably won't happen. The last major to finish this late was the 1987 U.S. Women's Open down the road at Plainfield Country Club (Side note: Let's not hold any more majors in New Jersey). And there's been one PGA Tour event, the 2006 Booz Allen Classic, to finish on a Tuesday in the past 35 years. Again, hopefully, it won't come to this. But if it does, be prepared to hear a lot of griping from players -- and even more from golf writers.