Takeaways
'Laser beams and smiles': The feel-good strategy that could win the Zurich Classic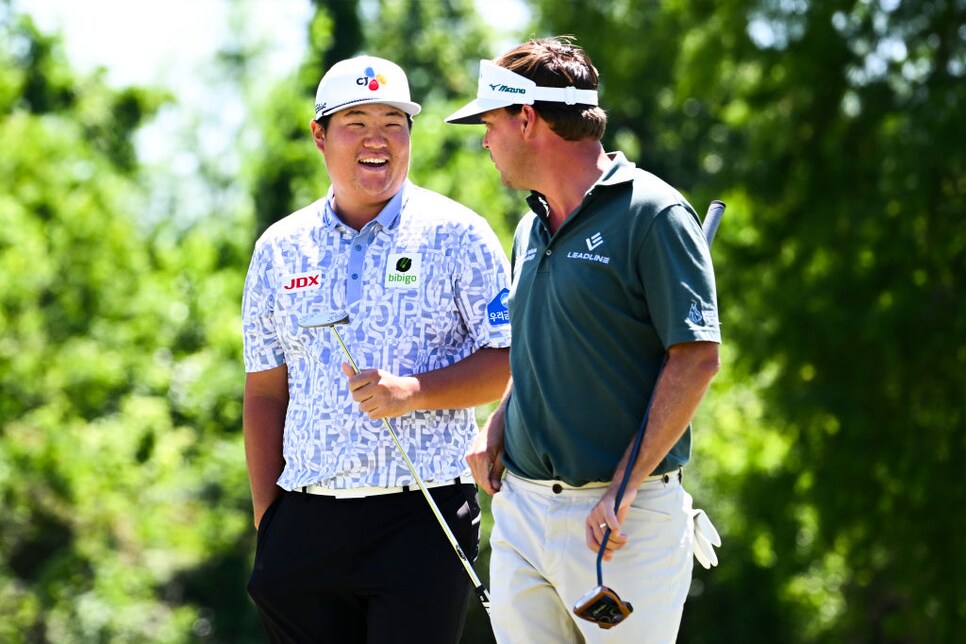 Sungjae Im celebrates with his teammate, Keith Mitchell, at the second hole during the third round of the Zurich Classic.
Tracy Wilcox
Though it's one of the lower-profile tour events, the Zurich Classic of New Orleans can be something of a launchpad, a way for players to get a win under their belt and up their confidence. In some ways, it gives Sunday some interesting stakes. A clue into some potentially rising stocks, heading into the busy summer season.
The lovable duo of Keith Mitchell and Sungjae Im go into at Sunday 25 under par, one shot back of Wyndham Clark and Beau Hossler's lead. Both teams shot 10-under 62 in the third round. And though Mitchell and Im may be trailing, their team chemistry is through the roof.
"I'm feeling really good about Sungjae's golf game," Mitchell said, before outlining the teams' strategy for Sunday. "Laser beams and smiles."
But jokes aside, Mitchell and Im are two players who came into the event in good form. They've combined for eight top-10s in 30 starts this season, and it wouldn't be a surprise to see either player pop into contention at a major or designated event.
While Zurich as a tournament doesn't match the stature of those ambitions, it can provide players a delicious taste of victory, and a confidence boost during a crucial point of the season. There'll be nerves down the stretch, and chasers at their tale.
How golf's current odd couple handle the task of bringing a win over the finish line may well be an intriguing glimpse into the future for two of golf's rising talents. On Sunday, they'll have each other as a security blanket. But they may also serve as each other's springboard for bigger and better things with a busy summer ahead.
Hossler and Clark are players pegged for big things early in their career, yet each is waiting for his first PGA Tour win. It's a similar dynamic to the Im-Mitchell one, and one which Clark offered some intriguing insight into ahead of Sunday.
"It lightens the mood," he explained. "Sometimes when you're alone, it feels like you're out on an island. When the momentum gets going bad, when you're on your own, sometimes it's tough to turn that. With a teammate, you can kind of feed off each other and really not allow that momentum to get going in the wrong direction."
Momentum is the operative word in all of this. The Zurich Classic is, if nothing else, a birdie fest during the best-ball format. Like running on a treadmill, the only way to avoid flying backwards is springing full speed ahead. The pair shot a 10-under 62 on Saturday—and were matched by three other teams in the field. They won't need to go that low in the alternate-shot format on Sunday, but there won't be much leeway. It's birdies or bust.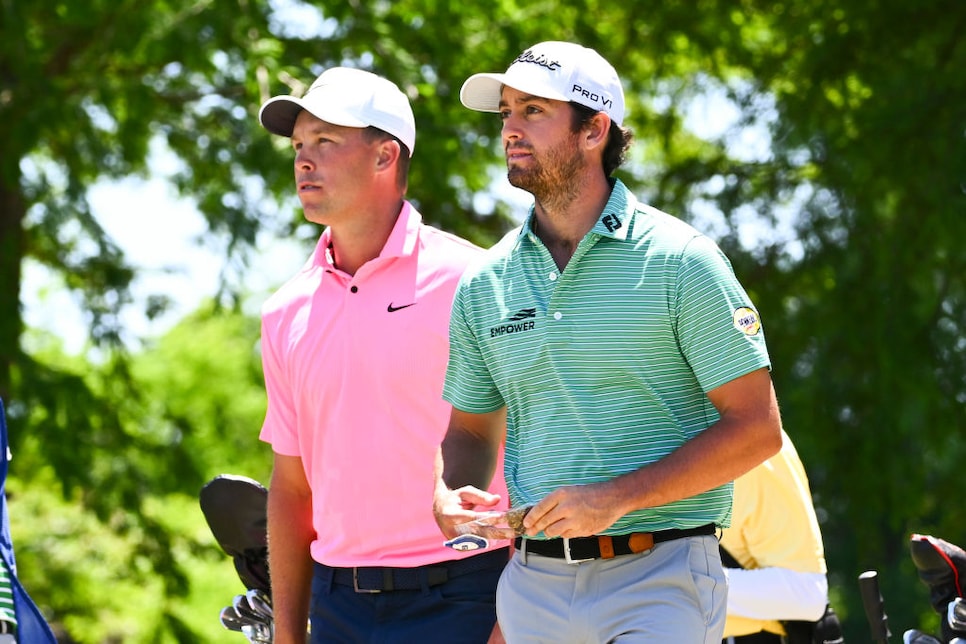 Davis Riley and Nick Hardy are contending in the Zurich.
Tracy Wilcox
Playing golf with a partner is, for lack of a more interesting description, fun. Well, most of the time.
As Mitchell and Clark explained, partnering up can lift your spirits when your teammate is playing poorly, and help slam the accelerator down when both of you are playing well. But when both players on a two-man team are stuck in neutral? That's when fun goes out the window, and the whole thing gets frustrating in a hurry.
Just ask Nick Hardy and Davis Riley, who enter Sunday at 23 under and three back.
The pair made the turn in six under on the day, then birdied their next two holes. Eight under through 11, into the lead and flying high.
"We were really just ham-and-egging it pretty good, birdieing opposite holes and stuff," Hardy said..
Then, the handbrake came on. The pair parred their next six holes in what must've felt like an eternity for a team of two tour players. The only scant consolation was a birdie on the par-5 18th.
It wasn't how Hardy and Riley would've wanted to finish, but it's the alternate shot where the two may thrive. Hardy and Riley have been friends since they were 15 years old and playing AJGA tournaments together. They know each other's games inside and out.
"We just have very similar games," Riley said. "We're both solid ball strikers. We hit lots of greens and we're keeping it pretty stress free."
The putts stopped dropping during the latter part of their round on Saturday, but stress-free ball striking will be just the ticket in alternate shot. In a week where Strokes Gained: Friendship seems to be something of a difference-maker, Hardy and Riley could have the edge.