Captain's pick
Davis Love III rounds out 2022 U.S. Presidents Cup team with blend of experience and rising talent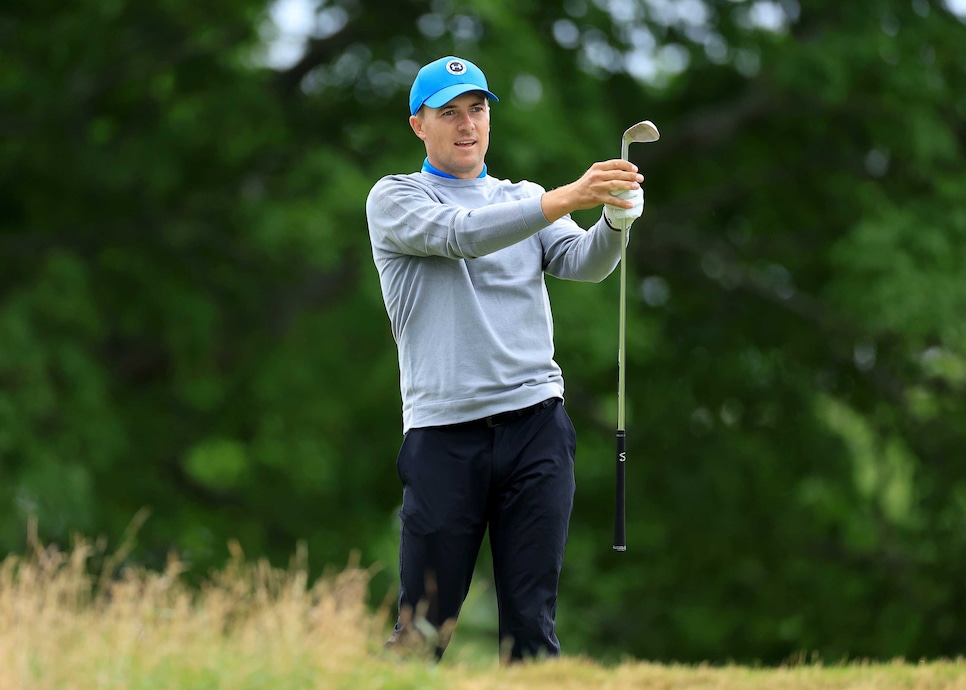 Jordan Spieth will be playing on his fourth U.S. Presidents Cup team and his eighth professional Cup team overall.
David Cannon
With U.S. golfers holding a commanding 11-1-1 record over the International team in the Presidents Cup and coming off a thorough dismantling of Europe in last year's Ryder Cup, Davis Love III shouldn't face many sleepless nights in the lead up to the 14th edition of the Presidents Cup later this month in his home state of North Carolina.
His American team was heavily favored even before the International team lost several key members because of their leap to the LIV Golf Series, including World No. 2 and reigning Open champion Cameron Smith of Australia. Still, Love, a veteran as a player and captain of these biennial competitions, takes nothing for granted. This is a new U.S. team with its own goals and facing its own challenges. Love is intent on striking the right chord with a truly young team without overthinking it.
"Well, you call Dr. Bob Rotella a lot in the next couple weeks, and you make sure you've got a game plan for the messaging," Love said on Wednesday after finalizing his 12-man team with six captain's picks that were basically chalk. "These guys, this is their 12-man team that has never played together before. So, they want to win for this team. [But] I don't think we have to do too much messaging or motivation. Certainly, you don't want to be on a losing team ever.
"We know we are up against it. Trevor [Immelman, the International team captain] is going to have a team that's got a chip on their shoulder and that's motivated and wants to prove that they can still be competitive. We have to be careful. Certainly, these guys are not going to take it lying down."
On Wednesday, Love selected Jordan Spieth, Collin Morikawa, Max Homa, Billy Horschel, Cameron Young and Kevin Kisner, going almost straight down the line of the U.S. Presidents Cup qualifying list after the six automatic qualifiers. The first five finished eighth through 12th on the points list (No. 7 Will Zalatoris said he can't play due to injury). Kisner ultimately was the outlier—though not a big one—coming in 15th but boasting previous Presidents Cup experience as well as some match-play chops by winning the 2019 WGC-Dell Technologies Match Play.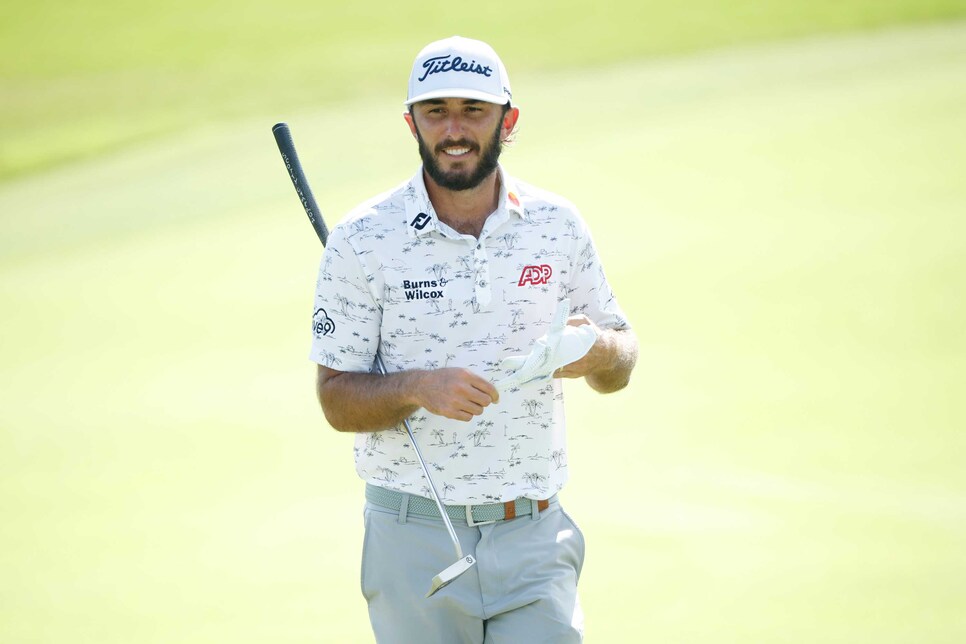 Max Homa will be playing in his first Presidents Cup later this month at Quail Hollow.
Cliff Hawkins
Kisner, 38, whom Love said "thrives" in match play, went 2-0-2 during the 2017 Presidents Cup at Liberty National in New Jersey. The South Carolina native was selected over Tom Hoge and J.T. Poston, who were 13th and 14th, respectively, and own PGA Tour wins this season but have little experience in match play.
Spieth, 29, is the only other selection with Presidents Cup experience, making his fourth team after missing the Americans' come-from-behind win at Australia's Royal Melbourne for playing captain Tiger Woods in 2019. The Texan is 8-5-1 but has yet to win a singles match since his debut as a captain's pick in 2013.
The six were added to the half-dozen Americans who topped the multi-year points list: Scottie Scheffler, Patrick Cantlay, Xander Schauffele, Sam Burns, Justin Thomas and Tony Finau. Burns is another true rookie, while Scheffler is making his Presidents Cup debut after playing in last year's Ryder Cup. Morikawa, likewise, will appear in his first Presidents Cup after contributing to USA's impressive 19-9 win over Europe in the Ryder Cup at Whistling Straits in Haven, Wis.
In all, seven U.S. players—Spieth, Scheffler, Morikawa, Thomas, Cantlay, Finau and Schauffele—were members of the 2021 Ryder Cup team that registered the largest winning margin in the biennial series since 1967. Thomas, Cantlay, Schauffele and Finau played for Woods three years ago in a 16-14 victory over Ernie Els' Internationals.
"I always say our first 12 is good and our next 12 is really good, and that's what makes my picks so difficult is because just start right on the list of automatic qualifiers," said Love, 58, who captained two Ryder Cup teams, losing in 2012 and leading the U.S. to victory in 20-16. "You go right past … obviously it's disappointing that Will got hurt. Our first 12 was incredibly strong. We almost could have just gone right off the top-12 list. But when you start at 13 and work your way down, every one of those guys is a great player and had a great year and has a case for playing."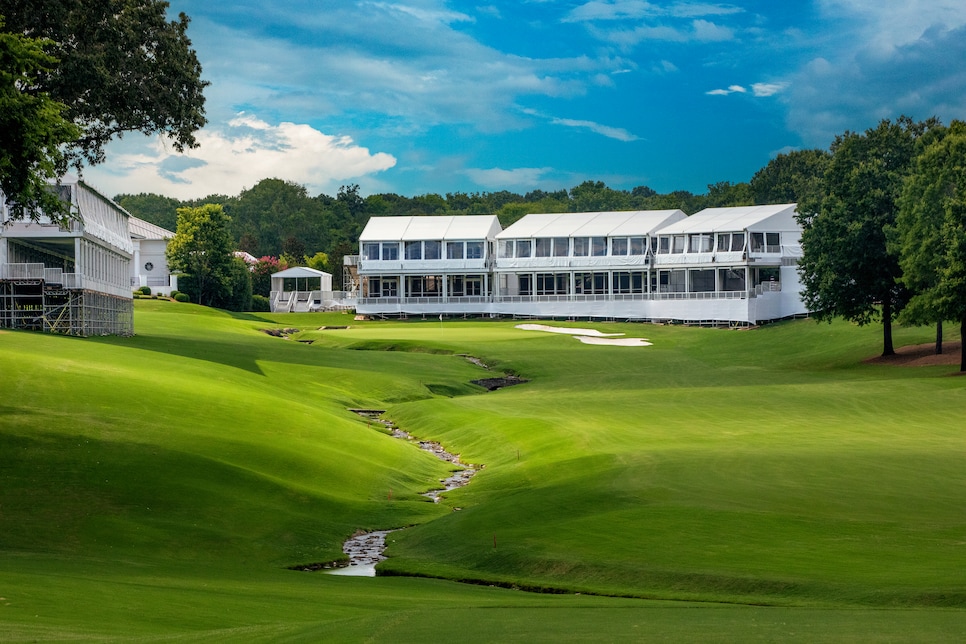 The 18th at Quail Hollow will play as the 15th hole during the 2022 Presidents Cup to make sure it becomes a part of most every match during the week.
Love's six picks are ranked from No. 8 in the world (Morikawa) to No. 38 (Kisner). Eleven of America's 12 players are among the top 20 in the world, including five in the top 10, while the Internationals counter with only two in the top 20: No. 16 Hideki Matsuyama of Japan and No. 18 Sungjae Im of South Korea.
Love was asked if he feels sorry for his counterpart in leading a team missing key personnel in Smith plus another automatic qualifier in Joaquin Niemann, and potential captain's picks in Louis Oosthuizen, Abraham Ancer and Marc Leishman, all now in the LIV stable.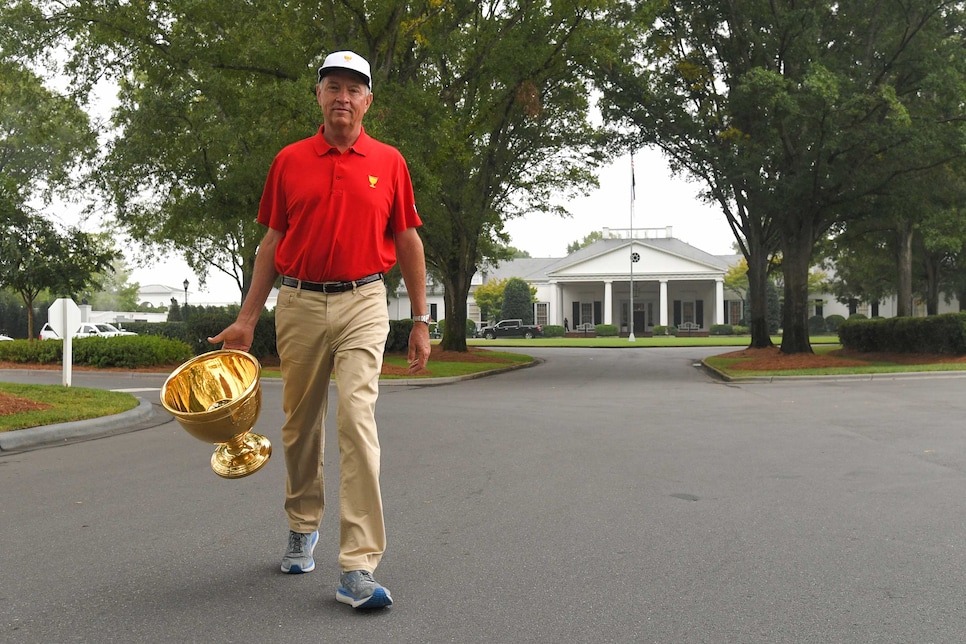 Davis Love III holds the Presidents Cup near the clubhouse during the captain's visit last September.
Ben Jared
"I feel bad for the game of golf right now that this is the story going in, and we've got how many ever days until we actually tee off," Love said. "They are playing great event this week [the BMW PGA Championship on the DP World Tour] and the story is, you know, Billy Horschel and Jon Rahm wishing [LIV] guys weren't there. That's sad. I feel bad for all of us, really.
"But Trevor has a job to do, and that's to take 12 guys in there ready to play, and he's focused on that. We've talked about it a lot. I have to get these 12 guys that are dying to play for Team USA ready to play, and it will be a great show once Thursday starts. This is a big, big distraction away from what we really should be talking about."