College Golf
2022 NCAA Division I Men's Regional fields selected
Oklahoma, Vanderbilt, Oklahoma State, Arizona State, North Carolina and defending champion Pepperdine earn top seeds for postseason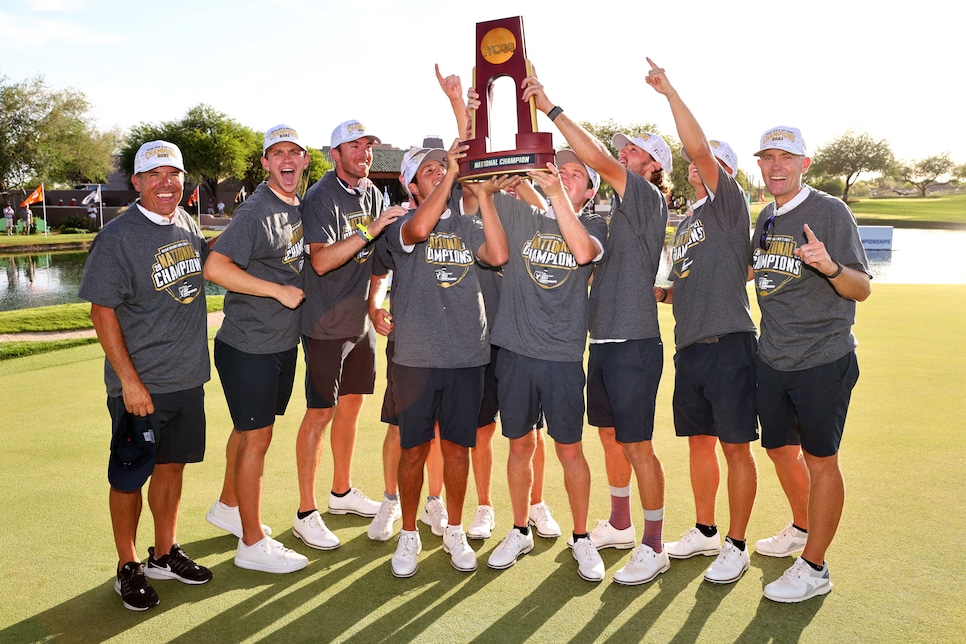 Players and coaches with the Pepperdine men's golf team celebrate knocking off Oklahoma in the final of the 2021 NCAA Championship at Grayhawk Golf Club in Scottsdale.
Jamie Schwaberow
Oklahoma, Vanderbilt, Oklahoma State, Arizona State, North Carolina and defending champion Pepperdine earned top seeds when the NCAA men's golf committee announced on Wednesday the 81 schools and 45 individuals to play in the six NCAA Men's Regional tournaments May 16-18.
The top five teams from each regional and the low individual not on those teams advances to NCAA Championship at Grayhawk Golf Club in Scottsdale, May 27-June 1.
This is the 13th year the men's national championship including match play to decide the team champion. The tournament begins with a stroke-play segment to determine the individual champion (72 holes) and whittle the field down to eight schools who then compete in a head-to-head match-play bracket. Thirty-five programs have advanced to match play since the format was adopted in 2009, with Oklahoma State having the most appearances with eight, followed by Illinois with seven and Texas with six.
Traditions Club, Bryan, Texas
Teams (listed by seed; conference champs in brackets)
Pepperdine [WCC]
Texas A&M
Georgia
Tennessee
Kansas
Arizona
Michigan State
SMU [AAC]
Boise State
Oregon State
Colorado State
Southeastern Louisiana [Southland]
Texas Southern [SWAC]
Individuals
Canon Claycomb, Alabama
Thomas Ponder, Alabama
Chad Sewell, Sam Houston
Justin Gums, TCU
Riley Lewis, LMU
Aymeric Laussot, TCU
Aidan Thomas, New Mexico State
Evan White, Texas State
Joe Buenfeld, Incarnate Word
Zane Brooks, Prairie View A&M
PALM BEACH GARDENS REGIONAL
PGA National (Champion), Palm Beach Gardens, Fla.
Teams (listed by seed; conference champs in brackets)
Vanderbilt [SEC]
Florida
Notre Dame
Florida State
Purdue
South Florida [AAC]
Little Rock [Sun Belt]
College of Charleston [Colonial]
Indiana
San Diego
Davidson [Atlantic 10]
Loyola Maryland [Patriot League]
Charleston Southern [Big South]
Individuals
Nick Lyerly, UNC Greensboro
Tobias Jonsson, Mercer
Henrik Lilja, Campbell
Ross Funderburke, Furman
Zack Byers, Gardner-Webb
The Course at Yale, New Haven, Conn.
Teams (listed by seed; conference champs in brackets)
North Carolina
Texas Tech
Wake Forest [ACC]
Illinois [Big Ten]
NC State
Charlotte [Conference USA]
North Florida [Atlantic Sun]
Georgia Southern
Mississippi State
Virginia
University of Central Florida
Seton Hall [Big East]
Yale [The Ivy League]
Sacred Heart [Northeast]
Individuals
Roberto Nieves, Delaware
Eddy Lai, UCLA
Caleb Manuel, UConn
Adrian Vagberg, VCU
Ryan Tall, Lafayette
The Reserve at Spanos Park, Stockton, Calif.
Teams (listed by seed; conference champs in brackets)
Arizona State
Washington [Pac-12]
Stanford
LSU
Oregon
Nevada
Liberty
Brigham Young
UAB
Houston
UC Davis
Denver [Summit]
Abilene Christian [WAC]
Weber State [Big Sky]
Individuals
Caden Fioroni, UNLV
Jackson Rivera, Southern California
Tyler Schafer, Long Beach State
Nathan Cogswell, Seattle
Nate Deziel, North Dakota State
Jimmie Austin G.C. at U. of Oklahoma, Norman, Okla.
Teams (listed by seed; conference champs in brackets)
Oklahoma [Big 12]
Texas
Auburn
South Carolina
Ole Miss
Louisville
Missouri
San Diego State [Mountain West]
Utah
Kent State [Mid-American]
Kansas State
UT Martin [Ohio Valley]
Rider [MAAC]
Individuals
Johnny Keefer, Baylor
Vicente Marzilio, North Texas
Mac McClear, Iowa
Justin Biwer, Colorado
Evan Davis, Belmont
Ronan Kleu, Iowa
Paul Conroy, Chattanooga
Sam Murphy, Louisiana Tech
Nick Wolf, Middle Tennessee
Michael Barnard, Middle Tennessee
The Scarlet Course at Ohio State, Columbus, Ohio
Teams (listed by seed; conference champs in brackets)
Oklahoma State
Georgia Tech
Arkansas
Clemson
East Tennessee State [Southern]
Ohio State
Duke
Northwestern
Florida Gulf Coast
San Francisco
Kentucky
Wright State [Horizon]
Southern Illinois [Missouri Valley]
Individuals
Hunter Eichhorn, Marquette
Griffin Barela, Wisconsin
Patrick Sheehan, Penn State
Thomas Giroux, Oakland
Conner Burgess, Virginia Tech
Sam Jean, Cincinnati
Lou Olsakovsky, Penn State
Cameron Huss, Wisconsin
Joe Muschong, Morehead State