DP World Tour
Ryder Cup starpower is chasing Justin Harding at the midpoint of Dubai Desert Classic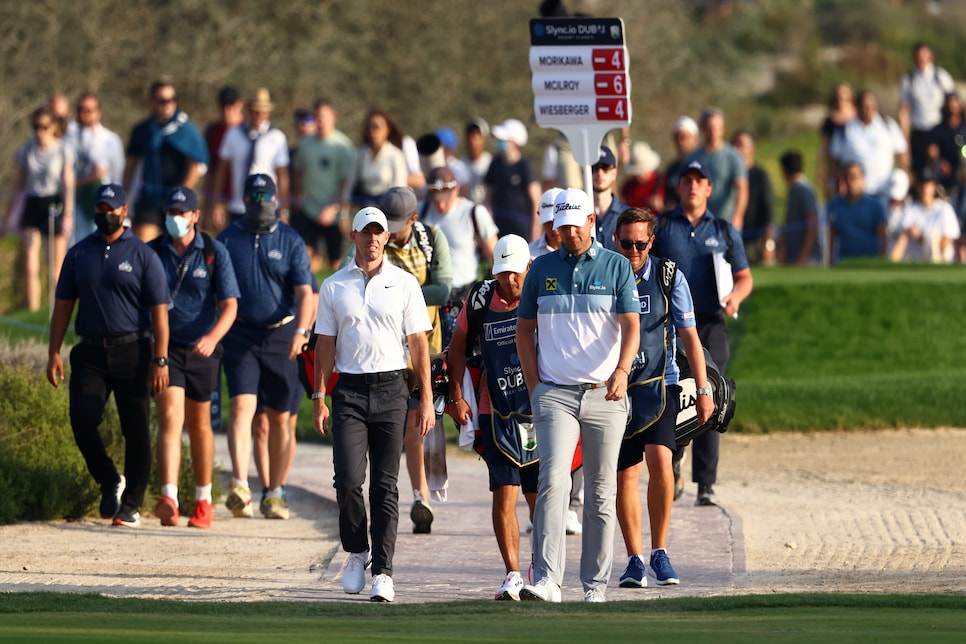 DUBAI — The temptation to say he has "exploded" into contention in the Slync.io Dubai Desert Classic is all but irresistible. But, light the blue touch paper and stand well back, here he comes again. One week after Tyrrell Hatton expressed a desire to "blow up" the par-5 18th hole at the Yas Links, where he thrashed and hacked his way to a seven and a nine during the Abu Dhabi HSBC Championship he failed to successfully defend, the sometimes tempestuous but never dull Englishman is back on the leader board. On nine-under par at the halfway stage, the world No. 22 trails only one man, Justin Harding. After a second-round 68 on the Majlis course at the Emirates Club, the South African leads by two shots.
The leading pair haven't quite seen off all the opposition. Lurking ominously amongst those within six shots of Harding's 133 aggregate are such luminaries as Viktor Hovland, Lee Westwood, Paul Casey, Tommy Fleetwood, Bernd Wiesberger, Rory McIlroy (aka exactly half of last year's European Ryder Cup team) and last week's winner, Thomas Pieters. It is a formidable pack from which it is almost certain some, many or all will progress.
That likelihood didn't seem to be bothering Hatton, however, after seven birdies followed his opening bogey. So he was in fine fettle at the end of his day, which was not too surprising. Maybe an hour earlier, he had been all smiles after pitching-in for an unlikely birdie at the par-4 14th.
"Obviously I'm happy with that," he said after signing for a (tied) best-of-the-day, six-under par 66. "Didn't get off to a great start but battled back and played a lot of good golf. I gave myself plenty of opportunities and putted lovely. Momentum was on my side and hopefully it stays there over the weekend. I have to try and remember that and try not to be too hard on myself. I'm going to have to do that well over the weekend. There are going to be times where I have some bad phases and how well I do will depend on how I manage those."
So it is Hatton who will have the opportunity to put the most pressure on Harding, when the pair tee off together on day three. It may not be completely straightforward. Yes, Harding is exactly 100 places lower than Hatton in the world rankings, but he is not without experience of winning. The 35-year old has two victories to his name on the DP World Tour, the most recent less than 12 months ago at the Magical Kenya Open.
"I've played this course well over the years," claimed Harding. "And I played nicely last week. My game seems to be close. If I can control the putter (he uses a long version), I am always going to be there or thereabouts."
As for McIlroy, the world No. 8 and two-time winner of this event, left the premises dissatisfied with his score for the second day in succession. Even a five-shot improvement and a bogey-free round of 66 highlighted by a chip-in eagle at the par-5 13th wasn't enough to hide his frustration. Although he did raise a smile by revealing the 15 footer he made on the 18th green was a birthday present for his agent, Sean O'Flaherty, who turns 40 today.
"He told me the only thing he wanted for his birthday was me going out there and shooting 66," said McIlroy, after pulling up seven-under par and four back. "I was thinking of him on that last putt. It's not the only thing he'll get for his birthday but it's a good start.
"I actually could have been way lower," he continued. "I certainly played well enough for it to be lower. I missed a few opportunities.But that was as good as I have hit the ball in a long time. Still, 66 this afternoon is a good score and sets me up for a nice weekend."