News
Sophia Popov returns to the Women's Open as a confident defending champ and Solheim Cup lock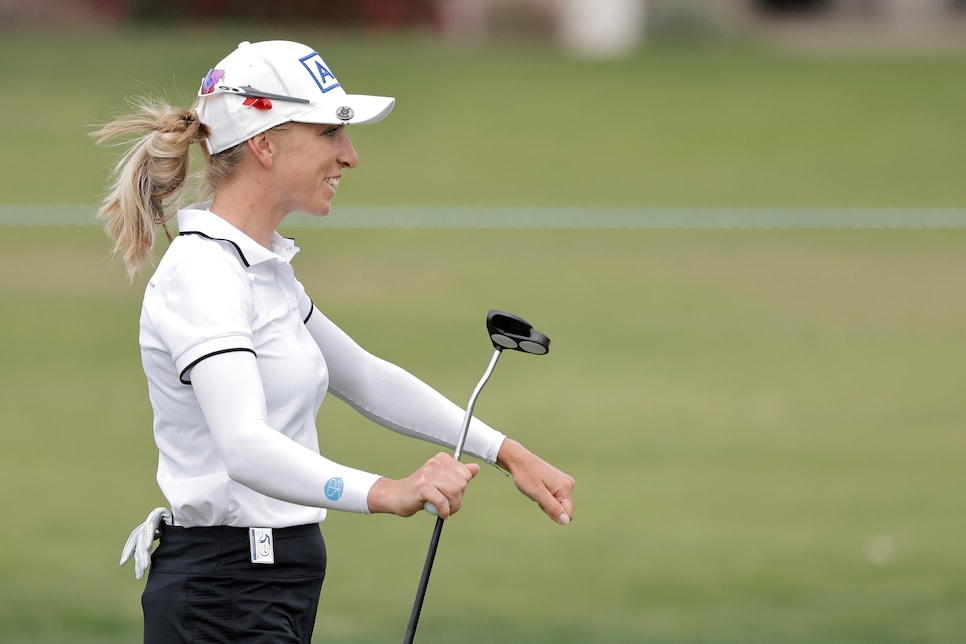 CARNOUSTIE, Scotland — Not quite one year on from what was surely the most unlikely—and heart-warming—tale in professional golf in 2020, Sophia Popov is back to defend the Women's Open title she won so memorably at Royal Troon last October. Things are a bit different now, of course, both geographically and psychologically. The west coast of Scotland is now the east, the rugged links of Carnoustie the venue for the 28-year old's title defense. And the previously unheralded German arrives in Angus not as an all-but complete unknown ranked 304th in the world, but as the highest-ranked (28th) European golfer on the planet.
Not everything is different though.
"Playing my practice round today, I was feeling a lot of the same emotions I had last year," she says. "It's just so exciting to be back playing some links golf and enjoying the venue because it is so special. Plus, I have a lot of memories from having played here in 2011 as an amateur. I'm just enjoying myself being out there, which is very similar to last year. Back then, I didn't know what was going to happen on Sunday. And I don't know this year either."
Somewhat ironically, Popov is actually in danger of being too well known this week. Her smiling countenance adorns posters dotting the premises and videos running on a continuous loop in the clubhouse have already drawn many good-natured comments from her fellow pros.
"You only realize it once you get on-site and you see your face everywhere," she said. "And you think, oh, my God, it's been a year now and this is the event that changed so much for me. I think everyone is fed up of seeing me, to be honest. But it's really funny because when everyone comes by they call me 'defending champ.' Normally I'm way too humble of a person to even identify with something like that, but I know this week I can. So I'm just taking it all in. I'm like, 'Yep, I'm defending.' So I'm getting better at just accepting that and being all cool about it."
All of which is a long way from the 54-hole Cactus Tour events that were Popov's home in the middle of last year, a time when she was reduced to caddying for close friend Anne Van Damm only weeks before Troon came along and changed her life. Since then, however, Popov has proved that her maiden LPGA victory was no fluke. Her elevated world ranking is evidence enough of a string of high finishes that have guaranteed her a place on the European Solheim Cup team that will be finalized and announced on Sunday evening.
To that end, Popov has been in regular contact with Solheim skipper Catriona Matthew. No bad thing. The Scot's routinely calm demeanor is a soothing influence on one inclined to excitement when the subject of the biennial contest with the United States is mentioned.
"A lot of times, I mentally get ahead of myself a little bit, just really looking forward to that week," admits Popov. "But I'm proud of how I have backed up my win here last year with some other finishes to make the team. I did that pretty well throughout the end of last season and the beginning of this season. Now I fully grasp the idea that I really belong on that team. So I can really enjoy it and look forward to it."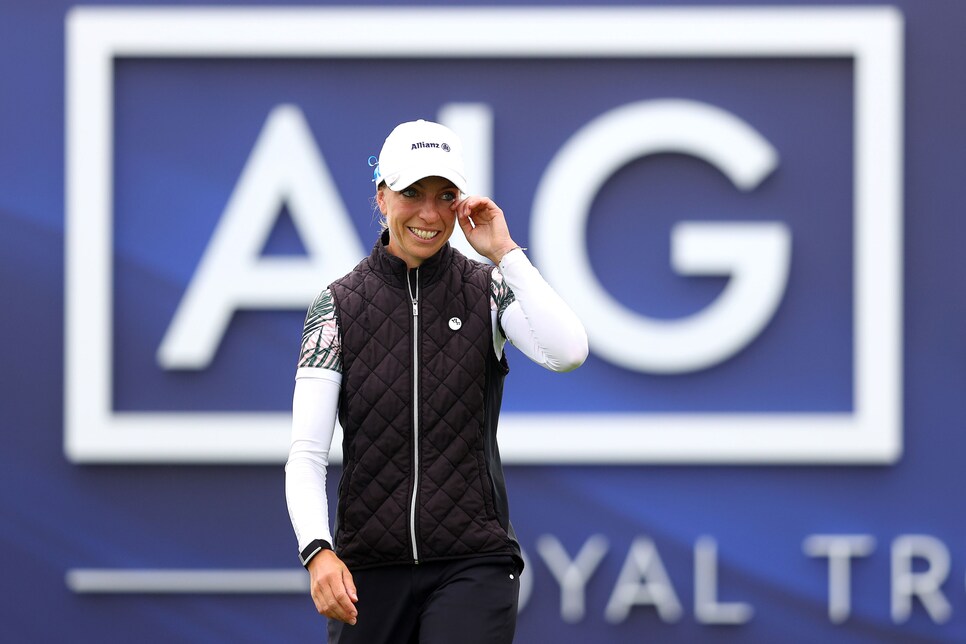 An emotional Popov walks to collect her trophy after winning at Troon last year.
Richard Heathcote/R&A
As for the state of her game right now, Popov arrives on the back of a missed cut in last week's Women's Scottish Open at Dumbarnie Links. Which is not to say she is not harboring positive vibes about what lies ahead.
"My game is actually in a better spot than I think it is," she says. "A few weeks ago I was playing so much I got tired and mistakes were creeping in. Every week seemed to be really long and gruelling. So I've been trying to keep everything simple. I tend to over-complicate things for myself by trying to be the perfect ball-striker that I think I can be. But that's just not necessary around here. You just have to pick good targets and miss the ball in the right spots. My practice rounds have been good. So it's about keeping my head in the game and making sure I stay focused, especially on some of the tougher shots."
Of course, if all else fails, she can always think about last year.