Fantasy Advice
WGC FedEx St. Jude Invitational 2021 DFS picks: Why Jordan Spieth is among the safest options in a loaded field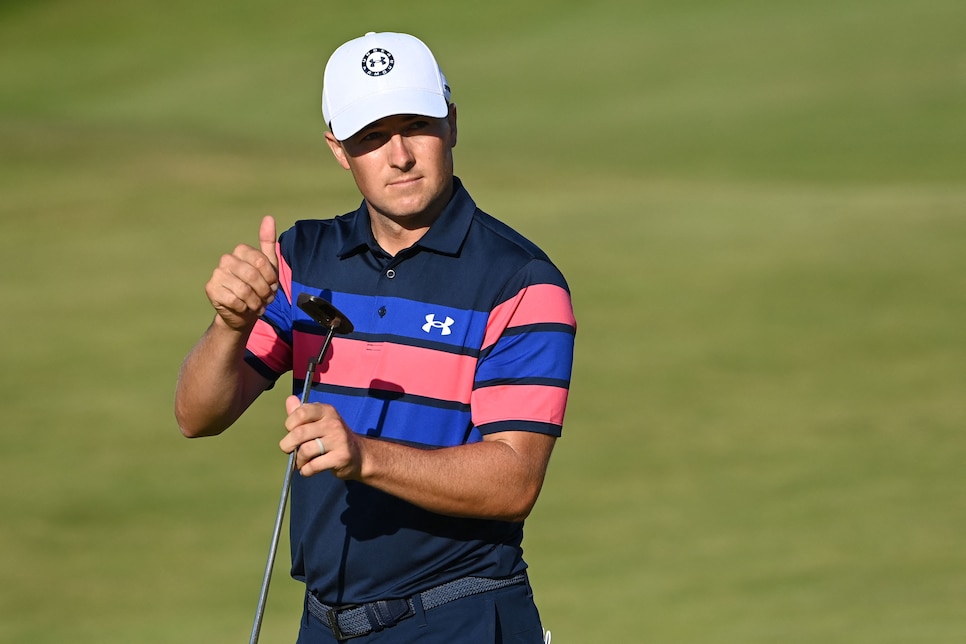 If you enjoyed the no-cut event last week in Tokyo, then you're going to love this week! It brings another guaranteed four rounds for a small field in Memphis for the WGC FedEx St. Jude Invitational. The course, TPC Southwind, has been a staple on the PGA Tour. It hosted the FedEx St. Jude Invitational, a full-field event, before being elevated to World Golf Championship status. In some late breaking news, next year it will become a FedEx Cup Playoffs event.
TPC Southwind's small greens are an important characteristic to note this week. They check in at 4,300 square feet on average. That's definitely on the smaller side and should benefit better approach players. Then there is the group of golfers making the trip back from Tokyo who will need to quickly adjust to the time difference.
Price Range: $9,000 and above
High Upside: Daniel Berger ($9,200 DraftKings | $10,900 FanDuel)
Berger hits a convergence of course history and recent form. He's been dominant at TPC Southwind in his career, winning full field events in 2016 and 2017. The only time that he's played the WGC version of this event, last year, he finished runner-up. Coming off an 8th place finish at the Open Championship, his game is trending in the right direction.
Safest Option: Jordan Spieth ($10,400 DraftKings | $11,700 FanDuel)
The advanced metrics for Spieth couldn't be better. He has gained strokes off the tee in nine consecutive events, per the RickRunGood.com golf database. That's noteworthy considering he lost strokes off the tee in 12 straight events from the 2020 Memorial to the 2021 Phoenix Open. The rest of his game has been sublime and without Jon Rahm in the field, he's been the best player on Tour in 2021.
Most Likely To Disappoint: Justin Thomas ($9,900 DraftKings | $11,400 FanDuel)
The defending champion does not look much like himself these days. Since his victory at The Players Championship, Thomas has only one top-10 finish, which came at the Scottish Open. Since that time, he's averaging 0.93 strokes gained per round -- the second worst mark of any golfer priced above $9,000. The only player worse is Bryson DeChambeau.
Pick To Win: Patrick Cantlay ($9,300 DraftKings | $11,000 FanDuel)
A missed cut at the Open Championship halted a string of four consecutive top-25 finishes for Cantlay, a stretch that also included a victory. With the average green size at TPC Southwind only 4,300 square feet, we can lean on Cantlay's success on "small greens" in his career. When filtering by "small greens" on RickRunGood.com, Cantlay gains 1.79 strokes per round on the field -- the best of any player teeing it up in Memphis this week.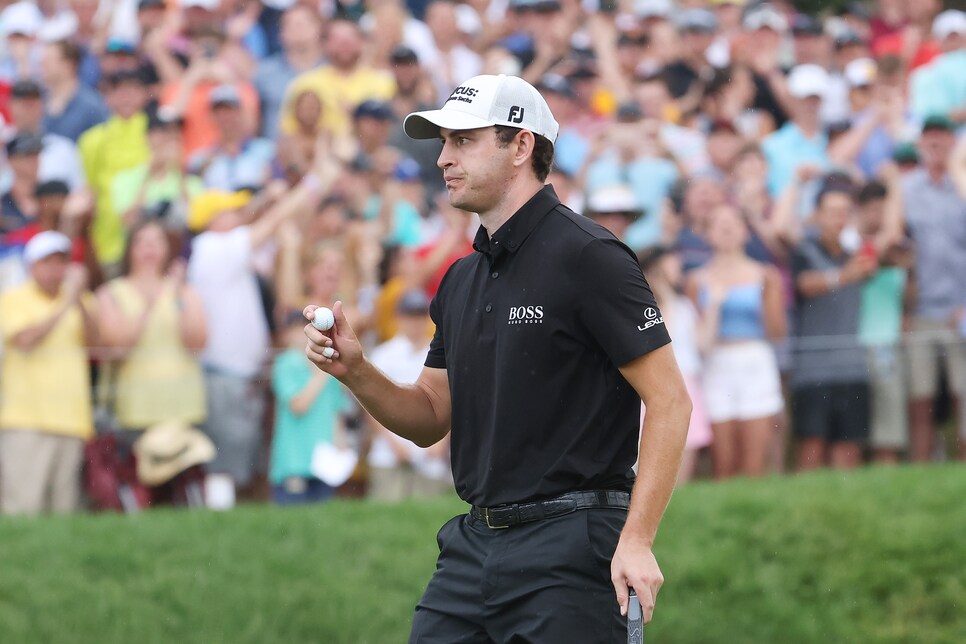 High Upside: Shane Lowry ($8,600 DraftKings | $9,400 FanDuel)
It's hard to ignore what Lowry is doing right now. In his T-22 in Tokyo last week, he gained 5.49 strokes on approach. Not only was it the third most in the field but now marks the 10th consecutive event that he's gained strokes in the category (per the RickRunGood.com golf database). He's piling up great finishes in premier events without much sign of it slowing down anytime soon.
Safest Option: Abraham Ancer ($8,300 DraftKings | $9,500 FanDuel)
I worry about Ancer's ceiling but I rarely worry about his floor. Dating back to the start of 2021, Ancer has played in 18 PGA Tour events. He has finished inside the top 25 in 13 of those. He continues to prove that he's an excellent ball-striker, ranking inside the top 35 on Tour both strokes gained/off the tee and on approach. This par 70 layout should bode well for Ancer, like it did last year in his T-15 finish.
Most Likely To Disappoint: Tommy Fleetwood ($8,000 DraftKings |$9,200 FanDuel)
The advanced metrics for Fleetwood continue to be troublesome. Despite his T-16 in Tokyo, he lost 0.25 strokes on approach and relied on his putter to gain nearly two strokes over four rounds. This continues a trend of "Tommy not looking like Tommy." It's a dangerous game to play and one that usually ends poorly.
Pick To Win: Webb Simpson ($8,500 DraftKings | $9,900 FanDuel)
This is a great price for Simpson who wins at a rate much higher than his similarly priced peers. Simpson has been dealing with a neck injury this summer but seems to be getting healthier. He earned a top-20 finish at the Open Championship in his last start and has thrived on courses that require accuracy and precision.
High Upside: Tyrrell Hatton ($7,400 DraftKings |$9,800 FanDuel)
I know Hatton is coming off two missed cuts in a row (both major championships) but he is criminally underpriced. Even with those two missed cuts, he still has two top-eight finishes in his last five PGA Tour starts. More importantly, this is floor pricing for Hatton who hasn't been this cheap since the 2020 WGC Mexico Championship, where he finished sixth. It's a bit of a flier on a golfer's long-term form and value pricing.
Safest Option: Brian Harman ($7,500 DraftKings | $8,700 FanDuel)
Harman finished 19th at the Open Championship marking his ninth top-20 finish in his last 11 starts. Read that again -- NINE TOP-20 FINISHES IN HIS LAST 11 STARTS! Few golfers in the field can compete with that high level of consistency and no one in his pricing range can sniff anything close to that stretch.
Most Likely To Disappoint: Sergio Garcia ($7,300 DraftKings | $8,600 FanDuel)
We are going to learn a lot about Garcia this week. He has gained two-plus strokes putting in each of his last two measured events. Both resulted in top-20 finishes for the Spaniard. Either Garcia has learned how to putt and will be a contender every week or he's running above expectation and this will all come crashing down. Considering he's lost strokes with the flatstick in the 11 events prior to this run, I'll go with the latter.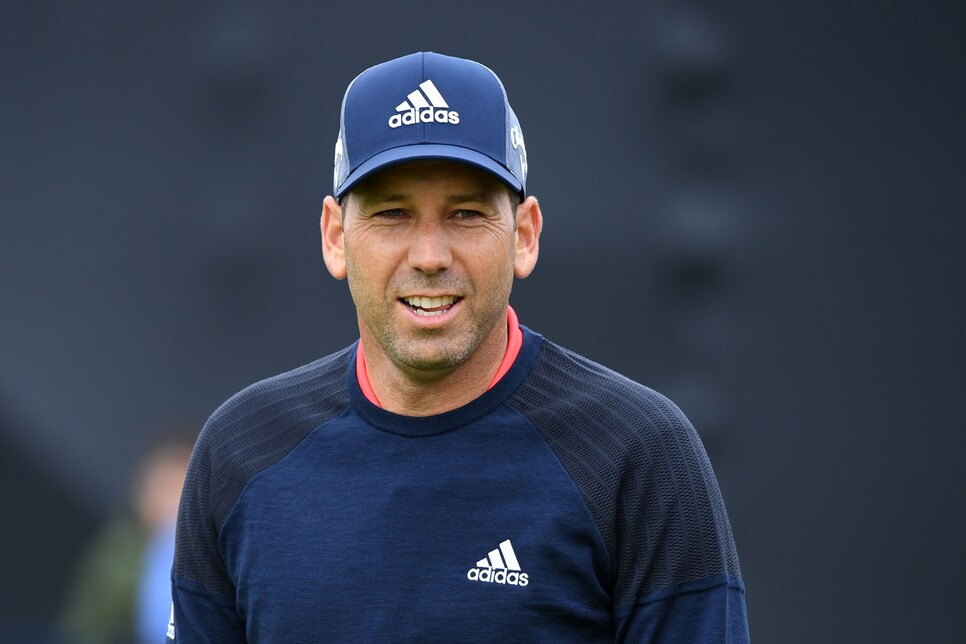 Pick To Win: Harris English ($7,600 DraftKings | $9,100 FanDuel)
English is twice a winner this year and is being priced in a range that screams disrespect. English has gained strokes in all four categories in each of the last three measured events. That's exactly the type of play we have come to expect from him and the blueprint that will allow him to contend on a regular basis.
High Upside: Sam Burns ($6,900 DraftKings | $8,200 FanDuel)
Burns possesses all the firepower needed to be dangerous in a no-cut event. He's long off the tee with precise irons and a deft touch on the greens. It's a shock that he hasn't won more than once this season. He's volatile but this is his lowest non-major price in nearly a year.
Safest Option: Lee Westwood ($6,600 DraftKings | $7,700 FanDuel)
A well-rested Westwood is certainly enticing at this price tag. His form hasn't been great since his back-to-back runner-up finishes earlier this year but he's made the cut in five of his last six events worldwide. He's been playing against top-tier competition and with four guaranteed rounds, he can find his way near the top of the leaderboard.
Most Likely To Disappoint: Si Woo Kim ($6,400 DraftKings |$7,600 FanDuel)
There was hope that Kim could find some magic in Tokyo last week but his 32nd place finish didn't yield much. When you add that to his list of recent results, you realize he only has one top-25 finish in his last 10 starts. He's been horrible on the greens, losing two-plus strokes putting in five of his last six events.
Pick To Win: Max Homa ($6,700 DraftKings | $7,500 FanDuel)
Homa has missed the cut in four of his last seven starts but the underlying metrics provide reason for optimism. He's gained strokes off the tee in five straight and on approach in five of his last six. He is starting to button up his short game and has shown an ability to get hot with the putter in the past.