Watch Party
Rickie Fowler may join Tiger Woods on the couch again to watch the U.S. Open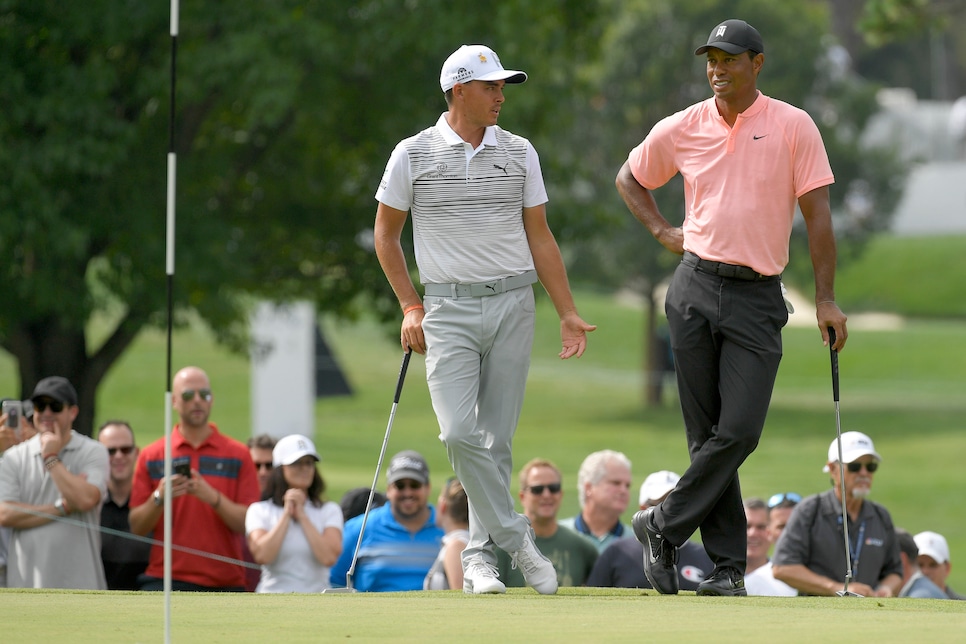 If you have to sit out another major championship, sitting on a sofa with a 15-time major champion is quite an acceptable fallback plan.
Rickie Fowler is about to miss his second major championship of the year after falling short on Tuesday at the U.S. Open final qualifier in Columbus, Ohio. Fowler was among the several dozen players forced to return to complete his second round after a weather delay of more than three hours on Monday.
Having fallen out of the top 60 in the world, Fowler, 32, also missed the Masters in April, the first time he had been absent from a major since the 2010 U.S. Open. He watched the first round with five-time Masters champion Tiger Woods, a fellow Jupiter, Fla., resident.
Fowler, who finished eighth in last month's PGA Championship after receiving a special invitation, indicated Tuesday that he might just ring Tiger's doorbell again during next week's 121st U.S. Open at Torrey Pines – a place they both know well as California natives and where Woods has won eight times, including the 2008 U.S. Open.
"If he [Woods] is home, I'm sure there's a chance of that," Fowler said at The Lakes, where he came up one stroke shy of at least earning an alternate spot. "Go hang with him and [son] Charlie, and maybe get Charlie out to play a little bit."
Ranked 87th in the world, Fowler had to go through U.S. Open qualifying for the first time since 2010 after competing in the Memorial Tournament, where he finished T-11 with a final-round two-under 70.
It was Fowler's fourth appearance in a sectional qualifier – all in Columbus – and his first since failing to advance in 2010 at the same two venues, The Lakes and Brookside. He played five holes on Tuesday to complete a final round six-under 66 at The Lakes and finished at five-under 139. On his 36th hole, Fowler came up inches short of chipping in for birdie, which would have gotten him into a six-man playoff for four Open berths or one of two alternate spots.
Instead, he was relegated to a 12-man playoff for the second alternate designation, but those hopes were dashed in minutes when Ben Taylor of England holed out for eagle from 115 yards on the first hole. The top 16 in Columbus won U.S. Open starts at Torrey Pines, which begins June 17.
"I didn't get anything going, which kind of surprised me," he said. "I should have made it easily outright."
On the tee starting his second round in the late afternoon Monday at The Lakes, he said to his caddie Joe Skovron, "We gotta go super low. We've got it in us."
If he can help it, Fowler said he won't reprise his role as a qualifier.
"Hopefully, I'm not coming back. I've done it a number of times now. Especially coming off of a tournament week, to go play, whether it's 36 the next day then the delay, and then you come back Tuesday … it's a grind," he said. "I'd much rather skip this day. To be where I was the last 24 hours, didn't quite execute that well. I didn't make a whole lot.
"[But] we're in a good spot. I'm excited with where the game currently is coming off the PGA and last week at the Memorial. So better stuff ahead. I'm happy with where we're going."