Women's Scottish Open
Lessons of past Solheim Cup struggles fuel Emily Kristine Pedersen's return to top form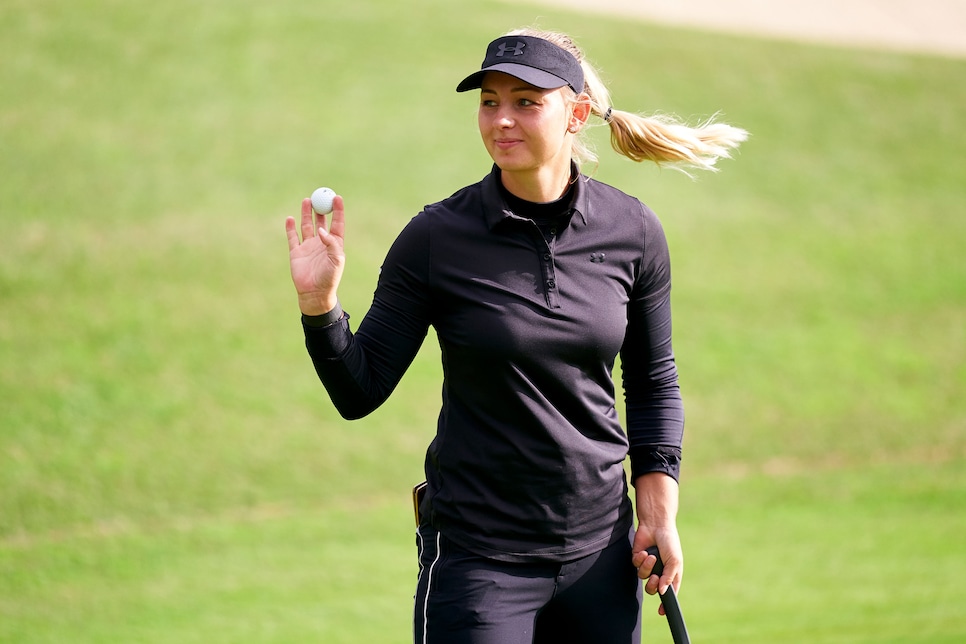 FIFE, Scotland—It's a safe assumption. The 2017 Solheim Cup will not go down as one of the better weeks in the professional life of Emily Kristine Pedersen. The then 21-year-old arrived in Des Moines, Iowa, as one of European captain Annika Sorenstam's wild-card selections but left as one of the two pointless members of a losing Old World squad. Pedersen played three times and comfortably lost all three, climaxing with a 3-and-1 defeat to Danielle Kang in the final day singles.
That was bad enough. But things soon enough got worse for the long-hitting Dane. By the end of 2018—courtesy of a poor LPGA season in which she made only six cuts in 20 starts—Pedersen was ranked 323rd in the world. Which might sound bad. But only for as long as it takes to realize she dropped another 186 places over the following 12 months.
"I needed to mature and see the difference between Emily the golfer and Emily the person," she says. "I worked hard with a phycologist to make that clear. When I played poorly, I thought I wasn't a good person and I doubted I'd ever be back. I didn't really know how to handle playing badly because it had never happened to me before. Then I couldn't let it all go. I couldn't play badly, then go home and be okay about everything. I was emotionally restrained too much of the time and had to learn how to separate the different parts of my life."
For all of the above, the Solheim experience gets much of the blame. While Pedersen claims that her week in Iowa was "far from traumatizing," it would be naive to think it didn't have an effect on the almost immediate decline in her play.
"Maybe I wasn't quite ready for the pressure that comes with the Solheim Cup," she admits. "I did put a lot of that on myself, feeling like I had to prove I was good enough to get the pick Annika gave me. By the end, I was upset, and it knocked me. I didn't perform my best, but then the fact that people were criticizing that I was a pick meant that I had to put all my energy into proving to myself and to others that I was good enough to be on the team. Before that week, and every week since I was 14 years old, I only thought about the round ahead of me and developing as a golfer. But my focus changed. I listened too much to the crowd."
That crowd thing won't be a problem this week, however. No spectators are allowed onto the Dumbarnie Links in Fife where Pedersen is competing in the Women's Scottish Open (an event she lost last year in a playoff with Stacy Lewis). And, so far at least, competing with some distinction. A brace of 69s has the 25-year-old at six under par at the halfway stage and well in contention for what would be a sixth victory on the Ladies European Tour and a maiden win on the LPGA.
All of which is no surprise, of course. Replacing the dark times of 2018-19, Pedersen is today a golfer on the rise. The numbers are startling. At the back end of last year, the former European Amateur champion claimed three LET titles in succession and is now ranked 68th in the world. Just last week she was T-5 at the Olympics in Japan. That's quite a change. When Pedersen arrived at the Renaissance Club for the 2020 playing of this week's event, she was 423 places lower in the world rankings than she is now. Perhaps just as impressively, she is all but certain to top the list of six automatic qualifiers for next month's Solheim Cup at the Inverness Club in Toledo, Ohio.
"That's a big thing for me," she says. "I've played well. It's never bad leading anything. But I'm trying not to think too much about the Solheim. My aim at the moment is just to keep playing good golf. This is the third week in a row I've been in contention. I'm thinking that's good. I wasn't playing so well at the beginning of the season, but my recent play is definitely trending in the right direction. Plus, I believe I have grown a lot since that last time. I've definitely grown since then. I've learned a lot about myself, both on and off the course. I am in a far better place to handle making the team. My game is more solid than it was four years ago. Everything is more solid. And I'm in a better place mentally I feel ready to take up that challenge again."
Still, if she is to live up to that bold claim, Pedersen will have to putt better than she has so far this week. A recent switch from left-hand low to right-hand low has been quickly abandoned.
"Looking back, I probably shouldn't have tried that grip," she says with a shrug. "But I'm always trying to get better. And putting is the big thing I need to improve. I went into it and committed to making the change. But I reached a point where I had to admit it didn't work. If you want to be better, you sometimes have to change something. As it turned out, it wasn't the right thing for me. But at least I tried."
Indeed, further thought may be required. Nine bogeys have scarred the Dane's scorecards—six of them the result of three-putting. In contrast, her tee-to-green play has been typically strong.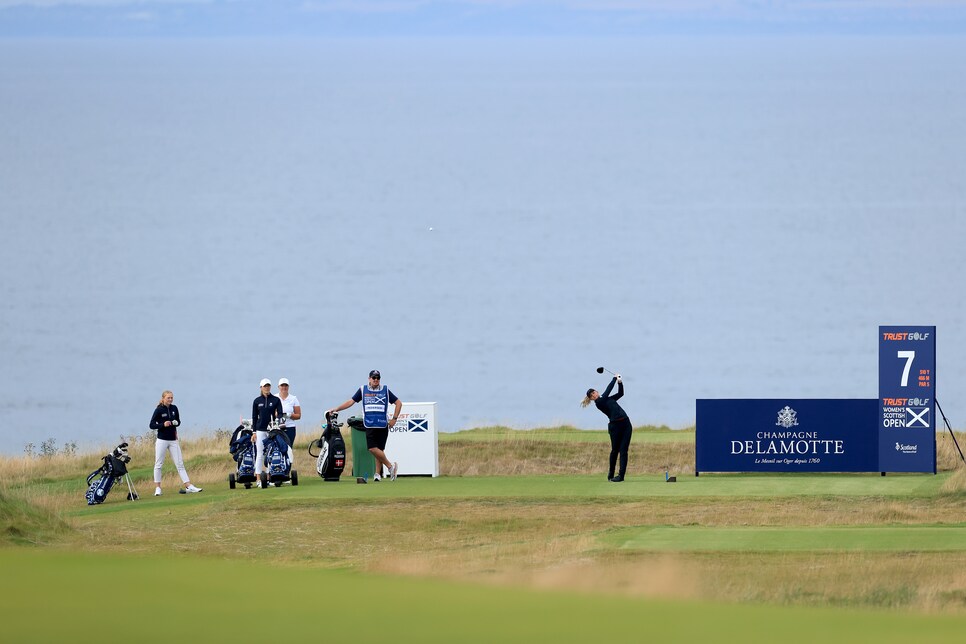 Emily Pederson of Denmark tees off during the pro-am at the Women's Scottish Open at Dumbarnie Links.
David Cannon
"Today was a bit of a mix, to say the least," Pedersen said in the immediate aftermath of a three-under-par second round that included two eagles, five birdies, six dropped shots and only five pars. "A lot of good birdies, but my putting has been an absolute disgrace the last two days. I know it is difficult out there in the wind and maybe I am being too hard on myself. Then again, maybe not. I've been missing too many short putts. I shouldn't be making six bogeys."