Experience Counts
Danielle Kang returns to the comfortable 'vibe' of Inverness as a U.S. Solheim Cup team leader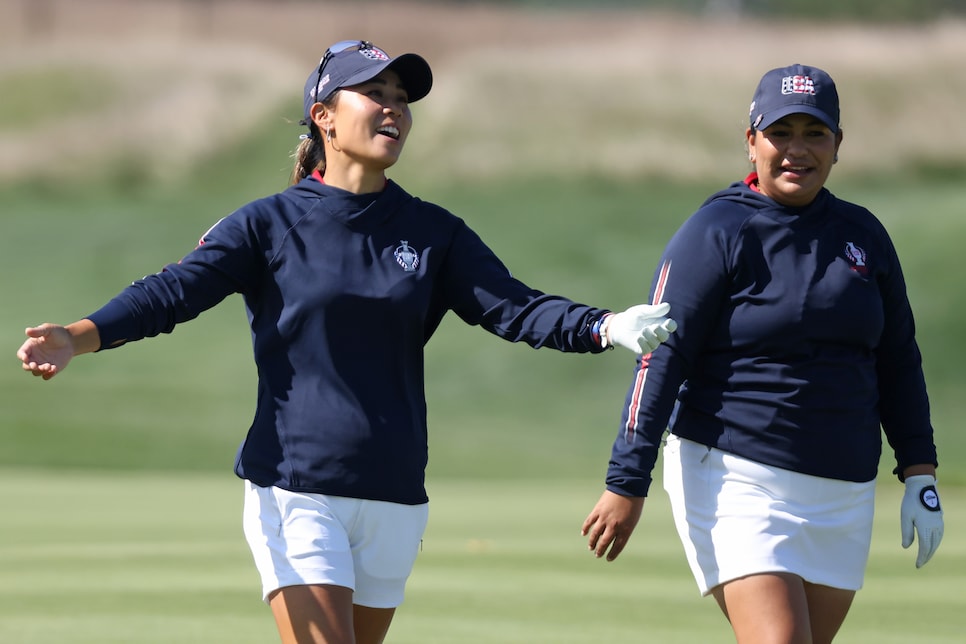 TOLEDO, Ohio — Not the same weather. Not the same course setup. Not the same atmosphere. Definitely not the same atmosphere.
Other than the street address and the layout itself, there is a distinct lack of similarities between the Inverness Club that Danielle Kang conquered last August and the one she'll play this week as part of the U.S. team in the 17th edition of the Solheim Cup. Kang won the LPGA Drive On Championship here a little more than 12 month ago in the first LPGA event held in five months due to the pandemic.
The weather was cool, breezy and sometimes rainy, the course was soft and there were no fans in attendance when Kang defeated Celine Boutier of France—a member of the European team—by one stroke with a seven-under 209 total. At the time, Kang called the Donald Ross layout "a chameleon" for how it changed with the conditions.
This week Inverness is dry and fast and is expected to remain so throughout the three-day competition that begins Saturday. And, of course, there are fans, and both sides expect them to be enthusiastic and vocal, ratcheting up the pressure and passion inherent in this biennial team competition.
The U.S. leads the series 10-6, but Europe won the Solheim Cup two years ago at Gleneagles in Scotland by capturing the last three singles matches for a stirring one-point decision.
"The golf course is playing a little bit more different," Kang said Wednesday, upping her description of Inverness as "a monster of a golf course. Back then it was colder and we had rain and wind. Now it's a bit hotter, the ball is flying further. It was soft back then; right now it's pretty firm.
"I think it's only going to get firmer and faster. Around the greens are pretty difficult. You're just going to have to play really good golf out here."
Which is something Kang can draw on, being in such good form last year that she took it to nearby Sylvania, Ohio, the following week and won again at the Marathon LPGA Classic at Highland Meadows Golf Club. That part feels familiar to the five-time LPGA winner ranked eighth in the Rolex Rankings.
"Coming back here, I just really like the … I was saying earlier that I really like the vibe of Inverness," she said. "Everyone that works here is so kind and nice and super chill, so I'm happy to be here."
Nearly all of the American team was in the Drive On field a year ago. Rookie Mina Harigae, one of Pat Hurst's captain's picks, was the next highest finisher, tying for sixth. Megan Khang was T-11 and Lexi Thompson T-16.
"The girls that are here have played the golf course," said Kang, 28, who doesn't feel like she has any additional insight to Inverness than her teammates. "I just happened to win that week. With that said, when I come back here, I know a lot of the people that work here, so it was really good to see them again and see the superintendents. We talked about the golf course.
"One of the greenskeepers and superintendents' name is 'JZ' and I gave him a Scotty Cameron putter because I asked him to make the greens fast and he did.
"So, with this week, I think talking to them, talking to the maintenance crew, and that's what I normally do in late afternoons, seeing how the greens are going to roll out, how much firmer it's going to get, I think that's the thing that I normally look out for."
Good vibes are one thing, but does the San Francisco native gain extra confidence, too, returning to a place where she has had success so recently? Her win was 13 months ago to the day.
"I'm just normally a confident person until … and I'm still confident even if I fail," she said with a laugh. "That's just how I am. Sometimes I fail confidently, and it's OK. But all I can say is that I'm giving it 110 percent to be here, and I'm going to give it 120 if I can to this team. I'm really excited to tee it up on Saturday. … I'm really excited to see how the match is going to pan out.
"I think it'll just be a really good match."