So Far So Good
Muirfield Village renovation by Jack Nicklaus draws praise from pros at Memorial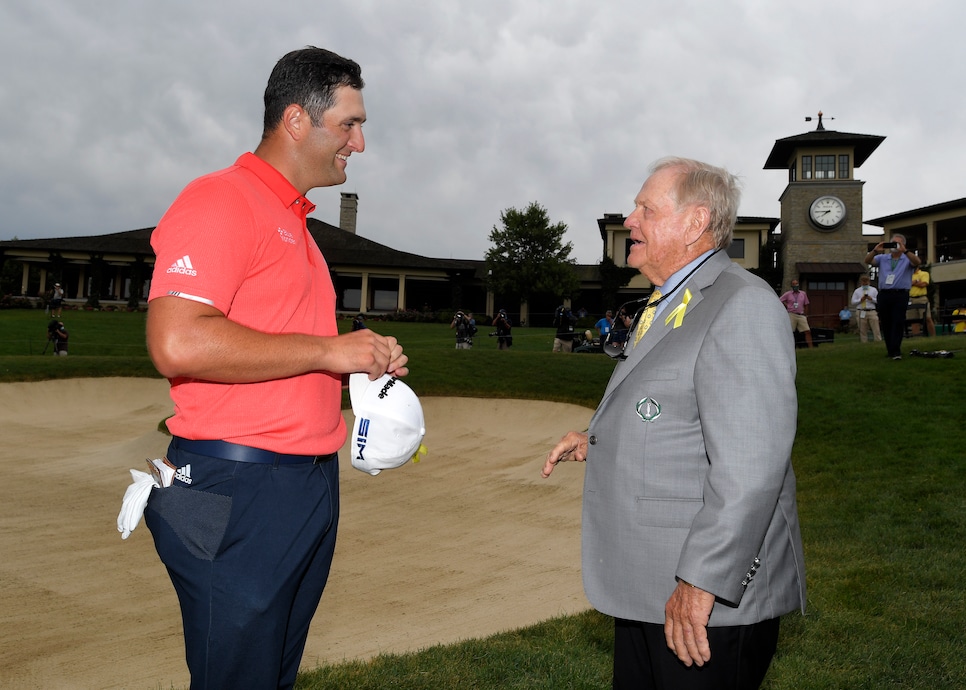 DUBLIN, Ohio — There was good news to report on the eve of the 46th Memorial Tournament. Jack Nicklaus did not ruin Muirfield Village Golf Club.
Not that anyone would have expected the Golden Bear, one of the most prolific course designers in the game, to undertake a renovation of one of America's top layouts – and his most cherished creation – without the utmost care. Muirfield Village has long been one of the most revered courses on the PGA Tour since the tournament's inception in 1976. Nicklaus once said that he has poured more of his life into Muirfield Village than anything else except his family and his remarkable playing career.
And while Nicklaus has constantly sought ways to upgrade the layout bit by bit, he never had attempted the total renovation that he executed last summer. As tour players will tell you, not all renovations result in a better golf course. The list of courses that didn't make the grade after so-called "upgrades" is too long to recount here.
The reimagined Muirfield Village has been met with approval. So far.
"The course is great. I was saying to one of my pro-am partners today that I feel it's one of the best redesigns I've seen," former PGA champion and world No. 2 Justin Thomas said Wednesday. "I think a lot of times a redesign actually makes the golf course worse, as crazy as it is, and I think Jack did a great job of making it more playable for the amateurs and the members that are here, but also making it more challenging for us."
Rickie Fowler, who has never missed the Memorial and is appearing in his 12th straight, made the same point. "I think he did a good job of modernizing some greens as far as kind of softening some slopes, making completely new greens, a couple of holes that are pretty different than they were before," he said. "And what you see is still pretty similar, but yeah, I would say it's rare that you have a full redo and we're back in a year playing and saying that it's better than it was before, which you'd think more redos would come out better than it was before, but that's not always the case."
When the Memorial Tournament begins tomorrow with seven of the top 10 players in the world and the top 10 in the FedEx Cup standings, the field of 121 will encounter a "new" Muirfield Village, one that now measures up to 7,609 yards, par 72, and has new features on 16 of its 18 holes. The estimated $10 million project began largely with the goal of improving turf conditions on fairways and greens, but went on to include new irrigation, a sub air system for the greens, and several major alterations, including a virtually new 15th hole. Holes 1, 4, 5, 7 and 10 also are markedly different.
"I love the changes," said world No. 3 Jon Rahm, who won the 2020 Memorial when it was played in July, which shortened the amount of time left for the redo to a knuckle-biting 10-plus months. "Jack, I know, he's always trying to make this a little bit more challenging for us, and he's definitely succeeded on making the golf course more difficult. It's going to be a fun week, and I feel like there is some advantage to people that have played here in the past, but with all the greens being redone and some of them being completely reconstructed, it's, I feel like kind of everybody starts from the same baseline, right?"

Nicklaus, 81, and winner of his own event twice among his 73 PGA Tour titles, believes the course will play easier for the pros, especially this year with the recognition that it would be unwise to stress young turf. Rain is in the forecast for most of Thursday's opening round, which will make it a touch more friendly – while giving the maintenance staff a chance to fire up the new sub air system for a maiden test run.
The tournament founder and host predicted a winning score of around 275 or possibly lower. Rahm triumphed by three strokes last year with a 9-under 279 aggregate total.
Players see a better course but not an easier one.
"Wow, it's wild because it's very difficult," said two-time Masters champion Bubba Watson. "I think it didn't make it easier. It made some of the greens complexes a little bit easier maybe, but the whole golf course is very difficult. It's like you're playing a major championship. The rough is thick as I've ever seen it. You hit it in the rough, it's definitely going to cost you a little bit.
"This golf course, what Jack has created is an amazing place," Watson added. "You can hold any kind of major you wanted to here. There's certain areas you're trying to hit the ball, and it's just mentally grueling and you've got to somehow stay focused and stay committed on each shot at every second."