News
U.S. Women's Open 2020: The USGA didn't disappoint by grouping the three longest drivers on the LPGA together
Bianca Pagdanganan tees off of the sixth hole during the final round of the 2020 LPGA Drive On Championship.
Mike Comer
The USGA is known to have a little fun when making the pairings for its championships, and this week's U.S. Women's Open at Champions Golf Club in Houston is no exception. Of the pairings for the 154-woman field, one sticks out: the bombers group. The USGA put together the three longest players on the LPGA Tour: Bianca Pagdanganan, who averages 284.7 yards off the tee, Anne van Dam (281.8 yards) and Maria Fassi (280.4 yards).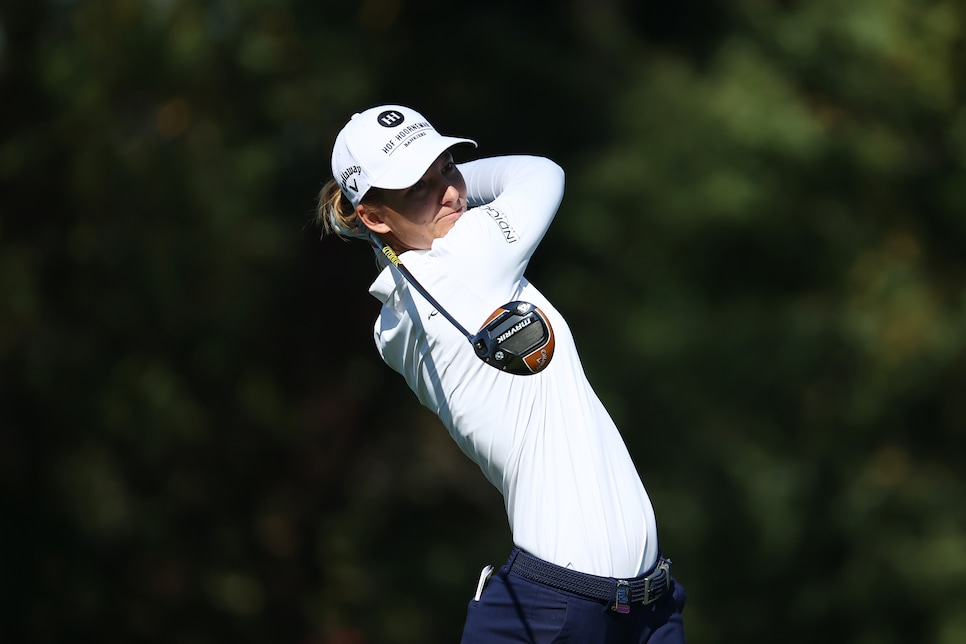 Anne Van Dam plays her shot from the third tee during the second round of the 2020 KPMG Women's PGA Championship.
Andy Lyons/PGA of America
Due to the realities of limited daylight that come with the championship being played in December, the first two rounds will be played on two courses, Cypress Creek and Jackrabbit. After the cut, the weekend will be played on Cypress Creek. The long-hitting group will tee off at 12:10 a.m. (ET) on both days, starting on the 10th hole of Jackrabbit on Thursday and the first hole of Cypress Creek on Friday. Their length will be helpful on the 6,731-yard Cypress and 6,558-yard Jackrabbit courses.
Though long, each player is quite young. Van Dam is the eldest at 25 years old. She and Fassi, 22, joined the tour in 2019. Pagdanganan, 23, is currently finishing her rookie year. Pagdanganan has said she wants to be the first player in LPGA Tour history to average over 300 yards during a tournament, and she got close at the LPGA Drive On Championship, averaging 299.5 yards for the week at Reynolds Lake Oconee. The chilly December weather in Houston may make it difficult to set any distance records, but you can bet she and her playing partners are going to be swinging hard.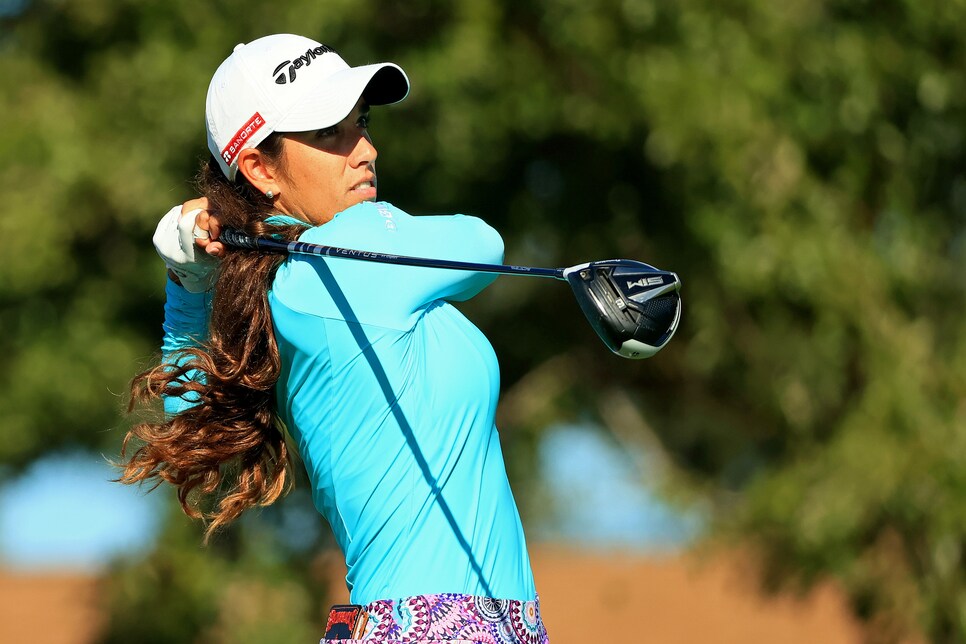 Maria Fassi hits her tee shot on the second hole during the second round of the 2020 Pelican Women's Championship.
Mike Ehrmann
Among the other marquee groups: World No. 1 Jin Young Ko is paired with No. 4 Danielle Kang and eight-time LPGA winner Anna Nordqvist; World No. 3 Nelly Korda and No. 11 Lexi Thompson are grouped with No. 22 Heejeong Lim; and the tournament's defending champion, Jeongeun Lee6, will play with 2019 U.S. Women's Amateur champion Gabriela Ruffels and Japan's Hinako Shibuno.
Cristie Kerr, who suffered injuries in a cart accident on Friday at the Volunteers of America Classic, has not ruled out playing in the Women's Open, and she is in the pairings, grouped with fellow Americans Brittany Lincicome and Gerina Pillar.
You can watch the first round from 10:30 a.m.-12:30 p.m. (ET) on Peacock, then 12:30 p.m.-6 p.m. on Golf Channel. The second round will air on Peacock from 1 p.m.-3 p.m., then 3 p.m.-6 p.m. on Golf Channel. Saturday's schedule: Golf Channel, 11 a.m.-1 p.m.; Peacock, 1 p.m.-2:30 p.m.; NBC, 2:30 p.m.-6 p.m. Sunday's schedule: Golf Channel, 11a.m.-2 p.m.; NBC, 2 p.m.-5 p.m.