Introducing the @GolfDigest Ace social media awards
A look back at 2020's best moments, follows and creators in golf social media.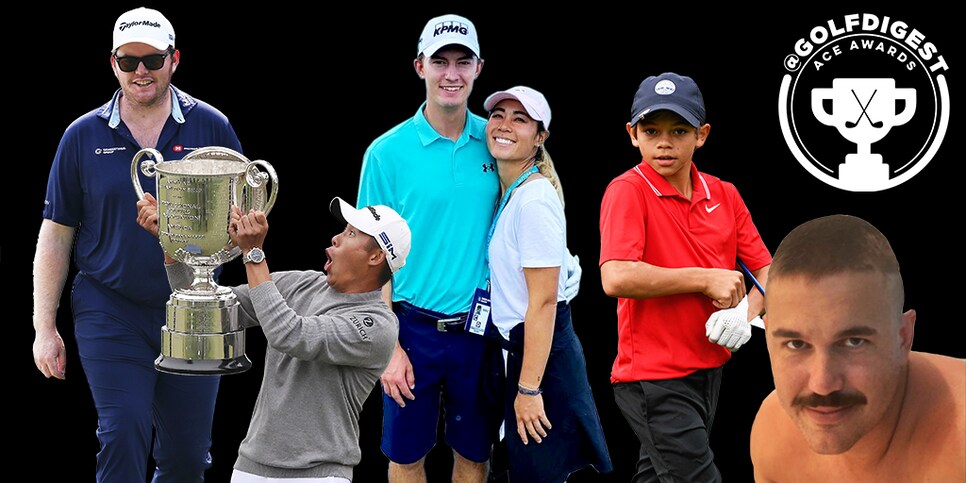 Ladies and Gentlemen, drum roll please … introducing the first annual @GolfDigest Ace Awards. These prestigious accolades are bestowed upon the best of the best, the top of the top, the creme de la creme of golf social media. From trick shots to witty tweets, we hand picked the greatest content creators of 2020. Without further ado, let's meet the n̶o̶m̶i̶n̶e̶e̶s̶ winners.
Most Memeable Moment: Collin Morikawa
Remember that time Collin Morikawa won the PGA Championship and the lid slipped off the Wanamaker Trophy? LOL. His face was priceless, and thus, he wins the Most Memeable Moment of the Year. "That feeling when you run out of golf balls" or "When you see your ex at the bar" See? So memeable. Congrats, Collin. Well deserved.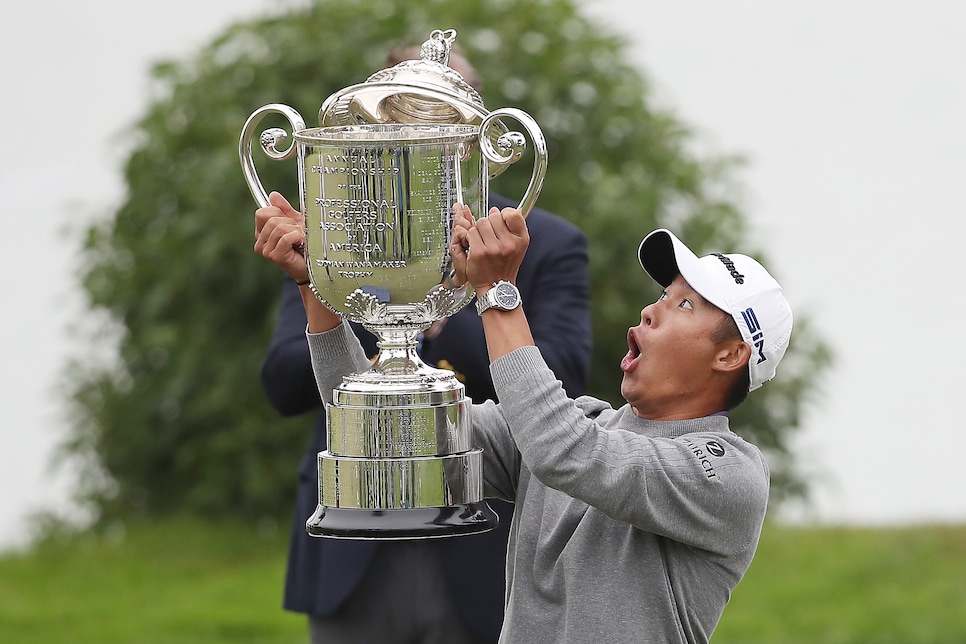 The Talk of Twitter: Charlie Woods
We all knew Charlie Woods teeing it up in the PNC Championship with pops would be a big deal. But did we predict he would be TRENDING on Twitter? We did not. The golf community lost its collective mind (predictably), but so did the rest of the sports world with goats and legends tweeting about how impressed they were with the 11-year-old's game. His talent plus the matching outfits and similar mannerisms were almost too much to handle.
#RelationshipGoals: Maverick McNealy and Danielle Kang
We all love a good golf couple, but Maverick McNealy and Danielle Kang take it to another level. Not only can they help each other with their games, but they're the ultimate spectators at tournaments—carrying snacks, taking photos and being a No. 1 fan. Where can we find someone to carry food for us all the time? Asking for a friend …
Twitter Royalty: Max Homa and Tiffany Joh
Bow down to @MaxHoma23 and @TiffJoh! These pros are must-follows. For unmatched zingers, see Homa's swing roasts. For quirky humor, see Joh's videos. You're welcome.
Social Media Serenader: Sam Harrop
Give it up for Sam Harrop! Golf's very own lyrical genius. What began as a one-off ode to Tony Finau's close calls in February turned into viral parodies about golf's biggest topics. With ballads on Anthony Kim, the Masters, Monday qualifiers and more, Harrop's catchy tunes will make you chuckle and hit you straight in the heart. Hey Anthony Kim, we too want you back.
All in favor of dubbing Tisha Alyn the queen of golf TikTok, say I. Dancing, comedy, trick shots, tips—she does it all! A true one-stop shop for the best golf content on social.
The People's Golfer: Harry Higgs
From the shades to his deep v-neck polos, the PGA Tour rookie made a splash in his debut season as one of the most relatable guys in golf. A runner-up finish at the Bermuda Championship helped Higgs jump into the spotlight, but it was his rendition of the Fleetwood Mac "Dreams" Challenge that turned him into a fan-favorite.
Trick Shot Master: Joshua Kelley
Joshua Kelley has been a social-media fav since his incredible champagne popping trick shot back in 2016, but he stepped it up this year despite the circumstances. Crazy club flips, living-room tricks and hilariously accurate golferisms made his 2020 videos must-see. How this guy keeps coming up with new and different trick shot ideas is beyond us!
The "Why Haven't I Been Following This Guy?" Award: Roger Steele
If you haven't heard of Roger Steele, let us be the first to introduce you to this breath of fresh golf content air. The former long-drive competitor is now smashing it out of the park with his matter-of-fact video series "#RillTalk" where he discusses everything from house rules on the course to golf's on-going hoodie debate. We're looking forward to more from him in 2021.
The "Never Letting My Girlfriend Cut My Hair Again" Award: Brooks Koepka
For a lot of us, our hair in quarantine was a sight to be seen … orrrrr to never been seen by another human being if possible. Brooks Koepka couldn't wait any longer to return to his barber, so he asked his girlfriend Jena Sims to help him out. We give Jena an A for effort, but by the looks of Brooks' photo, we're guessing it will be a one-time buzz. We're just surprised she didn't try to "accidentally" shave his mustache.
While 2020 was a year unlike any other, we're grateful for these incredible social media moments and follows that helped us get through it all. Here's to more great social content in 2021.