News
2018 NCAA Division I Women's Golf Regionals fields selected; UCLA, Alabama, Arkansas and Duke earn No. 1 seeds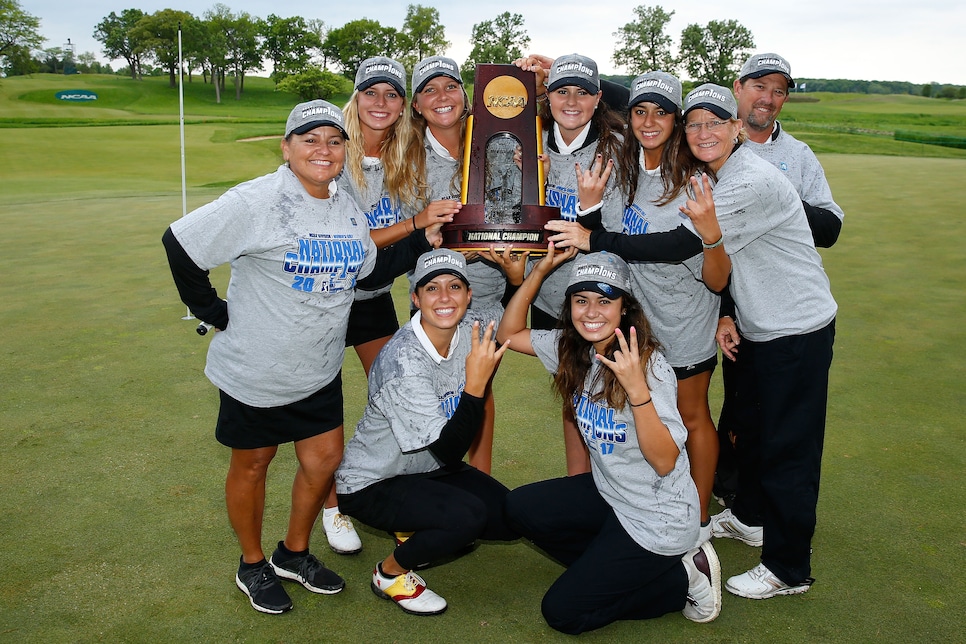 Steve Woltmann/NCAA Sports via Getty Images
UCLA, Alabama, Arkansas and Duke each earned No. 1 seeds as the NCAA Division I Women's Golf Committee announced its selections of 72 teams and 24 individuals to participate in the four 2018 NCAA Women's Regionals, May 7-9.
Defending NCAA champion Arizona State (above) received the third seed in the Madison Regional.
Six teams and three individuals will advance from each of the four NCAA Women's Regional tournaments to the 2018 NCAA Women's Championship at Karsten Creek Golf Club in Stillwater, Okla., May 18-23.
TPC Harding Park, San Francisco
Hosted by Stanford
Teams (listed by seed; conference champs in parenthesis)
UCLA (Pac-12)
Stanford
South Carolina
Kent State (Mid-American)
Oklahoma State
North Carolina
Colorado
Louisville
North Carolina State
Mississippi
California
San Diego State
Pepperdine
Oregon
Long Beach State (Big West)
Grand Canyon (WAC)
Princeton (Ivy)
Fairleigh Dickinson (NEAC)
Individuals
Alivia Brown, Washington State
Samantha Hutchison, UC Davis
Ingrid Gutierrez, New Mexico
Abegail Arevalo, San Jose State
Darian Zachek, New Mexico
Christine Danielsson, UC Davis
U. of Texas G.C., Austin
Hosted by Texas
Teams (listed by seed; conference champs in parenthesis)
Arkansas (SEC)
Texas (Big 12)
Michigan State (Big Ten)
Florida
Auburn
Oklahoma
Houston (American Athletic)
Miami, Fla.
Baylor
Texas A&M
BYU
East Carolina
Texas Tech
Virginia Tech
Texas-San Antonio (Conference USA)
Georgetown (Big East)
Houston Baptist (Southland) Missouri State (Missouri Valley)
Individuals
Brigitte Dunne, SMU
Xiaolin Tian, Maryland
Greta Bruner, TCU
Katrina Prendergast, Colorado State
Ellen Secor, Colorado State
Faith Summers, SMU
University Ridge G.C., Madison, Wis.
Hosted by Wisconsin
Teams (listed by seed; conference champs in parenthesis)
Duke (ACC)
USC
Arizona State
Northwestern
Illinois
Purdue
Iowa State
Virginia
Wisconsin
Campbell (Big South)
Ohio State
Notre Dame
Old Dominion
Oregon State
Idaho (Big Sky)
Murray State (Ohio Valley)
North Dakota State (Summit)
IUPUI (Horizon)
Individuals
Connie Jaffrey, Kansas State
Pinyada Kuvanun, Toledo
Pun Chanachai, New Mexico State
Elsa Moberly, Eastern Kentucky
Erin Harper, Indiana
Cara Basso, Penn State
Don Veller Seminole G.C., Tallahasse, Fla.
Hosted by Florida State
Teams (listed by seed; conference champs in parenthesis)
Alabama
Furman (Southern) Washington
Arizona
Wake Forest
Vanderbilt
Florida State
Clemson
Georgia
Tennessee
UNLV (Mountain West)
Kennesaw State (Atlantic Sun)
Denver
Coastal Carolina (Sun Belt)
Missouri
College of Charleston (Colonial Athletic)
Richmond (Patriot)
Albany (MAAC)
Individuals
Hee Ying Loy, East Tennessee State
Claudia De Antonio, LSU
Fernanda Lira, Central Arkansas
Emma Svensson, Central Arkansas
Valentina Giralso, Jacksonville State
Kaeli Jones, UCF