News
2018 NCAA Division I Men's Golf Regionals teams selected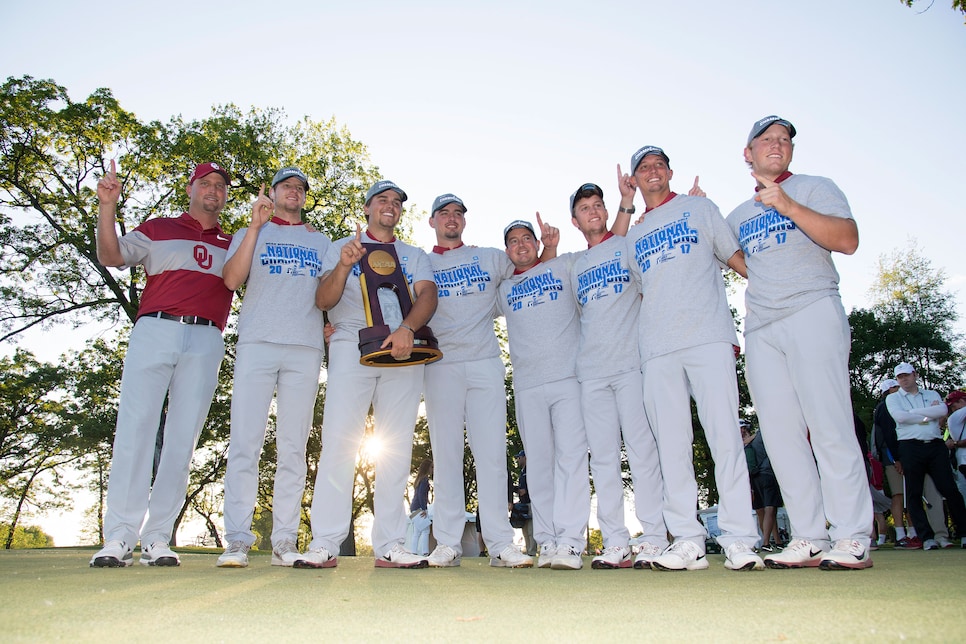 Oklahoma State, Texas A&M, Oklahoma, Vanderbilt, Georgia Tech and LSU earned top seeds when the NCAA men's golf committee announced on Wednesday the 81 teams and 45 individuals to play in the six NCAA Men's Regional tournaments May 14-16.
The Cowboys enter the postseason having won eight team titles in the 2017-'18 season, including a school-record seven straight. However, OSU fell to rival Oklahoma, the defending NCAA champions, at the Big 12 Championship last week.
The top five teams from each regional and the low individual not on those teams advances to NCAA Championship at Karsten Creek Golf Club in Stillwater, Okla., May 25-30.
Lonnie Poole Golf Course, Raleigh, N.C.
Hosted by N.C. State
Teams (listed by seed; conference champs in parenthesis)
Georgia Tech (ACC)
California
Texas
Arizona State
Duke
N.C. State
Liberty (Big South)
Missouri
Santa Clara
Campbell
Middle Tennessee State (C-USA)
Augusta (MEAC)
Davidson (A-10)
Iona (MAAC)
Individuals
Dawson Armstrong, Lipscomb
Mark Lawrence, Virginia Tech
Conor Purcell, Charlotte
Alex Weiss, Marshall
Brendan MacDougall, High Point
Traditions Club, Bryan, Texas
Hosted by Texas A&M
Teams (listed by seed; conference champs in parenthesis)
Texas A&M
Baylor
Clemson
Kentucky
UCLA
Mississippi
South Carolina
San Francisco
Georgia
Mississippi State
UNC Wilmington (Colonial Athletic Association)
Northern Colorado (Big Sky)
Bradley (Missouri Valley)
Individuals
Michael Perras, Houston
Mitchell Meissner, Rice
Blake Elliott, McNeese
Zander Lozano, University of Texas at San Antonio
Mario Carmona, Rice
Hunter Eichhorn, Marquette
Lewis George, Central Arkansas
Jake Brown, Indiana
Matt Murlick, Marquette
Michael Sass, College of Charleston
Scarlet Course at Ohio State, Columbus, Ohio
Hosted by Ohio State
Teams (listed by seed; conference champs in parenthesis)
Oklahoma State
Illinois (Big Ten)
Texas Tech
UNLV (Mountain West)
Wake Forest
Northwestern
Penn State
Tennessee
Louisville
Jacksonville
Michigan State
Yale (Ivy)
Cleveland State (Horizon)
Individuals
Kyle Mueller, Michigan
Matthew Naumec, Boston College
Alex Schaake, Iowa
Patrick Flavin, Miami (Ohio)
David Kocher, Maryland
Daniel Wetterich, Ohio State
Peter Knade, Maryland
Jacob Poore, Northern Kentucky
Zach Schroeder, Indiana University-Purdue University, Fort Wayne
Nick Wilkins, Morehead State
Reunion Resort, Kissimmee, Fla.
Hosted by UCF
Teams (listed by seed; conference champs in parenthesis)
Vanderbilt
Florida
North Carolina
South Florida (American Athletic)
Kent State (Mid-American)
Arizona
Purdue
Colorado State
St. Mary's UCF
Coastal Carolina (Sun Belt)
Jacksonville State (Ohio Valley)
Georgetown (Big East)
Central Connecticut State (Northeast)
Individuals
Steven Fisk, Georgia Southern
R.J. Keur, University of Alabama at Birmingham
Yannick Schütz, South Alabama
Billy Tom Sargent, Western Kentucky
Saptak Talwar, Sacred Heart
Jimmie Austin OU Golf Club, Norman, Okla.
Hosted by Oklahoma
Teams (listed by seed; conference champs in parenthesis)
Oklahoma (Big 12)
Auburn (SEC)
Arkansas
Florida State
North Florida (A-Sun)
Pepperdine (WCC)
BYU
Virginia
San Diego State
Nevada
Sam Houston State (Southland)
UMKC (WAC)
Navy (Patriot)
Prairie View A&M (SWAC)
Individuals
Ian Snyman, North Texas
McClure Meissner, SMU
Peyton Wilhoit, Southern Illinois
Chris Korte, Denver
Tanner Napier, Arkansas State
The Reserve at Spanos Park, Stockton, Calif.
Hosted by University of the Pacific
Teams (listed by seed; conference champs in parenthesis)
LSU
Alabama
Stanford
USC (Pac 12)
Oregon
TCU
Colorado
Kansas
Kennesaw State
Iowa State
UNC Greensboro (Southern)
UC Irvine (Big West)
North Dakota State (Summit)
Individuals
Carl Yuan, Washington
Riley Elmes, Loyola Marymount
Vinnie Murphy, Grand Canyon
Felix Mory, California State University, Northridge
Blake Tomlinson, Utah
Charles Corner, UTEP
Henry Lee, Washington
Jeremy Gandon, Kansas State
Ryan Han, UC Davis
Michael Christifulli, Siena