News
Tiger Woods signing with TaylorMade among equipment stories of the year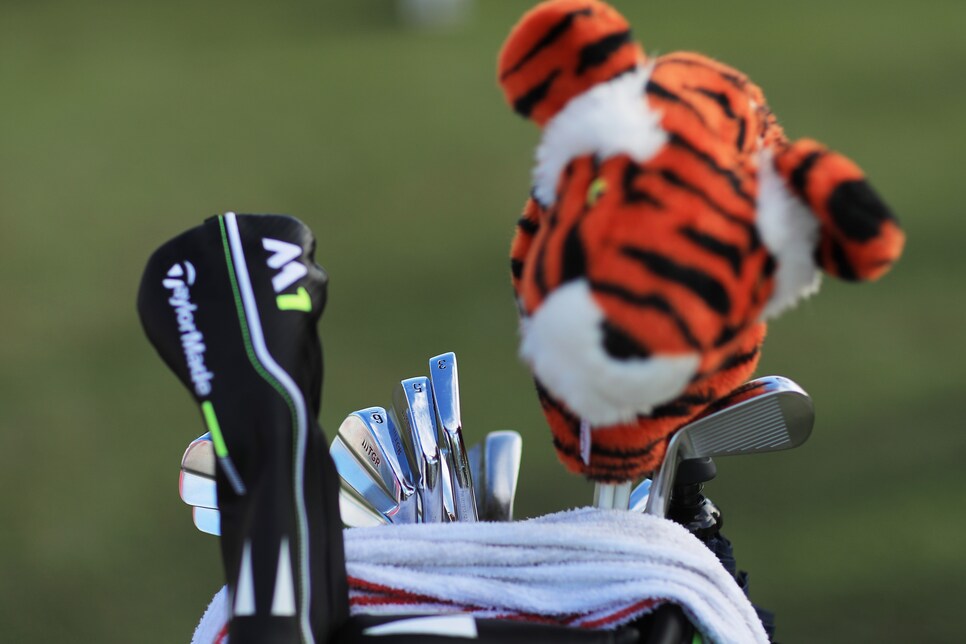 Tiger signs with TaylorMade
Fresh off a solid showing at the 2016 Hero World Challenge, Tiger Woods and TaylorMade announced at the PGA Merchandise Show in late January that the 14-time major champion had signed a multi-year endorsement deal with the company. The deal called for Woods to play the company's driver, fairway woods, irons and wedges and also for Woods to work with TaylorMade's club engineers in the design and development of a "new, personalized iron model" that the former World No. 1 would eventually put in play. The signing bolstered a TaylorMade tour staff already rich in big names, with Dustin Johnson, Jason Day, Justin Rose and Sergio Garcia among its players. Unfortunately for both TaylorMade and Woods, the euphoria of the signing wore off quickly as Woods missed the cut in his only PGA Tour start of 2017 at the Farmers Insurance Open before re-injuring his back. A lengthy testing session with TaylorMade in December, however, gave all hope this investment could still pay off.
Former Nike players find new clubs ... and some success
When Nike exited the equipment business in August of 2016, it made a number of players equipment free agents. Although some stuck with their swoosh-laden sticks for a while, most eventually looked elsewhere, including the company's biggest names. Tiger Woods went to TaylorMade and was followed in May by Rory McIlroy, who signed on right before the Players. McIlroy agreed to a "long-term" contract with the company for the full bag plus the golf ball, and McIlroy sports the company's staff bag as well. "I've been on tour for 10 years and I can't remember a time I've been this excited about my equipment," McIlroy said. "You get re-energized." The other company benefiting from Nike's exit was Mizuno, which added Nick Watney, Lucas Glover and Jhonattan Vegas to its staff. Its biggest success, however, came from a player who was not under contract to play its clubs: Brooks Koepka. The background being that Mizuno, knowing that Koepka's Titleist contract was up (and pre-Nike deal), made the JPX 900 Tour irons with Koepka in mind. Then, after Nike left the club business, they reached out to Koepka again to gauge his interest in playing the irons and the clubs went in the bag this year after an offseason of testing. Koepka won the U.S. Open with the irons, giving him his first major title and Mizuno a ton of free publicity.
Early May was a busy time for TaylorMade. A day after Rory McIlroy signed a long-term deal with the company, TaylorMade announced it had been purchased by KPS Capital Partners—a New York-based private equity firm that manages $5.7 billion in assets—for $425 million, half paid in cash and "the remainder in "a combination of secured note and contingent considerations." The purchase included the Adams Golf and Ashworth Golf brands as well. The deal closed in the fall, removing an uncertainty that had surrounded the company for more than a year.
Acushnet/Costco duke it out
Costco's four-piece, urethane-covered Kirkland Signature golf ball earned cult-like status in early 2017. Then it learned what life is like in the uber-competitive golf ball market as it engaged in a game of courthouse chicken with market leader Acushnet. Costco fired the first shot, Filing for a declaratory judgment against Acushnet (parent of Titleist)—essentially a preemptive strike, a lawsuit aiming to prevent a lawsuit. In its complaint filed in March, Costco asked the court to rule that the Kirkland Signature not only did not violate 11 Acushnet patents but that the 11 patents themselves are invalid. In August Acushnet fired back with a 284-page countersuit, alleging that Costco violated 10 of its ball patents relating to dimple and core technology. Acushnet asked for "adequate damages," including treble the profits made on the Kirkland Signature ball. Additionally, Acushnet accused Costco of false advertising with its "Kirkland Signature Guarantee" that claims to "meet or exceed the quality standards of leading national brands." Courthouse chicken, indeed.
Callaway's new driver an Epic success
Every so often a product captures the imagination of golfers. Over the last two decades Titleist's Pro V1 and TaylorMade's RocketBallz fairway wood were at the top. This past year saw Callaway's Great Big Bertha Epic join that illustrious list. Although the company hadn't shown an ability to sell a $500 driver in any significant quantities since the original Great Big Bertha days, consumers were drawn by the company's "jailbreak" technology and catchy Epic name. The interest translated into spectacular sales at retail, with the driver's market share as high as 11.8 percent of the metalwood market (which translates to roughly a third of the driver market) at the full $500 a pop. The company's investors took note as well. Callaway's stock was trading at $10.30 on Jan. 30 but closed on Dec. 19 at $14.69—a 42.6 percent bump.
TaylorMade/PXG tussle over patents
Following the legal tussle between PXG and TaylorMade has been a little bit like following a volleyball match—the lawsuit bounces back and forth while both sides try to nail the winning spike. The dispute started with PXG founder Bob Parsons tweeting on Sept. 12 in Trump-ian fashion, "Taylormade Golf's new P790 irons infringe upon many PXG patents. Sued them in Federal court today!" Two weeks later, TaylorMade fired back with a 603-page response denying any infringement and asking for PXG's patents to be invalidated. The filing included some harsh words, including this gem: "PXG describes the claimed hollow-bodied design filled with an elastic polymer, and perimeter weighting, as a 'eureka moment' in golf-iron design. That could have been a 'eureka moment' only for a golf-club designer who had been living in a cave for the past 25 years." Come December, PXG—which in the interim changed law firms—amended its claim, adding three more patents it was accusing TaylorMade of violating, bringing the total to 11. So what's next? Not much, as legal experts anticipate it being well into 2018 before any movement unless the parties agree to settle. Given that both sides appear to have dug their spikes in, this tussle might just go the distance.
Wally Uihlein's retirement
For three decades Wally Uihlein has been one of the most powerful men in golf as the president and CEO of Titleist and FootJoy parent. In late September, however, the 68-year-old Uihlein announced he was stepping down, ending an incredible run at the helm that saw the company protect its leadership positions in golf balls, wedges, shoes, gloves and premium putters while making significant inroads in the golf-club arena. The company named David Maher, who many had tabbed as Uihlein's eventual successor when he was named COO in June 2016, to take over for Uihlein. During his tenure Uihlein also navigated Acushnet through iterations as a part of a public company, the sale to a private international sporting goods brand and most recently helped the company go public in 2016. Uihlein's retirement marks a seminal moment for the company, as his leadership and loyalty to the brand are legendary right down to the white coats the company's personnel wear at the PGA Merchandise Show. In the midst of the business, Uihlein has been eloquently outspoken in arguing against equipment restrictions. He repeatedly has made the case that there should not be separate equipment rules for professionals and amateurs, the so-called bifurcation argument. Uihlein instead made "the case for unification." In his essay, he wrote, "While some lament that PGA Tour players aren't playing the same game as amateurs, this is more a commentary on the skill of the professional golfer than amateurs' desire to play a different game. Part of the fabric of the game is the relationship between the game's best players and all golfers who play."
Shorter drivers for Walker, Fowler
Golfers are obsessed with distance, especially off the tee. Manufacturers have continually fed off that obsession to produce drivers that go farther, with many employing stock shafts at 45.5 inches or even longer in some cases. This past year, however, saw two notable PGA Tour players going shorter. Jimmy Walker and Rickie Fowler turned to shorter shafts in their Titleist and Cobra drivers, respectively, and the results were something to pay attention to. Walker, who cut two inches off his Titleist 917D2 driver, increased his fairways hit by more than 17 percent. Fowler, meanwhile, shaved an inch off his Cobra F7+ driver at the Honda Classic and improved his accuracy by nearly nine percent year over year. "I'll tell you what, it feels pretty good to step up there with 43.5 inches," said Fowler at the Honda, which he won. "[It] doesn't start off line very much and doesn't move much from there. … I may be giving up a little bit of distance, but still, I was able to get it plenty far out there." Indeed, Fowler's driving distance was only a yard shorter than the year before. As for Walker, he may have landed his first major championship in 2016, but he wasn't very pleased with his driving accuracy stats. He hit only 48 percent of his fairways, ranking 183rd on Tour. The idea for a shorter driver came about when he was home in Texas. Walker sawed off two inches from his 44-inch Titleist 917D2 driver—the same club he won the PGA Championship with.
Bubba Watson signs with, leaves Volvik
In January Bubba Watson signed what was supposedly a "multiyear" deal with ballmaker Volvik. On Nov. 1 he made it known that he was no longer with the company known for its bright-colored spheres. Watson, who had played the Titleist Pro V1x, had his interest piqued watching players use the ball during the World Long Drive Championship and went on to play the company's S4 model in several colors in competition. Watson struggled, however, during the season, posting just two individual, stroke-play event top 10s and ranking 91st on the money list—his lowest ranking since turning pro in 2006 and coming off a three-season stretch in which he was second, third and 18th. Arriving in Las Vegas for the Shriner's Hospitals for Children Open in November, Watson surprised reporters by stating, "My contract is done with Volvik. I do not have a ball deal as we sit here today so I can play with whatever ball I want to. My deal was up, and so I'm ball-free." In Vegas, Watson went back to the Titleist Pro V1x he had used to much success. "My goals are to be better than that. It was a frustrating year when it came to the golf," Watson admitted. "It was a great year off the course, but a frustrating year."