News
2017 NCAA Men's Golf Regional fields selected; USC, Vanderbilt, Oklahoma State, Stanford, Florida, LSU grab No. 1 seeds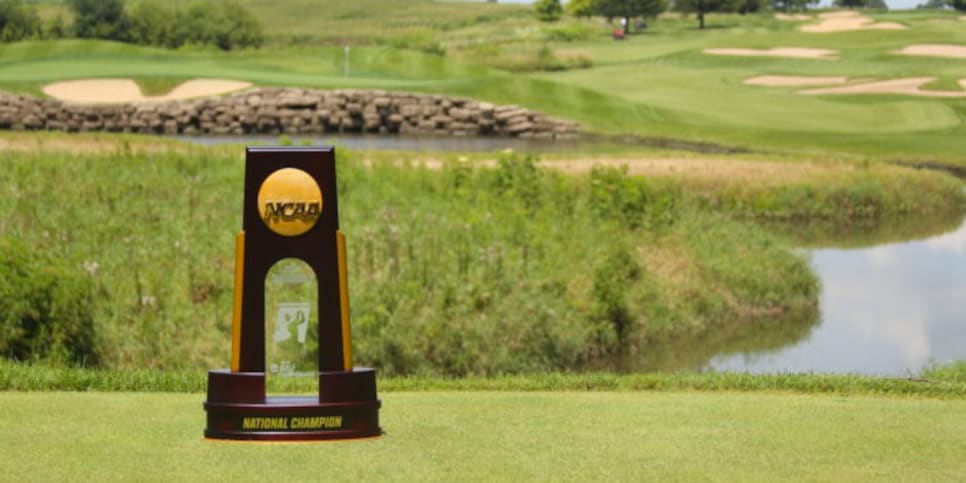 USC, Vanderbilt, Oklahoma State, Stanford, Florida and LSU earned top seeds when the NCAA men's golf committee announced the 81 teams and 45 individuals to play in the six NCAA Men's Regional tournaments May 15-17.
Defending champion Oregon, recent winner of the Pac-12 title, is the No. 2 seed in the Baton Rouge Regional. Eleven teams advanced from the SEC, the most of any individual conference. Eight ACC, Big 12 and Big Ten teams were selected.
The top five teams from each regional and the low individual not on those teams advances to NCAA Championship at Rich Harvest Farms in Sugar Grove, Ill., May 26-31.
Aldarra Golf Course
Sammamish, Wach.
Teams (listed by seed; conference champs in parenthesis)
USC
Kent State (Mid-American)
Texas A&M
Florida State
Washington
Alabama
San Diego State
UTEP (Conference USA)
Penn State
Michigan
Michigan State
Seattle (WAC)
Marquette (Big East)
Bryant (Northeast)
Individuals
Peng Pichaikool, Mississippi State
Zan Luka Stirn, Arkansas State
R.J. Keur, UAB
Zander Lozano, UT San Antonio
Albert Badosa-Soler, Nicholls State
The Grove
College Grove, Tenn.
Teams (listed by seed; conference champs in parenthesis)
Vanderbilt (SEC)
Texas Tech
Clemson
Georgia
Missouri
Lipscomb
Kennesaw State (Atlantic Sun)
UCF
Middle Tennessee State
TCU
Troy
East Tennessee State (Southern)
Harvard (Ivy)
Individuals
Andrew Novak, Wofford
Patrick Cover, UNC Wilmington
Tim Conover, East Carolina
Thomas Eldridge, UNC Wilmington
Lorenzo Scalise, Tennessee
Hunter Richardson, Tennessee-Martin
Seth Gandy, Charlotte
Jack Lang, Davidson
Anton Frondelius, Wagner
Daniel Racioppa, Alcorn State
Kampen Course at Purdue University
West Lafayette, Ind.
Teams (listed by seed; conference champs in parenthesis)
Florida
Illinois (Big Ten)
UNLV (Mountain West)
Auburn
South Carolina
Colorado
Purdue
New Mexico
Augusta (MEAC)
Saint Mary's
Campbell (Big South)
Richmond (Atlantic 10)
Cleveland State (Horizon)
Individuals
Peter Kim, Army
Mark Lawrence Jr., Virginia Tech
Austin Squires, Cincinnati
Keegan de Lange, Louisville
Lloyd Jefferson Go, Seton Hall
David Kocher, Maryland
Sarit Suwannarut, Virginia Tech
Patrick Flavin, Miami (Ohio)
Peyton White, Ohio Trent Wallace, Illinois State
Stanford Golf Course
Stanford, Calif.
Teams (listed by seed; conference champs in parenthesis)
Stanford
Baylor
Oklahoma
Georgia Tech
Pepperdine
North Carolina
North Florida
BYU (WCC)
Houston
Ohio State
UC Santa Barbara (Big West)
Sacramento State (Big Sky)
South Dakota State (Summit)
Individuals
Collin Morikawa, California
Hayden Shieh, Santa Clara
David Kim, UC-Irvine
Justin Doeden, Minnesota
Andres Gonzalez, Long Beach State
Felix Mory, CSU-Northridge
Fidel Concepcion, Southern Utah
Grant Booth, Nevada
Brian Humphreys, Boise State
Mike Graboyes, Cornell
The University of Texas Golf Club
Austin, Texas
Teams (listed by seed; conference champs in parenthesis)
Oklahoma State
Wake Forest
Texas (Big 12)
Mississippi
Arizona State
N.C. State
Kansas
Liberty
Iowa State
Georgia Southern
Charleston (Colonial Athletic)
McNeese State (Southland)
Wichita State (Missouri Valley)
Saint Peter's (MAAC)
Individuals
Jake Staiano, Colorado State
Ryan Cole, James Madison
Ian Snyman, North Texas
Thomas Rosenmueller, North Texas
Cory Churchman, North Texas
The University Club
Baton Rouge, La.
Teams (listed by seed; conference champs in parenthesis)
LSU
Oregon (Pac-12)
Virginia
Duke (ACC)
Northwestern
Arkansas
Jacksonville
Kentucky
South Florida (American Athletic)
Iowa
Georgia State (Sun Belt)
Jacksonville State (Ohio Valley)
Loyola (Md.) (Patriot)
Alabama State (SWAC)
Individuals
Hidetoshi Yoshihara, UCLA
Tim Widing, San Francisco
Ryan Wallen, Wyoming
Cole Madey, UCLA
Michael Colgate, Nebraska