News
2017 British Open: What the hell happened to Jordan Spieth on the 13th hole?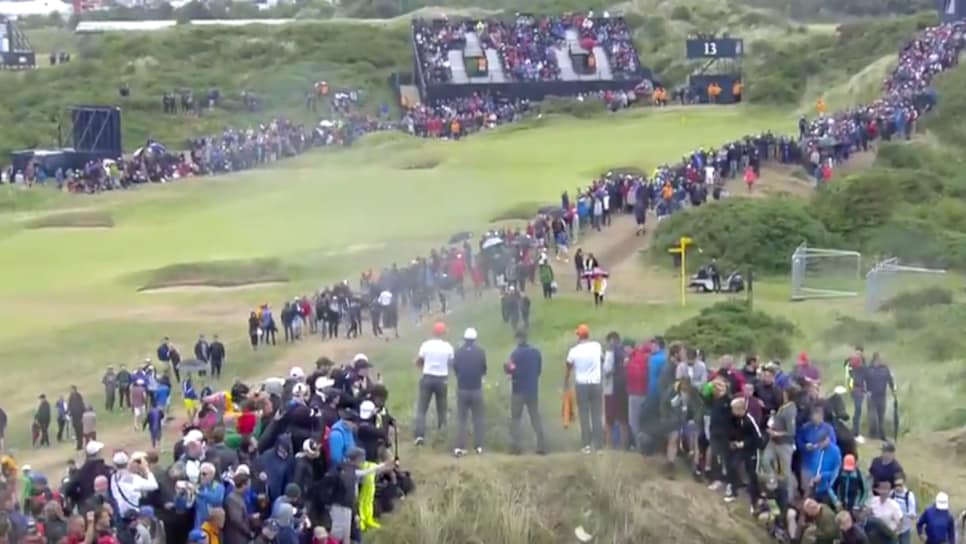 Well, that was something, wasn't it? In one of the more bizarre scenes in major championship history, Jordan Spieth's drive on Royal Birkdale's par-4 13th went a tad right of the fairway. And by "tad right," we mean...
That's the type of reaction you see at your local muni, not in the final pairing of the Open Championship.
Spieth's ball went into another time zone, a frantic search ensuing for its final destination. When fans finally located Spieth's rock, it was, ahem, in a less-than-desirable position.
After evaluation, Spieth decided to take an unplayable, then requested a line-of-sight ruling. And that's when things got interesting.
For the next 20 minutes, Spieth and caddie Michael Greller seemingly surveyed the entire property, searching for the right place to take relief. A search that took the duo to the driving range, through equipment vans, up and down Birkdale's dunes.
As you can imagine, Twitter responded to the chaos in appropriate fashion:
When Spieth was finally ready to hit his third shot, it provided a surreal panoramic view...
...and somewhat amazingly, Spieth got his approach just short of a greenside bunker. He managed to get it up-and-down for a bogey, falling just one shot back of playing partner Matt Kuchar. A shot that he got back with a birdie at the par-3 14th. In essence, all that extracurricular activity, and two holes later, we remained tied.
Clearly, Sunday's play is not living up to the standard set at Troon. But in terms of theater, it's definitely not short on drama.