For a while now, the Ryder Cup has been the most overanalyzed event in golf.
The predominant reaction has been jingoistic screed, especially postmortem. Everyone—but basically no one—is also an expert on who will win, and why. Before or after, the Ryder Cup is the game's leading producer of sound and fury.
For years, while the U.S. teams handily defeated Great Britain & Ireland (18-3-1 from 1927-'77), there was little emotion and even less analysis. The Americans simply had the better players. But that changed quickly with the addition of continental Europe in 1979, and by the mid-'80s Europe had begun to win with shocking (to Americans) regularity. The United States has lost six of the past seven biennial matches, and eight of the past 10. And with the idea that the Europeans might actually be better still too hard to accept, analysis has focused on intangibles.
Such subjects—all of which can come under the heading of team chemistry—run the gamut: captain coaching style, pairings, motivation, nationalism, assistants, matchups, team-room diversions, bonding trips, order of play, press conferences, course setup, role of spouses, and clothing are just a few.
However, it's fair to say this year's matches at Hazeltine National in Chaska, Minn., are seeing intangibles weighed more than ever.
The reason? The overwrought, self-important and made-to-mock label of Ryder Cup Task Force, that unwieldy monster that rose from the ooze of the U.S. team's 16½-11½ loss at Gleneagles in 2014. It was spawned when Phil Mickelson, with captain Tom Watson sitting wincingly close, dialed passive aggression to 11 and poured his salty rebuke into the Hall of Fame icon's gaping wound: "Unfortunately we have strayed from a winning formula in 2008 for the last three Ryder Cups, and we need to consider maybe getting back to that formula that helped us play our best."
It was the most coldblooded criticism ever by an American player of his captain. Meanwhile, the efficient harmony of the European team under Paul McGinley's inclusive style made the U.S. team look all the more dysfunctional.
Some saw the comments as disloyal, insubordinate and a violation of time-honored code, but more lauded Mickelson for forcing needed change. Within two weeks, the task force was instituted, and very soon, the notably mellow and consensus-seeking Davis Love III was named captain. At the same time, emulating Europe, future captains were made assistant captains, with Tiger Woods, Jim Furyk and Steve Stricker enthusiastically accepting the supporting roles.
MICKELSON MAKES HIS CASE
As much as this Ryder Cup will be seen through the prism of the task force, it will be even more of a referendum on Mickelson. After scorching so much earth, he'll have to prove that it was worth it.
Mickelson, 46, has six top-five finishes this year, including his runner-up at Troon, to virtually ensure he will qualify for the team on points rather than put fellow task-force member Love in the awkward position of having to pick him.
"More emphasis will probably be placed on me, good or bad, and I'm fine with that," Mickelson said this summer. "I think I'll be focused on things more than I should if things go well, but also more than I should if things don't go well. But I care more about long-term success than what happens in this particular Ryder Cup in relation to the task force."
Mickelson then presented a narrative—consciously or unconsciously self-protective—positing that the U.S. team has much to do to get back on equal footing with Europe.
"The Europeans have a psychological advantage because they've won so many recently," he says. "They have great leadership. They have great consistency in their leader- ship. They have continuity in the players who play, and overall continuity. And they have momentum from past successes. This is our first year trying to emulate that formula and build for success. This will be the first time we'll have a captain [Love] who has had vice-captain experience in my 20 years of playing Ryder Cup [Corey Pavin was also a vice captain in 2006 before becoming captain in 2010]. We need them bouncing ideas off each other. But we're 20 years behind our competition in terms of building momentum, rapport among everyone and continuity of leadership. We've had a different leadership style every two years for the past two decades. So we have a ways to go to catch up."
Clearly, Mickelson believes there is a proven Ryder Cup formula. Fair enough. But for those who expect immediate results, his projection of a possibly long process ahead is jarring. "We can't look at the first event—this year—as a make-or-break, win-or-lose situation, fail-or-succeed scenario for our new system," Mickelson says. "What we have to look at is our record over the next 10 years. Can we get to 50-50? We're 2-8 the past 20 years. Over the next 20, can we get to 5-5, or 6-4? Maybe. I think we can. But this first one is a building block. If we were to be successful, that will be a great thing to build on. But it doesn't mean everything we've done so far has worked or is perfect.
'We're 2-8 the past 20 years. Over the next 20, can we get to 5-5 or 6-4? Maybe. I think we can.' —Phil Mickelson
"All a win will do is give us some momentum. Equally, if we lose it doesn't mean we've failed. We'll still have something to build on. We've done that in the Presidents Cup. We've had a lot of success in that event [9-1-1 overall] because we've played some great golf. We've had input with the captains, with the vice-captains, continuity and great leadership. What that does is alleviate a lot of the uncertainties for the players and give them the best opportunity to succeed. That's all we're trying to do.
"No matter the result this year, we need to take what was successful and build on that. Let's say 70 percent worked. We need to get that up to more than 80 percent next time. And so on. But this is the first time the players have had a say in the Ryder Cup captaincy as well as in the process. Ultimately, that will get the players more invested."
Frankly, it sounds like a perilous degree of clubhouse lawyering. But Love insists he wants Mickelson on the team for his positively effect on chemistry.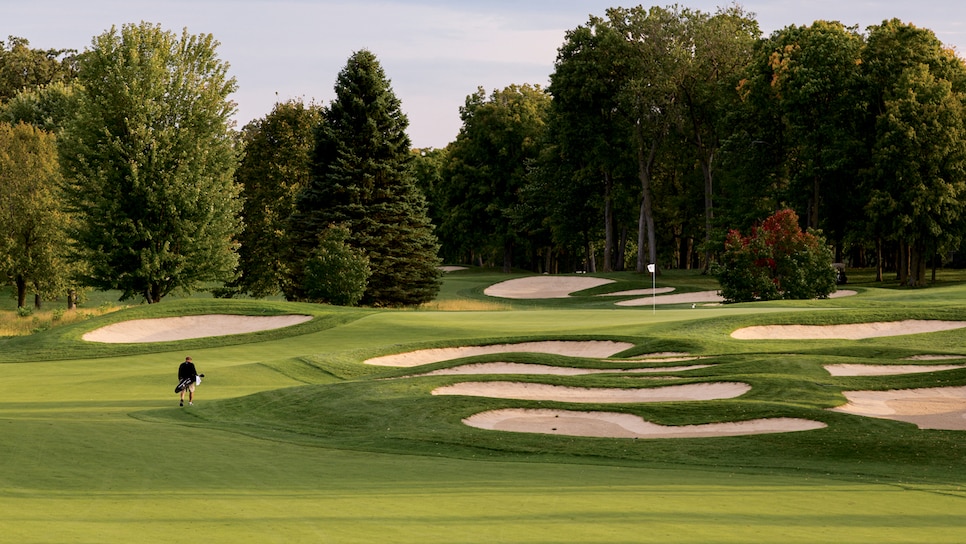 The 11th is 605 yards, but two par 5s are longer: No. 3 (633) and No. 6 (642).
"We want him on there, one because he was the star at Korea [in the 2015 Presidents Cup, where Mickelson went 3-0-1]," Love says. "He's been the star in the team room for many years. I've heard Jack Nicklaus say he's the only guy on my team who went 0-5 and was my MVP [at the 2003 Presidents Cup]. He's just such a big part of so many teams in a row, and he's a great leader on and off the golf course. He and [wife] Amy are a great steadying influence. I've told him, 'We really want you on the team because of Amy. But you've been playing pretty good, too.' And when we talked about assistant captains, he said not to worry about him because he was going to make the team, and that looks like the case."
WHY AMERICA SHOULD WIN
Whether Mickelson turns out to be a positive or negative force, the chances are he'll come out ahead. Because whether he plays well or not, or whether task-force concepts are successful, the United States should win at Hazeltine.
Its lineup is superior. As always, based on the World Ranking, the Americans will have more depth. But this year, the three top-ranked U.S. players—Dustin Johnson, Jordan Spieth and Bubba Watson—would appear to be a more potent trio than European counterparts Rory McIlroy, Henrik Stenson and Danny Willett. And the galleries in golf-starved Minnesota will roar with Midwestern zeal, producing something more than the usual home-field advantage.
Especially coming off the humiliation at Gleneagles and the heartbreaker at Medinah in 2012, the U.S. team can be expected to play with a focused desperation. The Americans might be tired from the compressed major schedule caused by the Rio Olympics, and they'll be coming off the FedEx Cup, but several Europeans will have undergone the same run-up. "We've got to start a trend back the other way and make them develop a task force, you know?" says Jordan Spieth. "There is a big focus on the end of this year."
The wild card, the intangible that matters most, is pressure. The U.S. team will face more of it. Not just because the Europeans, with their storehouse of past victories, will be playing with house money. But because the U.S. players will be acutely aware that losing would bring down more criticism than any Ryder Cup team has ever faced.
DEALING WITH PRESSURE
The pressure dynamic has always fallen in favor of Europe. America is still the world's most dominant golf nation, always has the most star players, and as such always resides as the favorite in the collective mind. It's why the Europeans seem to enjoy the Ryder Cup more, and why—in the opinion of knowledgeable insiders—the Americans do more choking in the Ryder Cup than any other event.
How to get the pressure off, or make it manageable, is the primary challenge of the captain. Especially in the past two decades, all sorts of approaches have been tried, from 2006 captain Tom Lehman's let's-talk-about-it group therapy to the Watson's Darwinistic challenge: Can you handle it?
Paul Azinger, harder than Lehman but more collegial than Watson, seemed to strike an effective middle ground on his winning team in 2008. "In the Ryder Cup, the players have to be ready to be more nervous than they've ever been," he says. "If you think you'll be able to pretend the pressure isn't there, it will hit you even harder. I told them to accept all of it in advance, and get them to understand that if you're thinking the right way, it can actually help you play better."
Love's approach to handling pressure has been more like Lehman's—as a player and in his sounding-board roles as captain and former assistant. Will his players consider the loss when he was captain at Medinah something to avenge, or somehow an extension of the too many times Love didn't close as a player? At the same time, the assistant captains at Hazeltine will presumably be more proactive, and one of them—Woods—happens to be the ultimate hardhearted closer.
One thing is sure: If the Americans lose, the cause and effect of the task force will be judged negatively. And the analysis—and the criticism—will be more intense than ever.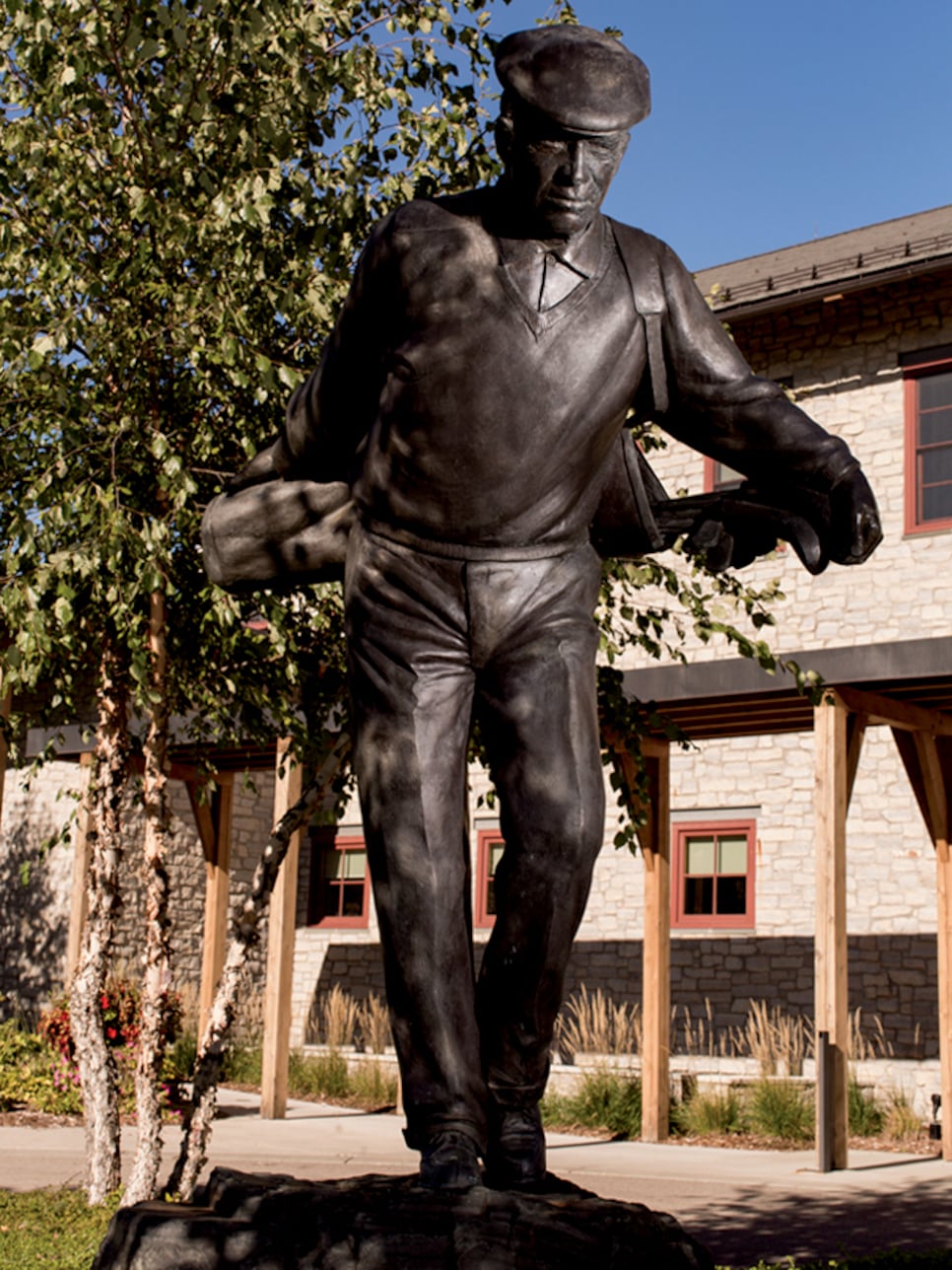 Hazeltine's "walking man" statue.