The Loop
What the stats project for Day 4 at the U.S. Open
Seven notable third-round stats that indicate how the U.S. Open might unfold Sunday, provided by Golf World contributing writer Brett Avery, who compiles the Rank and File statistical sections for the magazine's coverage of the major championships and other significant events.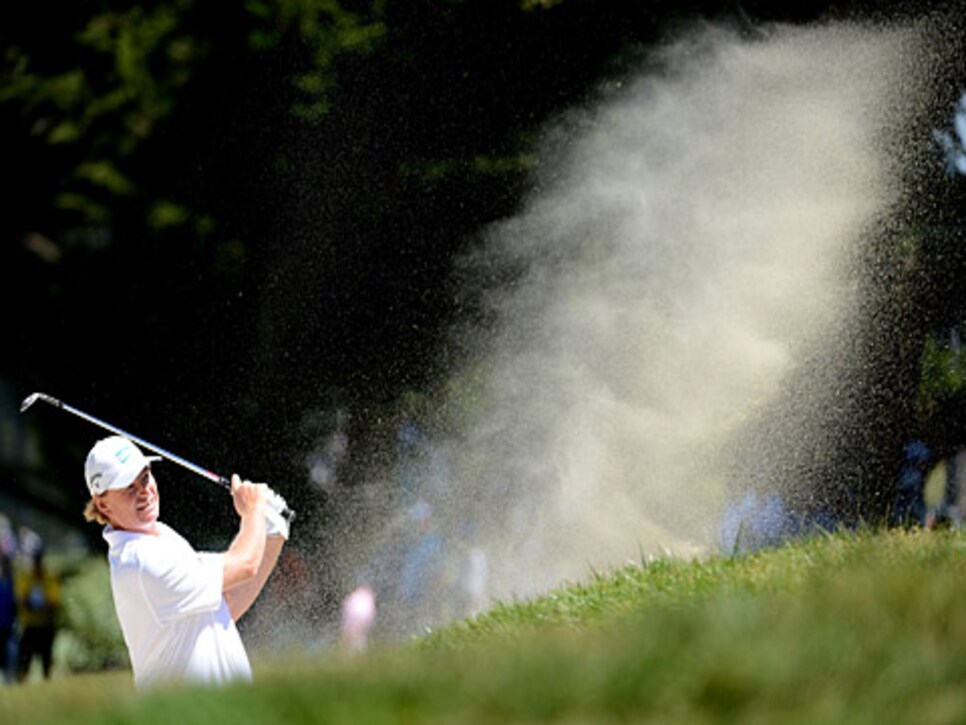 Ernie Els (T-4) is second to last in fairways hit among players who made the cut at Olympic, but he's tied for first with only 80 putts. Photo by: Harry How/Getty Images
1. Once again the first six holes of The Olympic Club hammered most players senseless and sent some contenders spinning out of control. The last four players off the first tee were a combined 12 over par on that stretch: co-leader Jim Furyk (70) and John Peterson (72) were two over; Tiger Woods (75) was three over and David Toms (76) five over. Conversely, Lee Westwood (67) played those holes one under and co-leader Graeme McDowell (68) even par. One scenario for the fourth round would see an early starter posting anumber and seeing whether it holds up. He probably would need to escape thefirst third of the course largely unscathed and capitalize over the last third. Here are the top eight players heading into Sunday and how they have navigated the first through sixth and the 13th through 18th:
--McDowell (209): one over; six under (no bogeys)
--Furyk (209): one over; one under
--Jacobson (211): four over (no birdies); even
--Westwood (212): four over (doubled No. 1 Thursday); one under
--Ernie Els (212): eight over (one double); one under (one triple, one eagle)
--Blake Adams (212): eight over (two doubles); one under
--Nicholas Colsaerts (212): five over (two doubles); two over
The field is a cumulative +2.497 at the first six and +0.766 at the last six.
2. Graeme McDowell has broken par in the fourth round in his last three majors: 70 in the 2010 Open Championship at St. Andrews (T-23), 69 in the '11 U.S. Open at Congressional (T-14) and 68 in this year's Masters (T-12). Furyk, on the other hand, has done it only once in his last 18 closing rounds in majors. To Furyk's benefit, however, that only time since the 2006 PGA Championship was a 70 in this year's Masters (solo 11th). Jacobson? He's made the cut in 13 of 23 career majors and has broken par Sunday just once (70 in the '03 Open Championship, T-6). His fourth-round scoring average in majors is 73.308.
3. Five of the top seven players through 54 holes are from the international contingent: McDowell (Northern Ireland), Jacobson (Sweden), Westwood (England), Els (South Africa) and Colsaerts (Belgium). If Furyk, Adams or another U.S. entrant were to win, it would mark the first time the host country won three consecutive major championship titles since the 2006 Open Championship through '07 Masters (Woods, Woods, Zach Johnson). It would make the first time three different U.S. competitors won consecutive majors since the 2003 U.S. Open to 2004 Masters (Jim Furyk, Ben Curtis, Shaun Micheel, Phil Mickelson). PS: International players have won six of the last eight Opens.
4. Because you're bound to read or hear repeatedly that Westwood has the most top-three placings in majors without a win since the 1934 inauguration of the Masters, here's the background. He's been runner-up twice ('10 Masters and Open Championship) and placed third on five occasions ('08 U.S., '09 Open Championship and PGA, '11 U.S. and '12 Masters). That ranks Westwood ahead of Colin Montgomerie (five seconds, one third) and Doug Sanders (fourseconds, two thirds).
5. Driving is eminently important in the Open but Ernie Els has hit only 13 fairways, better than only one of the 72 players to make the cut (Branden Grace, six). Hitting greens in regulation is also vital, although Els ranks T-57 this week with only 27. He's erased all those problems, however, with his putter. Els is tied for first in the field with only 80 putts. He has placed in the top 20 in fewest putts among those making an Open cut only three times (and not since 2004).
6. It doesn't tell us a thing about the fourth round, but it's fun anyway: When Furyk won the 2003 U.S. Open at Olympia Fields, Woods had won "only" eight majors.
7. As long as we're at it: The first four Opens at Olympic were won by men in their 30s (Jack Fleck, 33; Billy Casper, 34; Scott Simpson, 31; Lee Janzen, 33). That would seem to favor McDowell (32), Jacobson (37),Westwood (39), Adams (36) and Jason Dufner (35) among the top 13 players, or those leading or within four shots. [h/t PGA Tour]