The Loop
What the stats project for Day 2 at the U.S. Open
Five notable first-round stats that indicate how the U.S. Open might unfold Friday, provided by Golf World contributing writer Brett Avery, who compiles the Rank and File statistical sections for the magazine's coverage of the major championships and other significant events.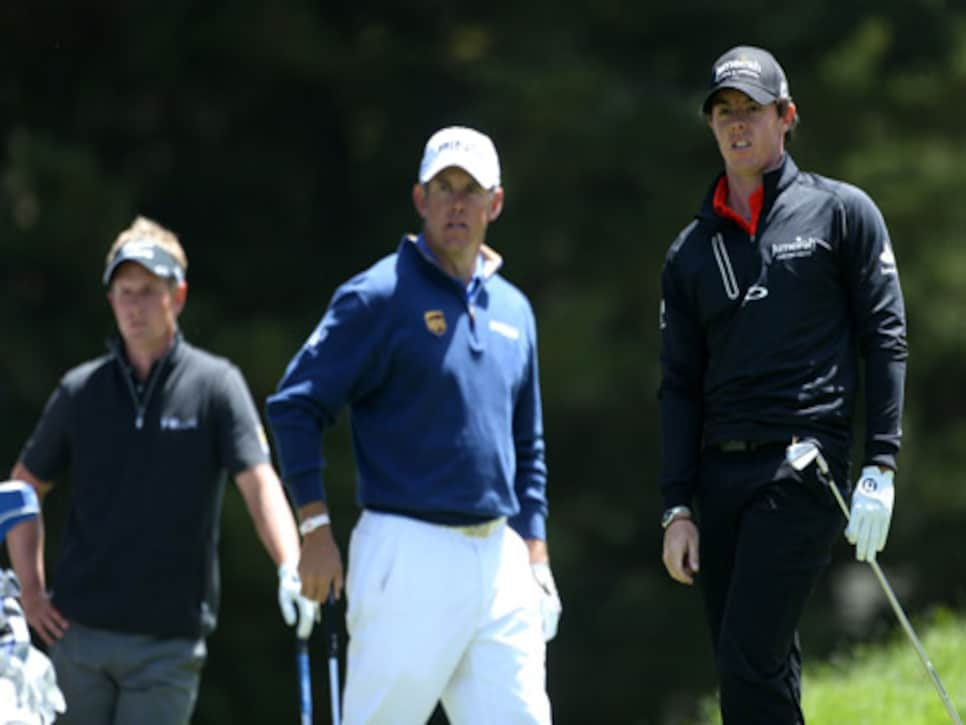 The best players in the world averaged well over par on Day 1. (Photos: Getty Images)
1. If the Friday weather forecast becomes a reality, the second-round scoring average could exceed Thursday's 74.923, which would be a rarity. The expected high temperature of 77 degrees is warmer than Thursday's 70; projected clear skies and afternoon winds of 19 miles per hour would make Olympic Club's greens even firmer. Consider, too, that the USGA presented the course Thursday with 10 hole locations in the back half of the greens, potentially spelling a majority of front-half locations Friday, which would be difficult to attack. Thursday's morning wave averaged 74.590 while the afternoon half of the field went around in 75.218. An Open field's second-round average has topped the first round only six times since 1991: 2007 at Oakmont, '02 at Bethpage, '00 and 1992 at Pebble Beach, '95 at Shinnecock Hills and '93 at Baltusrol. In '98, Olympic was 74.942 the first day and 74.474 the second.
2. With the cut rules modified by the USGA this year to eliminate the provision for anyone within 10 strokes of the leader reaching the weekend, at least half of the top 10 players in the world are in danger of missing the cut. To put that prospect in perspective, two months ago the then top 10 all made the cut at Augusta National in the Masters. The current top 10 were a combined 34 over par in the first round despite one-under-par 69s from No. 4 Tiger Woods and No. 7 Justin Rose and a par 70 by No. 6 Matt Kuchar. The laggards were No. 1 Luke Donald (79), No. 2 Rory McIlroy (77), No. 3 Lee Westwood (73), No. 5 Bubba Watson (78) and No. 10 Dustin Johnson (75). Through 18 holes the top 60 and ties, the lone yardstick for the cut, included anyone at four-over 74 or better.
3. The first six holes were billed as the toughest start in major-championship play and they did not disappoint. The field averaged 2.756 shots over par in that stretch. The top 10 did not disappoint there, either. They were a combined 19 over there, an average of 1.9 shots per man, with Donald and Westwood four over each and Watson three over. One of the more intriguing questions for Friday is whether Woods (one under) and No. 9 Jason Dufner (even for first six, 72) can come close to duplicating their Thursday play.
4. Second-time starter Michael Thompson, who tied for 29th in the 2008 Open at Torrey Pines and was 2007 U.S. Amateur runner-up to Colt Knost at this course, became the second straight first-round Open leader holding a three-shot cushion. Rory McIlroy grabbed the same advantage last year at Congressional and cruised to an eight-shot win. McIlroy became only the 19th first-round leader to win in the first 111 Opens. That does not bode well for Thompson, who took only 22 putts to begin his 46th career PGA Tour start. He had led after only two rounds in his brief career. Thompson was co-leader through 36 holes of last year's RBC Canadian Open but went 74-76 on the weekend to tie for 34th. And he was solo third-round leader in last year's McGladrey Classic before a one-under 69 dropped him to third. He is scheduled to begin the second round at No. 9 tee at 12:52 p.m. (Pacific). Oh, and first-round leaders have prevailed only twice this season on the PGA Tour (George McNeill at the Puerto Rico Open and Zach Johnson at the Crowne Plaza Invitational at Colonial).
5. Friday may stand as the pivotal day for Tiger Woods in his quest for a 15th major title if he can reverse his downward trend in majors since his car crash and subsequent divorce in late 2009. This is his eighth major start since then and his round of 69 was his fifth time breaking par in the first round in that stretch. Woods, however, has broken par only three times in seven tries since the end of 2009 and only twice each in the third and fourth rounds. If he can reverse his recent second-round play -- a Friday 75 in this year's Masters and a 73 in missing the cut at last year's PGA Championship -- Woods could better the trio of T-4 finishes he's produced since 2009.