The Loop
2011 LPGA schedule will have 24 events
The LPGA season will begin Feb. 17 at the Honda LPGA in Thailand and conclude Nov. 20 at the Titleholders at the Grand Cypress Golf Club in Orlando, according to the 2011 schedule released Thursday by the LPGA. The schedule has 24 official events, the Solheim Cup Sept. 23-25 in Ireland and the unofficial HSBC Brazil Cup May 28-29. There are eight full-field non-major tournaments held in the United States and 12 tournaments played abroad. The events outside the U.S. borders are in Thailand, Singapore, China, Korea, Malaysia, Taiwan, Japan, France, Scotland, Canada and two in Mexico. Sources say, however, that the Tres Marias Championship in Morelia, Mexico April 21-24 is still up in the air because of security concerns in the country torn apart by a drug war.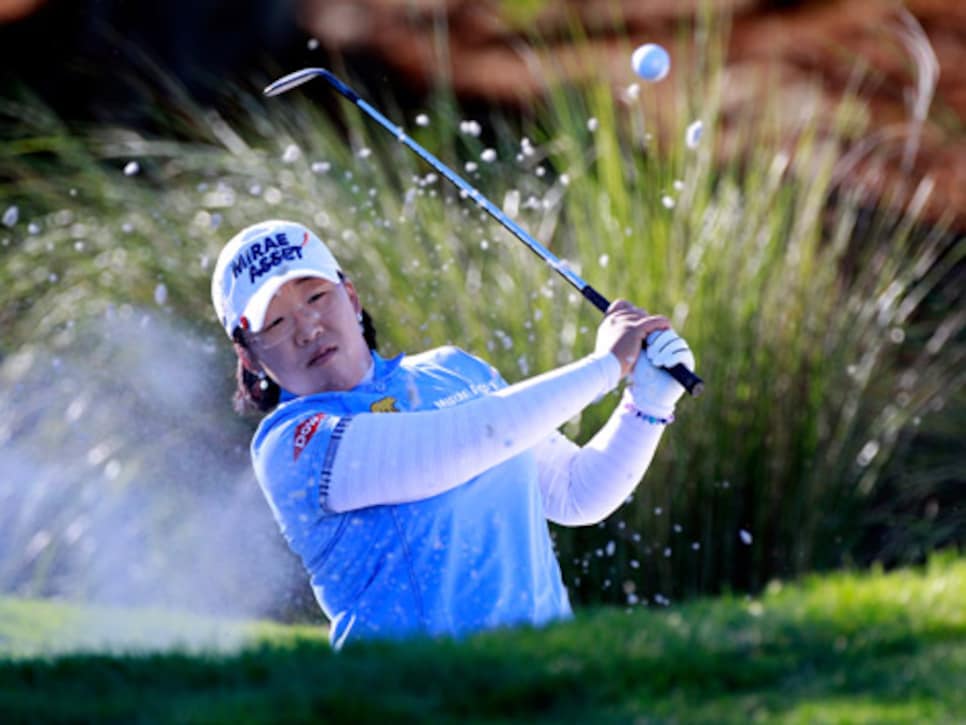 New events include the RR Donnelley LPGA Founders Cup March 18-20 at the Wildfire Golf Club at JW Marriott Phoenix Desert Ridge Resort & Spa. The 54-hole event will have a 132-player field and what the tour referred to in an e-mail to players as "a $1.3 million mock purse." Instead of winnings, the players share of prize money will go to charity. The tour told players it will provide a stipend to help with their caddie fees at that event and provide free rooms. Among the travel challenges will be a summer swing that goes from the Evian Masters in France to the Ricoh Women's British Open at Carnoustie, Scotland to the Imperial Springs LPGA in Guangzhou, China on consecutive weeks.
Between February and Novemeber, the schedule will have 15 off weeks, including one between the tournament in Taiwan and the event in Japan. In response to player pressure, the LPGA moved the end of the season to before Thanksgiving from the week after the holiday in 2010. The first major will be the Kraft Nabisco Championship March 31-April 3 followed by the Wegman's LPGA Champions in Rochester, N.Y., June 23-26, the U.S. Women's Open at The Broadmoor in Colorado Springs and then the British Open July 28-31.
Access the full 2011 schedule below:
Honda PTT LPGA Thailand                                          Feb. 17-20
HSBC Women's Champions (Singapore)                    Feb. 24-27
RR Donnelley Founders Cup                                       March 17-20
Kia Classic (City of Industry, CA)                                 March 24-27
Kraft Nabisco Championship                                       March 31-April 3
Tres Marias (Mexico)                                                   April 21-24
Avnet LPGA Classic (Ala.)                                          April 29-May 1
Sybase Match Play Championship                              May 19-22
HSBC Brazil Cup (Unofficial event)                            May 26-29
ShopRite LPGA Classic                                              June 3-5
LPGA State Farm Classic                                           June 9-12
LPGA Championship by Wegmans                            June 23-26
U.S. Women's Open                                                  July 7-10
Evian Masters                                                            July 21-24
Ricoh Women's British Open                                     July 28-31
Imperial Springs (China)                                            Aug. 4-7
Safeway Classic                                                       Aug. 19-21
CN Canadian Women's Open                                        Aug. 25-28
Walmart NW Arkansas Championship                        Sept. 9-11
Navistar LPGA Classic                                            Sept. 15-18
Solheim Cup Killeen Castle, Ireland                             Sept. 23-25
LPGA Hana Bank Championship (Korea)                  Oct. 6-9
Sime Darby LPGA Malayasia                                        Oct. 14-16
LPGA Taiwan  Championship                                     Oct. 20-23
Mizuno Classic (Japan)                                                Nov. 4-6
Lorena Ochoa Invitational (Mexico)                        Nov. 10-13
Titleholders (Orlando)                                             Nov. 17-20