News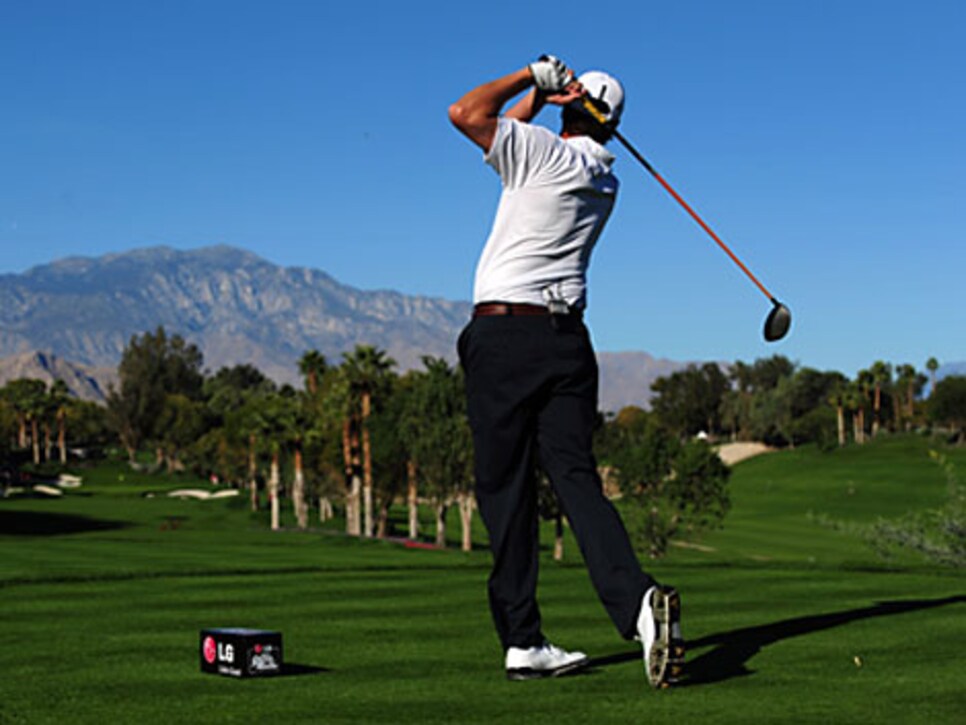 Organizers of the Skins Game are exploring ways to make sure the 2008 made-for-TV event wasn't the last.
Tony Renaud has no sponsor, an event with declining ratings, and restrictions placed on him by the PGA Tour. But when it comes to keeping the Skins Game alive after 27 years, the vice president for new business at ESPN says, "There's no way I'm going to let it go."
LG is out as corporate sponsor, but Renaud is having conversations with "three pretty good prospects," as a replacement for the Korean electronics giant. To lock down a title sponsor in these tough economic times, Renaud needs the tour to allow him a blank slate for the invitation list rather than going off the money list, taking The Players champion and at times even the defending champion. A start would be giving one of the spots to Freddie Couples, the Presidents Cup captain and King of the Skins Game.
"Allow us to treat it as being made for TV," said Renaud. "As good as some of these players are that we've had, there's not a lot of interest in them from a TV point of view."
A marquee field and five hours of network coverage on Thanksgiving weekend gives Renaud the feeling he could double the purse to $2 million. That still isn't much by today's standards, but it at least might get some public attention.
"Remember back when the Skins first started," Renaud said. "It was the only event on TV where money was the big issue. Every putt had dollars attached. There was a sense of excitement to that, a sense of 'Wow, this is pretty special.' We need to do something with the purse that gets that attention back. I hate to say it, but a putt for $100,000 or $200,000 doesn't mean that much anymore."
Renaud, who works with IMG's Barry Frank to produce the event, has a June deadline to find a sponsor. "We're committed to the event," Renaud said. "We want it to happen. We still think the Skins has a great future if we make changes. If it stays as it is currently, with the same purse and eligibility requirement, I don't think it survives."
Badds abandons Stack and Tilt: The Stack and Tilt Nation was hit with a tough loss when Aaron Baddeley left the camp of Mike Bennett and Andy Plummer, returning to childhood coach Dale Lynch. Badds was the poster child for Bennett and Plummer, winning twice in the U.S. and playing his way into the final group of the 2007 U.S. Open at Oakmont before imploding. Plummer and Baddeley were last seen hard at work on the practice ground at Doral, but the Aussie was disqualified for moving an obstacle while standing in a water hazard, never played on the weekend, and took last week off. The story broke on the driving range at Bay Hill this week, with Baddeley, who ranks 177th in total driving and 197th in greens in regulation, working with Lynch. He was obviously desperate, going through a swing change this close to the Masters. "It isn't possible to put a cap in terms of time," Lynch said Friday morning from his International Institute of Golf at The Cliffs in South Carolina. "In terms of the Masters, it's very, very close, but realistically, this is more of a career move. He's looking more long term. We're just trying to get his game to match up to his talent."
__Goose gets heavy with an old friend:__After going to a belly putter on the West Coast, Retief Goosen looked like the Retief Goosen who made everything on the slick U.S. Open greens at Southern Hills and Shinnecock during his victory in last week's Transitions Championship. Using the same putter that won both Opens, the Goose went 55-for-55 inside 5 feet, including the tournament winner. Goosen likes the Yes! Golf Tracy putter because it's 40 grams heavier than most putters. "With the greens so crusty and fast I just tend to be able to control my stroke better on these quicker putts," Goosen said. Brother-in-law caddy Mike Pittock says the belly got Goosen's stroke back, but according to swing coach Gregor Jamieson, what Retief didn't like about the belly is that it fixed on the target. "Retief very often changes his mind when he gets over it, adjusting to how he thinks that putt is going to break," said Jamieson, the director of golf at Lake Nona. "He's so instinctive, that he actually changes his mind sometimes through the stroke."
Quigley Lite: Brett Quigley had been Mr. March before his opening-round 74 at Bay Hill. The Rhode Islander came off the West Coast with $28,000 in earnings and his mind caught up in swing thoughts and results. In a three-tournament stretch starting at the Honda Classic, he went 22-under par, recorded back-to-back runner-up finishes, and made over $870,000. "It wasn't one light bulb that went off," Quigley said Tuesday from his home in Jupiter, Fl., where he was packing for the trip to Bay Hill. "It was just realizing that I needed to be more relaxed, more into playing golf. It's funny. I remember (uncle and Champions Tour player) Dana saying, 'When you make a bogey, you should laugh. Because you make so many birdies it doesn't matter.' " This run of success puts a spotlight on Quigley for being third in earnings among active players without a victory. Bay Hill was his 343rd start.
Compton nearly DQed at Honda: Double heart transplant recipient Erik Compton was stress tested by the television rules police a few weeks ago -- and nearly disqualified from the Honda Classic by an inquiry that went all the way to USGA headquarters for review. Viewers called the television compound and PGA Tour rules officials claiming that Compton was subject to a two-stroke penalty by letting 14-year-old heart patient John Paul George carry his putter up to the 18th green during Friday's second round. Tapes were sent to the USGA but it was ruled that since George didn't swing the club, Compton wasn't in violation. Since then he hasn't broken 72 in four rounds, on the weekend at PGA National and in the opening two rounds in Puerto Rico. He was rested and traveling with earplugs in Orlando, accompanied by wife Barbara and newborn baby Petra Ella. Compton visited the Arnold Palmer Children's Hospital on Monday and was delivered another sponsor's invitation, to the Memorial Tournament.
What its like to hang with Ernie: It wasn't long ago that Steve Marino was playing the Gateway Tour out of his apartment in West Palm Beach. Now he's flying around with Ernie Els and getting to play in outings like the one Ernie hosted for autism on Monday at PGA National. Jack Nicklaus, Gary Player, Ray Floyd and Greg Norman were the headliners in a field of 21 touring pros that showed up to support Els' fundraiser. "Guys I grew up idolizing," Marino said. "It doesn't get much better than that for me." Marino met Els last year when they were sitting at the same table at The Yardhouse. Els asked Marino what he did for a living. Marino, with a smile, told him he was on tour, and about to blow past him on the money list. From that little exchange, a friendship was born. Els gave Marino a ride home on his jet after the Dunlop Phoenix in Japan late last year. "We needle each other a little bit," says Marino, 28. " Ernie is an icon and I remember watching him win all his majors on TV, so to call him friend pretty cool."
Taking stock in a hot young commodity: Rory McIlroy was home in Northern Ireland resting last week after an exhausting three-week trip to America where he emerged as the game's pop culture and media star. The teen sensation will return to the United States next week for the Shell Houston Open, and will also make a course visit at Augusta National. "I think he slept for three days," said business manager Chubby Chandler on Tuesday. Chandler's task is to determine McIlroy's value in the golf market. The 19-year-old announced an agreement this week to face Padraig Harrington in an exhibition the day after the British Open. "Whatever [the value] was, it doubled during three weeks in America," Chandler said. "There is not a massive recession in Rory McIlroy's life."