News
David Eger Leads The Pack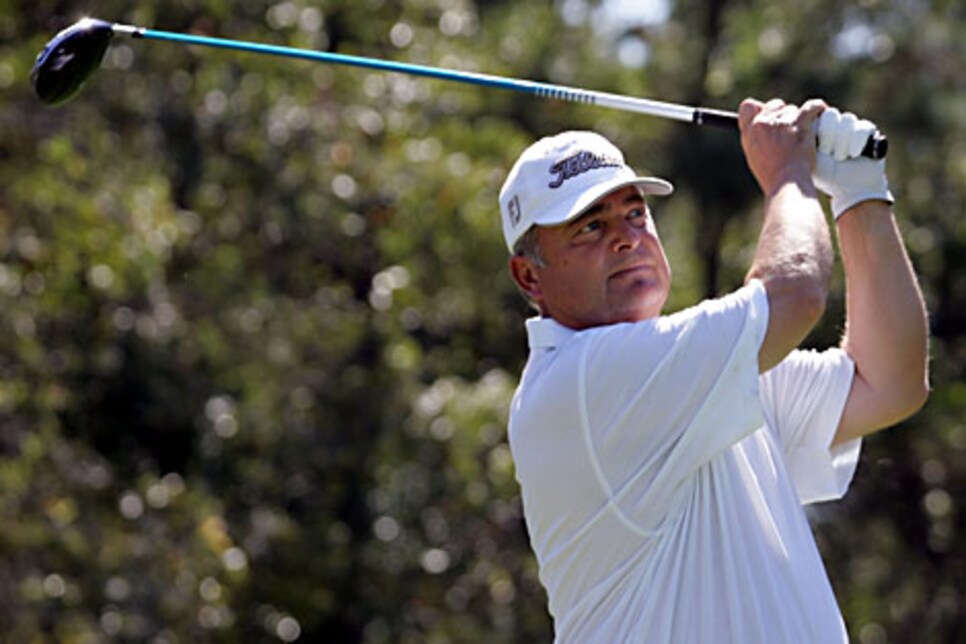 Eger his two Champions Tour titles. His last win was the Boeing title in 2005.
CAP CANA, Dominican Republic (AP) -- David Eger shot a 5-under 67 on Friday to sit atop a crowded leaderboard after the first round of the Cap Cana Championship.
Eger, a two-time winner on the Champions Tour, shot a bogey-free round that put him one shot ahead of Nick Price, Eduardo Romero, Keith Fergus, Tim Simpson and Tom Jenkins. Simpson and Fergus also shot bogey-free rounds.
Greg Norman, making his first start in a regular-season event on the Champions Tour, shot a 1-over-par 73 in the $2.1 million tournament at Punta Espada Golf Club.
Starting on the back side in one of the first groups, Eger drained a 20-foot birdie putt on No. 11 and made short birdie putts on Nos. 15 and 17 to quickly get to 3-under. He added a 25-foot birdie putt on No. 4 and two-putted from 40-feet for another birdie at the sixth.
"It wasn't a real exciting round, but that's fine with me," said Eger, whose last victory came at the 2005 Boeing Greater Seattle Classic. "Overall, I played well and I hit a lot of good irons today."
While winds weren't as much of a factor as they were in the inaugural event a year ago, it was still something players had to contend with at the seaside layout. Winds were blowing constantly up to 20 mph.
"It was probably a three-club difference hitting into the wind and a one-club difference hitting a shot with the wind. It was really more difficult on holes near the water," Eger said. "You really had to think and manage your game out there."
Price and Fergus were tied for the lead heading to No. 18, but both dropped a stroke there to fall back into the group tied for second. Price missed a 12-footer for par after hitting his second shot into a bunker.
"All in all, a 68 is a good start for me and I helped myself by making a couple of good putts," said the 52-year-old Price, who is seeking his first victory on the Champions Tour after winning 18 times on the PGA Tour