News
Kim Takes First-Round Lead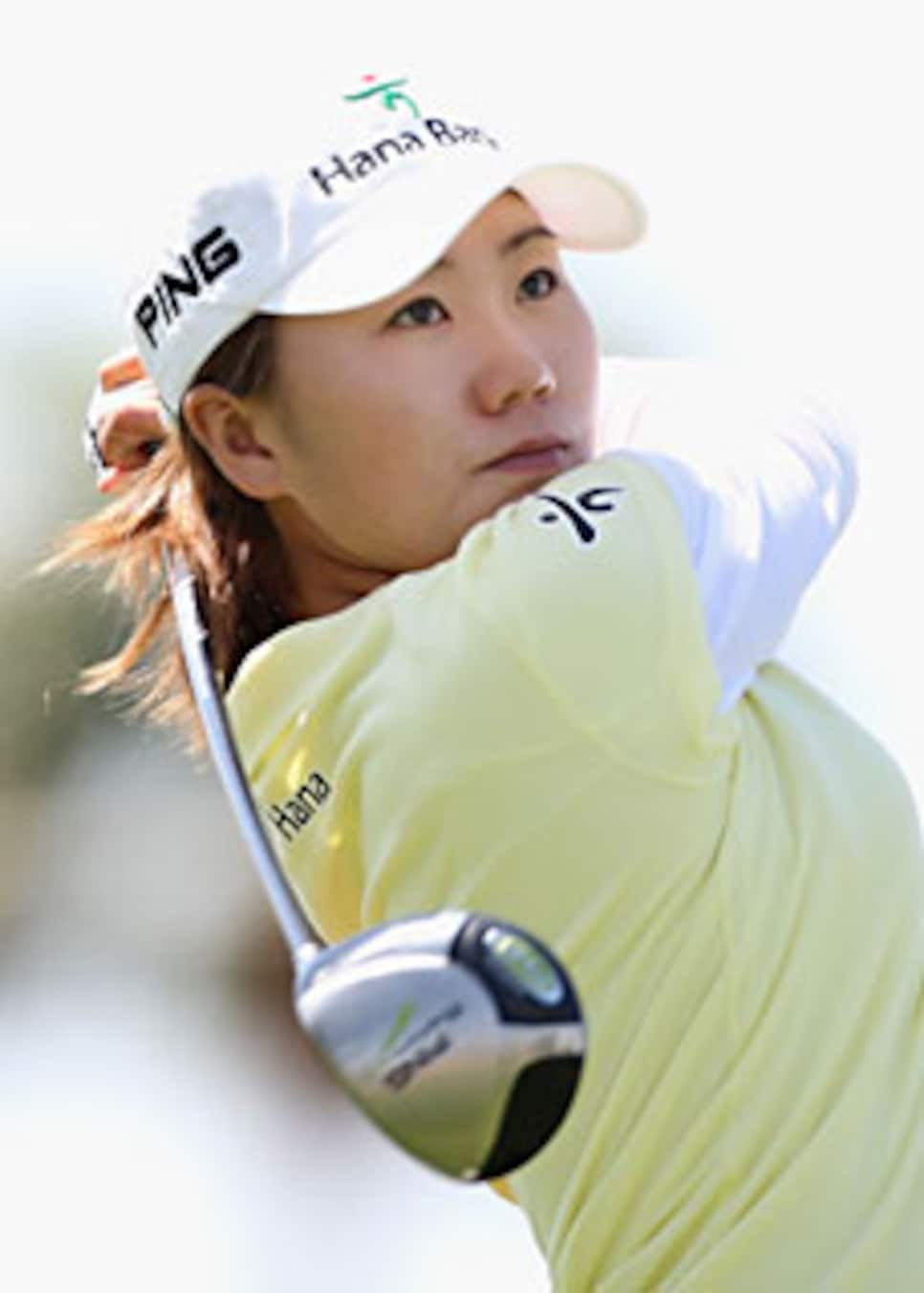 In her third season on the LPGA Tour, Kim has one win (2008 Long Drugs Challenge) to go with 12 top-10 finishes.
PHOENIX (AP) -- South Korea's In-Kyung Kim shot a 4-under 68 on Thursday to take the first-round lead in the J Golf Phoenix LPGA International, while two-time defending champion Lorena Ochoa and Michelle Wie struggled in windy afternoon conditions.
Kim had a one-stroke lead over countrywomen Jiyai Shin, Imbee Park and Eun-Hee Ji and American Cristie Kerr, who eagled the final hole, and Norway's Suzann Pettersen, who finished with a birdie.
The wind gusts were measured as high as 39 mph at Papago, the recently renovated, difficult municipal layout in its first year as the tournament site after five seasons at Superstition Mountain.
"On the back nine, it was quite windy," Kim said. "It was on and off, so it was a little difficult to adjust the yardage. It was tougher on and around the greens because it was so dry out there. There was not much spin around the greens."
Ochoa, showing anger at times over her disappointments, opened with a 72.
Wie, the 19-year-old Stanford sophomore still seeking her first tour victory, shot a 73 in her first tournament since the season opener.
Wie admitted "it was a hard day, with the wind and everything."
"I felt a little rusty," she said. "I made a couple of stupid mistakes."
Pat Hurst, the Mastercard Classic winner last week in Mexico, had a 76.
Kim had five birdies and an eagle.
"I three-putted at No. 3, but other than that, it was a solid round," Kim said.
The highlight of her round was an eagle at the par-5, 475-yard 18th, where she chipped in from 20 feet.
Although this is Kim's fourth tournament of 2009 and she has yet to crack the top 25 in any event, she described her golf this year as "very decent."
But "the putts weren't going in as expected," she added.
This is Kim's first tournament after a two-week hiatus and she said her time off was "boring,"
She was, however, very concentrated Thursday. "I was ready to play golf today," she said.
Kerr, who lives in Scottsdale, eagled No. 10 in addition to her closing eagle.
"It was almost like torture in the wind," Kerr said. "But I didn't try too hard. If you try too hard, you won't be able to control your shots in the wind. I controlled the ball very well today."
Kerr played in the afternoon and thought the golfers who played earlier had a "one- or two-shot advantage."
"I knew if I could put a good round together today, tomorrow would be to my advantage," said Kerr, who will play in the morning Friday. "A little less wind would be appreciated. But I played a phenomenal round today."
Shin had a spectacular finish, with birdies at 16 and 17, and a 12-foot eagle putt at 18, moving her from 1 over to 3 under. Shin, the HSBC Women's Champions winner in Singapore this month, is a 20-year-old rookie on the tour.
Before becoming an LPGA member, she won three tournaments last year, the British Open, a major, and the Mizuno Classic and the season-ending ADT Championship, where she received $1 million.
Her professional career, as a member of the Korean LPGA, included seven victories in 15 starts and seven additional top-eight finishes. As an amateur, Shin had five victories as a member of the Korean national team.
"Today, I started with a birdie, so I felt comfortable," Shin said. "But on the first nine holes, my putting is always short. So, on the back nine, I tried to hit longer drives. At 16 and 17, it was easy to make birdies, and at No. 18, I made an eagle."
Kris Tamulis even bettered that. She aced the par-3, 158-yard second hole, using an 8-iron.
Ochoa apparently was bothered by the wind and the hard greens, noting they were harder than at Superstition Mountain in Gold Canyon.
One of Ochoa's angry moments came at the 13th. After hitting the ball well past the green, she slammed her club into the ground. She then appeared relieved after making a par putt.
As winner the past two years, the world's No. 1 player and winner of 25 tournaments overall, Ochoa was the overwhelming favorite. But she didn't play like it.
Ochoa even admitted she lost patience on the 16th hole, but was satisfied that she closed with a birdie.
"I finished the day strong," she said. "But I felt I left a few shots out there."
Pettersen called the wind "ridiculous."
"I knew the wind was going to blow, but this was surreal," she said. "There isn't even any shotmaking out there. You can try, but no chance. You have to be really creative."
This is the first LPGA tournament of the season on the U.S. mainland and a prelude to next week's Kraft Nabisco Championship, the first major of the season, at Rancho Mirage, Calif.
Darkness prevented nine players from finishing the round, but none of those players was close to the leader.
Every active player among last year's top 100 money winners and the top 90 from this year committed to the tournament, but late withdrawals were Paula Creamer, fourth last week in Mexico and fourth on this season's money winning list, and Grace Park.